Seeing her great-great-great-uncle Peyton Skipwith's name carved into the Memorial to Enslaved Laborers at the University of Virginia fills Carole Malone's heart "with pride and sadness."
"Peyton, along with 4,000 to 5,000 known and unknown patriots and citizens, toiled at UVa under unspeakable horrors and oppression to carve out a life of dignity and hope for their families and descendants," she said.
With virtual and in-person recognition, a long-planned memorial to enslaved people who built and worked at the university was officially dedicated Saturday.
Though finished in 2020, the initial dedication was canceled due to the COVID-19 pandemic. The prerecorded dedication ceremony, which aired Saturday, brought together descendants, university officials and current and former students to reflect on the creation of the memorial.
Malone described Skipwith as a "great family man … who had to sign his name with an X for fear of death, because he could read and write." Skipwith was a skilled stonemason who quarried stone for buildings at UVa.
"As his descendants, we carry on his legacy of education and professional success," Malone said. "We are proud of you, Mr. Peyton Skipwith, and we love you. Your spirit brought us together."
UVa President Jim Ryan said that in a year with a global pandemic, as well as "unprecedented challenges to democracy and the unjust deaths of black citizens at the hands of law enforcement," there also have been moments of hope.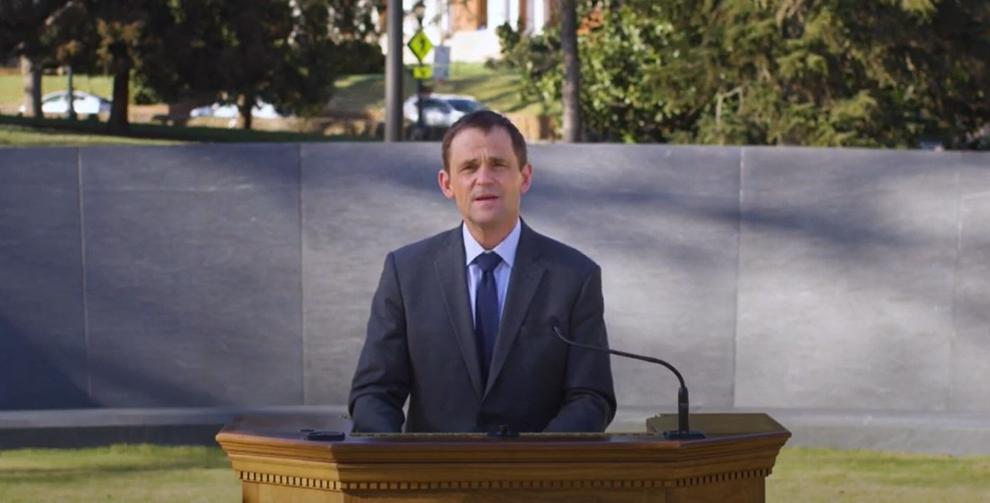 "Against this context, the memorial is an especially meaningful symbol of healing and connection," he said. "It is not only a bridge between generations, but also a bridge from the darkness of hidden injustices to the light that knowledge and recognition brings."
The initial push for a memorial came from UVa students more than a decade ago. Ishraga Eltahir, founding chair of the Memorial for Enslaved Laborers student committee, said after building on years of work of countless faculty, students and Charlottesville community members, the committee, established in 2009, pushed for a truthful telling of a painful, but critical, part of the university story.
"Most importantly, we came together to acknowledge the very real lives of those honored women and men often erased from common narrative," she said. "It took several generations of stakeholders, fighting to make the case for public recognition."
In 2013, the President's Commission on Slavery, convened by then-President Teresa Sullivan, was tasked with, among other things, considering appropriate memorialization.
"Our work has made great strides in creating a new university public memory that unflinchingly acknowledges the horrors of human bondage, while honoring the humanity of the enslaved," said Kirt von Daacke, co-chair of the President's Commission on Slavery and the University and of the President's Commission on the University in the Age of Segregation.
The memorial sits near Brooks Hall, across the street from The Corner.
UVa alumna Jessica Harris, who grew up in Charlottesville, said the memorial is shaped like a broken shackle, which represents freedom from physical bondage. The path around the side of the memorial is toward the North Star, which was the path toward freedom, and the sidewalk along the front aligns with the sunset on March 3, Liberation and Freedom Day.
"It's 80 feet, which matches the diameter of the Rotunda — taking up that space that is so rightly deserved in honoring this legacy," Harris said.
The large ring holds the names of the enslaved laborers, while the smaller ring has a water table feature and a timeline of events related to the history of slavery at the university.
"I would encourage everyone if they can to come witness it in person, feel the stone, see the timeline here and be present and take a second to reflect, honor and encourage folks to move forward with that history," Harris said.
On Friday, members of the Memorial to Enslaved Laborers Community Engagement Committee and Descendants of Enslaved Communities at the University of Virginia, an independent nonprofit organization that grew out of the committee, gathered at the memorial for a moment of silence.
At noon, as the water feature was turned on and the Chapel bells rang, descendants and project supporters stood around the memorial in silence. They then spread out their arms and looked to the sky, which Cauline Yates, a descendant, said was to bless their ancestors.
"We looked to the sky to say to them the memorial was finally done, and we've done it and here it is for you," Yates said.
DeTeasa Brown Gathers, co-chair of the nonprofit, said she sees the water as representing a renewing.
"It was important to have all these individuals that were here to be a part of turning this water feature on," she said.
Everyone who comes to the memorial should reflect on what water means to them, Gathers said.
"What does it mean for the ancestors? What does it mean for every descendant we find?" she said. "Hopefully, this everlasting flow will be an everlasting flow of descendants, these 4,000 descendants here. It's only 500 names they've found — we have a lot of work to do."
Yates said she was present when the memorial was finished, and that it was an emotional time.
Speaking of the initial dedication that had been planned for April 2020 but didn't happen because of the pandemic, Yates said: "There would have been families here all over the Lawn and descendants and ancestors, and now, hopefully, we're on the other side of the pandemic. So we, the descendants of enslaved laborers, we are looking forward to planning next year's event where we should all be in person … we'll just be very glad. We wanted people here to share it with us, particularly other descendants."
During a virtual panel discussion Friday evening about descendant communities in Virginia, Bertha French, co-chair of the Descendants of Enslaved Communities at UVa, said the descendants would like for the university to institutionalize an entity or research unit that would continue partnering with them to identify their ancestors.
"While we are encouraged by the symbolism of the unveiling of the MEL as a sign that UVa acknowledges how predominant the institution of slavery and the ensuing caste system were to realizing Mr. Jefferson's university experiment, we believe more intentional work with the descendant community is needed to achieve restorative justice, specifically using a model of collective research and shared stewardship of this university," she said.
Last month, Gov. Ralph Northam signed into law a bill that created the Enslaved Ancestors College Access Scholarship and Memorial Program, which requires UVa and four other universities in Virginia to identify and memorialize all enslaved people who labored on former and current university-controlled property and provide benefits, such as a college scholarship or community-based economic development program, for individuals or specific communities "with a demonstrated historic connection to slavery that will empower families to be lifted out of the cycle of poverty."
"We look forward to working with the university leadership as they develop how it will comply with Virginia's new law on reparations," French said. "Our hope is that descendants, and the local African American community, will play a part in shaping outcomes."
Michael Blakey, a College of William & Mary professor who serves as a scholarly adviser to the Montpelier Descendant Committee, said descendant communities need to organize in a way that truly empowers them, where they select their own leadership and have the integrity of their own organization so they can speak for themselves.
"Someone once said that, what did the enslaved hope for that would allow them to survive? They hoped for us, and as descendants we should not let them down," Blakey said. "Did they hope for us to settle for less?"