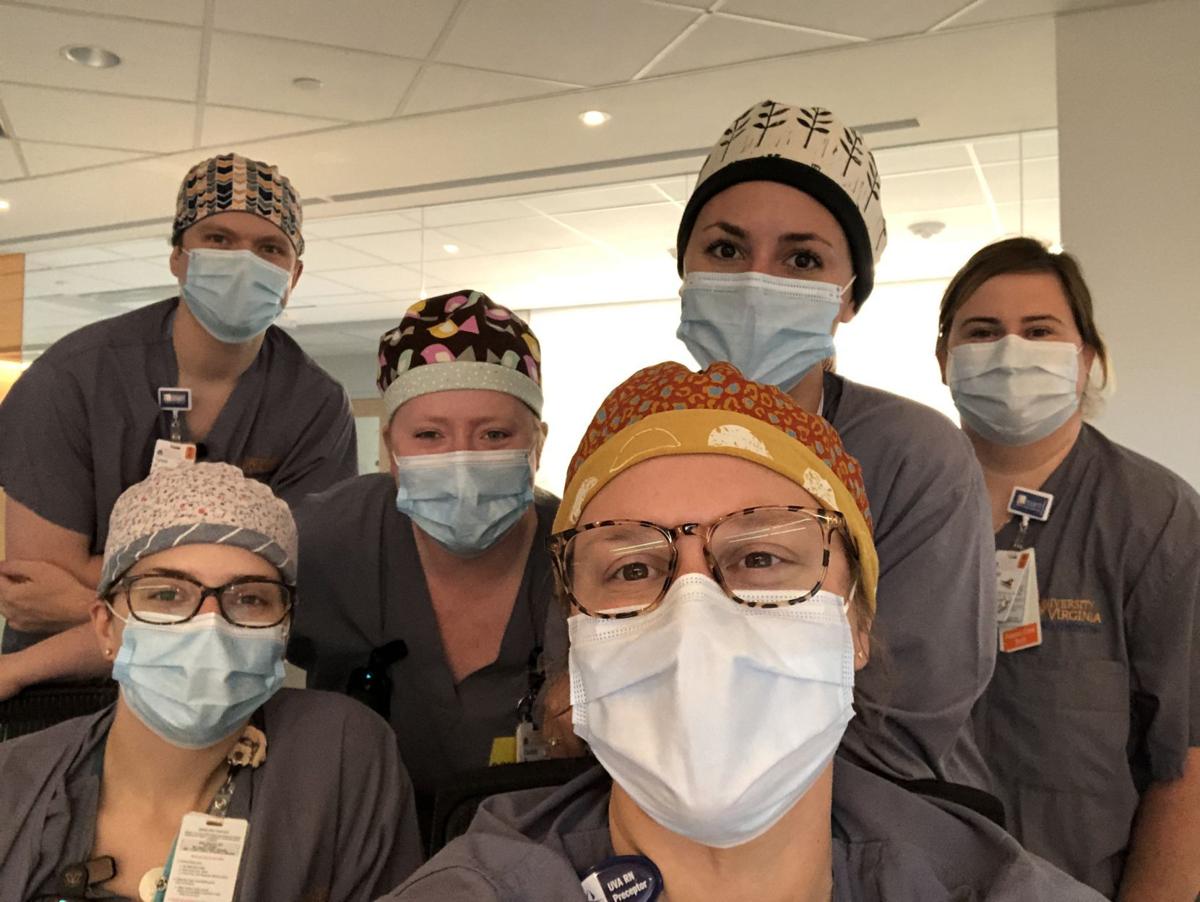 From the better who falter and fail to the worse who rally and heal, the doctors, nurses and staff in the University of Virginia Medical Center's COVID-19 care units have seen a lot in a short time.
Medical staff in the new Acute Care Special Pathogens Unit, known around the hospital as SPU, say the last four months have been the absolute dickens, simultaneously the best and the worst of times.
It started in March with a sense of fear and worry mixed with excitement and dedication as the virulent virus struck New York City and western states with a vengeance. As the virus crept closer, Virginia shut down and the intensive and acute care teams cranked up.
"It's been a ride," said Kendall Barger, a registered nurse in the unit. "It started out as some virus on the other side of the world and suddenly it was here. We had prepared and trained for Ebola so we knew a lot about the procedures and we were ready to go."
As the virus approached, UVa administrators paved the way for the new COVID acute care unit and ICU, finishing up a new addition for use and clearing space in a medical ward in case of a crushing caseload.
"In just a matter of 24 hours, the medical environment and situation on the entire third floor of the Medical Center changed overnight," said Dr. Paul Helgerson, of the SPU. "We really didn't know what to expect when the virus hit us. We started out knowing very little. We've learned a lot as we've progressed."
"We've probably been through 80 million emotions," said SPU team member Meredith Farmer, a registered nurse. "In the beginning, we realized this was history and it will be cool to tell our children and grandchildren that we were on the frontlines in fighting the pandemic. But it was also scary because there was so much we didn't know."
In March, researchers were unsure exactly how the virus was transmitted. They didn't know the disease's progression or its side effects. They weren't sure if standard-issue personal protective equipment — medical masks, gowns and gloves — would be enough to protect the staff and their families.
"It's a challenge to continuously adapt and take care of patients without important information," said Dr. Kyle Enfield, of the SPU. "This is a new virus and we didn't know what was going to work in terms of PPE. We didn't know how or if we would be overwhelmed."
"It was hard seeing the uncertainty in my teammates," Barger said. "We're very close and work well together and we're good friends. We didn't know whether we were going to get sick, whether we were going to bring the virus home to people we loved, or if we'd have to isolate ourselves. It was hard."
Perhaps the hardest thing for the SPU teams was discovering that the virus could devastate whole families and put patients on respirators for weeks, which requires heavy sedation and sometimes paralytic drugs. They also discovered the virus can keep some patients in intensive care for a month and can cause those getting better to suddenly take a turn for the worse.
"Once folks get sick, we see a two-week course of illness of high acuity," Helgerson said. "On the more critical side, some patients develop acute respiratory distress syndrome that depresses their oxygen level and they may be on a ventilator for two weeks. That was a big change because, in the medical ICU, you might have a patient on a ventilator for two or three days."
They knew the virus assaults the lungs, but they found it is also tough on the circulatory system, causing problems in the bloodstream by increasing clotting.
"Patients in the latter decades of life have a much higher mortality rate, but it can be severe in any decade of life," Helgerson said. "It can be a bit of everything. There are some people who have almost no symptoms at all and there are people who are in between."
The virus can infect entire families at the same time.
"That's the worst, when we see whole families come in," Enfield said. "The staff shares that experience. They see everyone sick at the same time. They see that some family members don't know that their father or mother is down the hall and maybe dying because they're so sick themselves that they need sedation. It's hard. You see younger staff members taking care of people their own age and you can tell they suddenly see their own mortality."
"To see people suffer without their loved ones is hard," Farmer said. "Sometimes you'll have a patient doing really well and they look like they're ready to go home and then suddenly they get worse. It can be like an elevator where one minute you feel less bad and then better and then you're a lot worse. Some people come in feeling good and then they decline fast."
The severity of the illness and intensity of care can create bonds between staff and patients, even if the patient is on a ventilator and under sedation.
"When you've been doing this for four months, it becomes the thing you think about at home. It's what you dream about," Barger said. "ICU nurses deal with death on a regular basis, but people dying alone is challenging to watch. It's not the death you hope for people. It's hard on their families, too, because people can't be there with their loved one."
For Barger, one of the hardest parts of the SPU is when that special patient is failing.
"It's hard when you get attached to a patient and you know the end game is not good," she said.
Just as there are defeats, there are victories. A patient's poor prognosis turning into recovery is reason enough to celebrate like a wide receiver in the Super Bowl's end zone.
"We had a patient who had a long stay with us and had to go the ICU and come back to the acute care unit. After lots of struggling, getting worse and then better, he was finally well enough to have a visitor for an hour and then finally transfer to a rehab center," Farmer recalled. "To see that is such a lift and a feeling of hope. It's amazing."
"It's great the first day they can sit up or the first day they can stand up after being in the bed for weeks," Barger said. "That's a great feeling and you feel it with them."
The SPU crews work differently than they did as a medical ICU unit. Before the virus, the team would often rush into a patient's room to assist a coworker with a procedure and drop in every few minutes to check on medicine or vital signs.
With COVID, the rooms are closed. Every entry requires donning of protective gear, which can take about three minutes or more. Every exit requires the doffing of the equipment. That required nurses, doctors and other staff members to change their work flow and procedures.
"We're type A people and function in an emergency at a fast pace. We keep it together because the unexpected is what we expect, but this changes the ways we do things," Barger said. "ICU is normally a fast-moving pace but with the PPE, you have to change how you approach care. You spend a lot more time in a room and do a variety of things in the same visit to save gear and time. You also know that if you need help, it's going to take a few minutes for your colleague to suit up and give you a hand."
For the SPU members, their teammates make a big difference. They share the same fears, the same dangers, the same wins, losses and emotions. They work together to find answers to unexpected problems.
The really hard days are when I know that many of my coworkers are having a rough time," Barger said. "They come in day in and day out and put aside whatever is affecting them and work to find creative ways to address new problems. They're amazing."
One problem was that the tiny displays on important patient monitors required multiple trips into a patient's room for readings, with each trip requiring a change of protective gear. One team member brought in binoculars to read the monitors from afar.
In another situation, the crew purchased monitors from an electronics store and hooked them up so the displays could be read from outside the room.
"You're always talking with each other, working together, and it creates a sense of camaraderie," said Farmer. "There's a sense of validation. You come in and ask, 'are you OK? I'm not OK,' and they're there for you like you're there for them. That means a lot."
"I really can't say enough about what the staff has done, especially in the ICU," Helgerson said. "I'm confident patients are getting the best of care. It's strained resources and our people are tired but they see we're gaining ground and they're committed. That takes a special person."
"The work is hard from an emotional standpoint and from a work standpoint, but one of the things that keeps you going and makes you feel good about what you're doing is the support of your coworkers," Barger said.
The SPU crews say they know the virus will be around a while and they will have to keep up the fight.
"Wearing masks, keeping social distance wilI help keep us from being overwhelmed. We've seen how that works here in the unit," Helgerson said. "Originally, we wanted to flatten the curve, but it's pretty clear that all of the long-term solutions are likely to be a ways off. It's going to be a part of our reality that we need to be prepared to keep up with it."
"There are a lot of people on this unit, from environmental services to assistants and administrators, who don't get the recognition they deserve. It takes a lot of people to make the unit work and it's a strong group," Enfield said. "But I think we all long for the days when we can have a meeting with masks off and see everyone's face and not just their eyes and a part of their forehead."