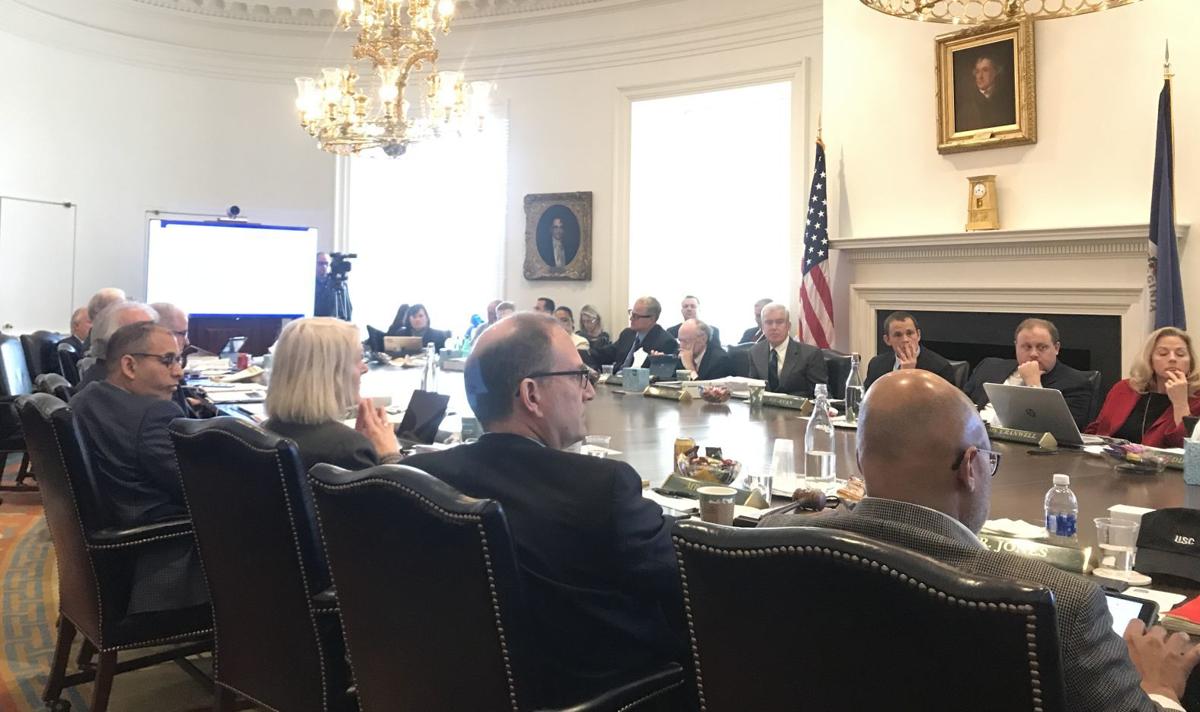 Tuition will remain the same for most University of Virginia undergraduates next year if the school's Board of Visitors approves a proposal from its finance committee.
The board is scheduled to set tuition rates at a virtual meeting at 4 p.m. Tuesday.
"The past year has been a difficult and unusual one," said UVa President Jim Ryan. "The COVID-19 pandemic has caused financial stress for many students and families and created an altered learning environment and abnormal student experience. This is the right thing to do at this moment and we are thankful for all of the thoughtful input we have received, which helped us arrive at this point."
Tuesday's meeting was scheduled after the board postponed a March vote to raise tuition as much as 3.1%. That figure was based on national cost increases in providing a college education, plus 1%. That's the normal standard the board sets for determining tuition each school year.
But the finance committee, composed of members of the Board of Visitors, said the pandemic was a game changer.
"It is impossible to consider the 2021-2022 proposal without acknowledging the unusual year that has occurred as a result of the global COVID-19 pandemic, resulting in financial stress for some students and families, an altered learning environment for every student and in excess of $100 million in costs and lost revenues for the university," the proposal states.
"Accordingly, the enclosed proposal reflects the expectation that base undergraduate tuition will remain the same for 2021-2022," the proposal states.
The tuition freeze for the next school year applies to most undergraduate students in the schools of arts and sciences, nursing, engineering, commerce and public policy. The tuition freeze does not apply to graduate programs.
At a Feb. 17 special hearing on the tuition proposal, about two dozen students asked that tuition remain the same for next year. Students noted a survey that showed as many as 64% of students believed an increase would negatively impact their studies.
"It has been a challenging year, but we have worked in partnership with the board to navigate these financial obstacles," said J.J. Davis, UVa executive vice president and chief operating officer. "We are so thankful for the dedication and commitment of our employees during this time and pleased to be able to hold the undergraduate base tuition constant this year."
The finance committee recommendations place tuition and related fees for arts and science students at $14,658 for the coming academic year. Out-of-state students would pay $49,188 next year.
Other fees related to academic programs may raise that cost to nearly $17,500 for in-state students and more than $52,000 for out-of-state students.
Other academic programs charge more, but those tuition rates for their undergraduates would remain the same.
Tuition rates for graduate and professional programs would increase based on market demand, cost of instructional delivery and school-specific priorities. The tuition recommendation does not impact previously approved upper-division tuition adjustments, school officials said.
The finance committee is recommending approval of a proposed $114 increase in student fees, including $75 to pay for expanding student health and wellness services and a new wellness facility. The remaining fee increase will pay for improvements to recreational facilities and Newcomb Hall.
The committee also is proposing a $133 increase in the average double room rate for students living on Grounds, to $6,826 for the year. The average undergraduate room increase is 2.3%, the same as increases for graduate student housing.
The committee also is proposing changes to the meal plan rates that would raise the cost an average of 2.68%.
Added to tuition and fees, the rate increases would raise the total cost for students living on Grounds to more than $35,000 a year for in-state students and as much as $70,000 or more for graduate students.
"The university continues to offer one of best values in higher education and this tuition proposal reflects our commitment to access and affordability," UVa Rector James B. Murray said in statement. "Tuition has been, and continues to be, the last lever used to meet spending needs, and we are especially sensitive this year to the hardships that COVID has created."