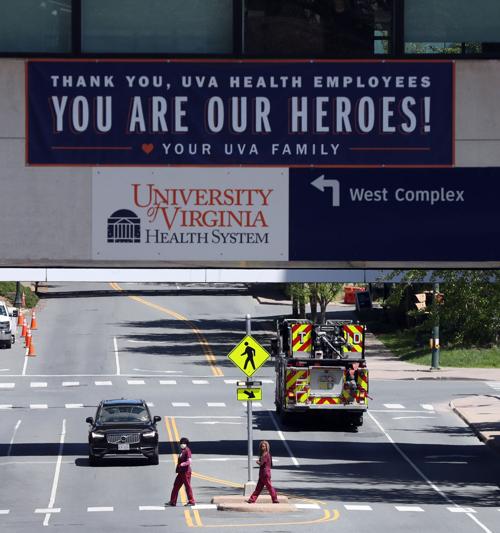 The University of Virginia Health System will release liens and judgments filed against most middle- and lower-income patients and limit patients' financial liability for catastrophic medical care as part of new billing policies that focus on a patient's ability to pay.
Health System officials also will create an ombudsman position to assist patients with disputes and redesign intake and appointment scheduling to inform patients about insurance coverage limits and financial assistance prior to treatment.
Under the new policies announced Monday, the Health System will remove liens and judgments for patients whose earnings are 400% or less of the federal poverty income level of $12,880 for a single person or $26,500 for a family of four.
That means a single person making as much as $51,520 or a family of four with $106,000 in income or less would see liens released.
"If there is an outstanding judgment on an individual, we will be working over the next year or year and a half to release all judgments," said Doug Lischke, chief financial officer for UVa Health. "We don't need the patients to do anything, other than maybe needing some information from a few. But for the most part, we will take care of it ourselves."
The Health System has been reviewing its billing practices since 2019 when a Kaiser Health News investigation found that UVa Health had sued patients a total of 36,000 times over six years for more than $100 million. Some of the lawsuits sought more money than an insurance company would have paid for the same care.
The Health System temporarily suspended filing patient lawsuits and wage garnishments that year, increased discounts for the uninsured and broadened financial assistance, including for cases dating to 2017.
UVa Health was criticized again in 2020 for continuing with liens on properties for some patients. In response, system officials reviewed the whole process through a series of town halls, formed review committees and researched Virginia laws that require state agencies to vigorously pursue outstanding debts to find options.
Virginia Commonwealth University and others across the country had used similar methods to collect debts, although VCU changed its policies in 2019 after they came to light in news reports.
Creditors do not need addresses to create liens. They may file a judgment in a county or city and, if a debtor owns property in that location, title companies will not approve a sale until the debt is paid.
Often, owners don't know the debts exist until they are found during legal research at sale time. Old debts can create new liens on recently acquired real estate.
The Health System's new policies were created through the series of town hall meetings with staff and the input of a local community advisory council and an internal committee, Lischke said.
Health System officials also conducted a study of other hospitals' billing and collections practices for low-income, under-insured and uninsured patients.
Among the biggest changes is a new limit on the amount of money a patient may owe for catastrophic medical care, such as vehicle crashes or severe medical issues.
"Any patients that find themselves with a large bill, and that's defined as greater than $10,000, the maximum out-of-pocket expense that the patient would ever incur would be 25% of their combined family income and assets," Lischke said.
Lischke gave the example of a patient with a trauma-level stay of several days or weeks with a medical bill of $100,000. If the patient has a family income of $50,000 and assets of $50,000, excluding house, and owns no more than 3.99 acres, the patient's combined assets would be $100,000. The maximum bill the patient would face would be 25% of that, or $25,000.
Health officials also are creating a position to help patients resolve financial issues such as hardship cases that fall outside of the established financial limits.
"We are establishing an ombudsperson's office to assist with any hardship cases because you can earn 500% of the federal poverty level and still have difficulty paying a health care bill," Lischke said. "The [ombudsperson] will be examining the situation and ultimately make a recommendation."
UVa Health also has redesigned its financial assistance application and upfront sign-in process to let patients and the Health System know what's covered and what is not.
"Health care is probably the only industry in America where you pay for your service or your goods well after you receive them," Lischke said. "This is to catch folks on the front end so they're informed and we're informed. They understand their payment plan, whether they are in or out of network and we can get them financial assistance on the front end. We can get everything right upfront as opposed to on the back end of the service, where a lot of our problem has been."