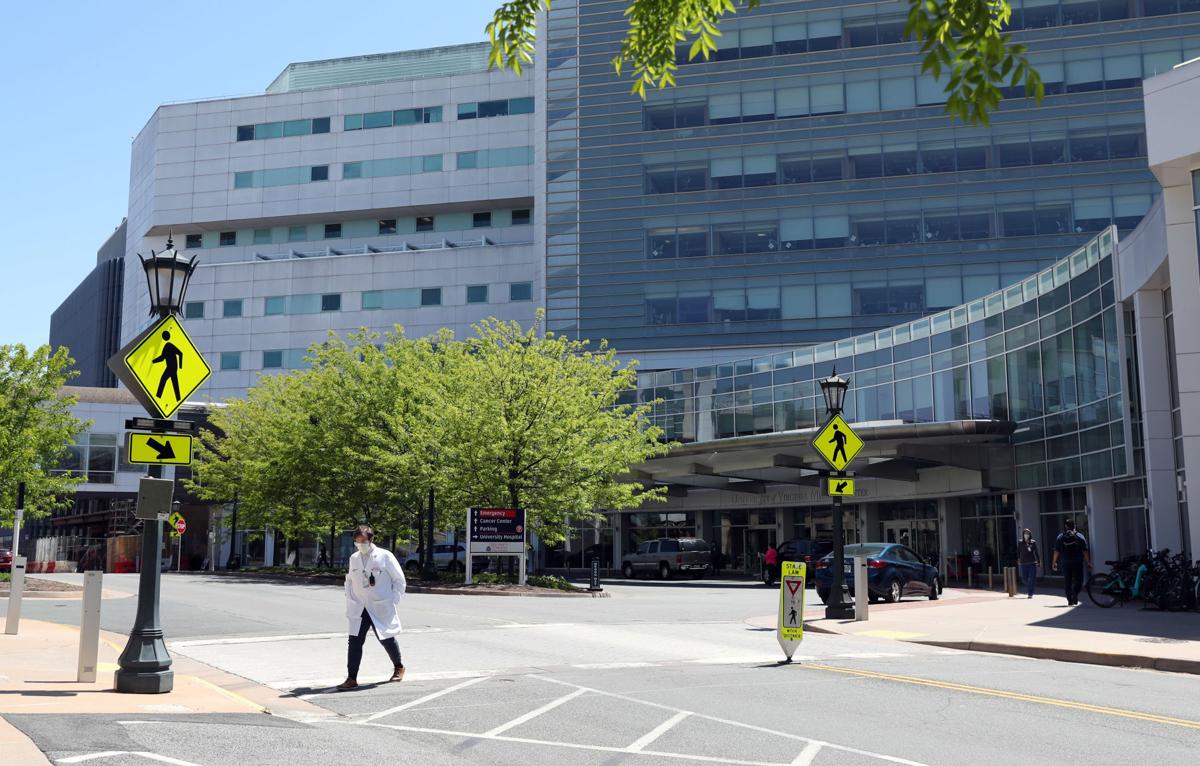 In a video call earlier this month, executive staff with the University of Virginia Health System gave employees more information around the potentially "precarious" financials of the institution.
Last month, the UVa Medical Center announced pay cuts and furloughs as it saw surgeries and clinical visits drop by 70% and 90%, respectively, following Gov. Ralph Northam's order halting elective procedures. The changes led to a projected deficit of $85 million a month.
During a virtual meeting between School of Medicine faculty in the University Faculty Senate and health system leadership, Dr. K. Craig Kent, executive vice president for health affairs, said that this past year, UVa Health had a budget margin of "essentially zero."
"We had a budgeted margin of $7 million on an almost $3 billion base," he said, in response to a submitted question about a "perceived lack of transparency around the decision to proceed with salary cuts and furloughs," while sister institutions such as VCU Health made less severe cuts.
With a small margin and a growing defict, UVa very quickly was looking at running into trouble, Kent said.
"...For us, we immediately... we were in the negative," he said. "So that puts us in a little more of a precarious position than say one of our competitors or one of our allies in academic medicine that started with a fairly significant margin."
He said the health system had $900 million in reserves, which includes an endowment and other restricted funds. Some of the reserves were in investments, which decreased when the stock market dropped, Kent said.
"Then some of that we've already spent, because in the month of March we lost around $30 million, in the month of April, we lost $85 million," Kent said. "So we're down to the high six hundreds. So if you then continued to subtract $85 [million] from that every month without any financial mitigation... at some point, you get close to not being solvent."
When asked why the health system's reserves were low compared to other institutions, Kent said he was still trying to figure that out, as he had only been at UVa since February.
He said there is a fair amount of funds flowing from the clinical side to the academic side, which means less to put away in the bank, as well as that the payer mix, which refers to revenue from private, governmental and investments, isn't as good as other systems'.
"I alluded to the fact earlier that I don't think that we've run very efficiently over the years in all parts of the health system," Kent said. "So if you don't run more efficiently, you don't make as much money, and you don't have as many reserves and you can't devote as much money to the academic mission."
UVa recently restarted elective procedures in an attempt to revive revenues.
Still, more than 600 employees in the health system and School of Medicine have been furloughed as part of the effort to help reduce costs, in addition to employees who have received pay cuts.
As of mid-May, 561 health system employees and 78 School of Medicine employees have been placed on full-time, unpaid furlough.
For palliative care liaison nurse Jonathan Bartels, furlough has been emotionally difficult.
"I love the patients that I interact with and the nursing staff that are taking direct care with those patients," he said. "All that, I really miss a lot. I miss being able to really do what I do best, which is that."
He's currently furloughed until July 26, with the possibility of being pulled back in as patient numbers start to increase.
Hospital spokesman Eric Swensen said the number of employees on a schedule adjustment will change frequently because staffing will be adjusted if patient care volumes increase.
A 22-year employee of UVa, Bartels said he hopes that these furloughs help address the bottom line.
"What they've done is they've helped my peers get back to work, and they've helped the hospital open up more to be able to provide a bigger scope of care for the community," he said. "I'm willing, of course, to do the furlough, if that's going to help us stay viable and continue into the future."
Originally, a UVa HR webpage said that medical center staff treating COVID-19 patients will not see any adjustment to their compensation or their jobs, but that statement was later removed. The webpage now requires a university login to view.
Swensen said that at this time, there is a low number of COVID-19 patients in the hospital.
"Staff currently involved in treating these patients have not seen a reduction in hours," he said in an email. "Physicians in constant care of COVID-19 patients have not received a reduction in compensation."
But some employees who deal directly with COVID-positive patients have reported compensation changes.
One health system doctor, who spoke on the condition of anonymity for fear of losing their job, said pay cuts to those who have been treating COVID-19 patients is a "slap in the face."
"I feel like our work is more stressful, more taxing than it's been, and rather than recognizing that, they're cutting our pay," he said.
Even though there may be fewer patients in the hospital overall, employees said the work remains hard and is different than doctors are used to.
"There's a lot of effort both physically — getting into all the [personal protective equipment] — and mentally for every single patient who comes in, wondering if you're increasing your risk or their risk, or bringing in to a different patient, or to your family exposing them to COVID," the doctor said.
During the call with faculty, Kent said that that in addition to making sure the health system can remain solvent and open for business, officials also need to make sure it has enough money to be an academic medical center.
"The difference between a community enterprise and an academic medical center is we spend a whole lot of money on research, education and community, and all those other things," Kent said. "That takes money in addition to what we might spend on the clinical enterprise."
Coming out of the pandemic, Kent said the organization is going to be different.
"It should be different," he said. "We should seize on this opportunity to find out how to be more efficient. We should seize on this opportunity to decide what are the programs that we really value and we want to invest in and enhance, and what are the programs that maybe are not as valuable."
Another question on the call came from the basic science departments regarding why positions that are fully grant-funded by the National Institutes of Health have also had salary reductions.
Kent said salary reductions accrue to the overall grant and a portion of it can be carried over to the next year.
"Then I have that resource available when COVID lifts and I can get my people back into the laboratory, to then pay my tech to be able to do the research that was originally designed in the grant," he said. "That's actually a positive thing for investigators."
School of Medicine Dean Dr. David S. Wilkes said the university is still waiting for set guidelines from NIH.
Swensen said the health system also has taken other steps to reduce costs, including reducing spending on medical supplies and pharmacy, reducing overtime, limiting work with contract staff, revisiting and adjusting facility lease commitments, eliminating non-essential travel, reducing discretionary spending and drawing on some reserves.
Bartels said despite the difficulties, it has been nice to have some time off and he is doing OK financially.
"I've had to file for unemployment, and that's the first time I've ever had to do that in my 33 years of working, and that was difficult," he said. "It was very humbling to do."
He's an ambassador for the Compassionate Care Initiative at UVa, which teaches health workers resilience and compassion in health care, but he can't go into the health system to provide that training while on furlough.
"I've had a lot of nurses reach out to me through social media to have questions answered and have that type of support I would normally offer within the hospital," he said. "I'm now doing it through social media, just because that's their way to contact me and that's my way to help them out."
"For me, it's my passion," he said. "I'm going to continue to do my passion."
Be the first to know
Get local news delivered to your inbox!