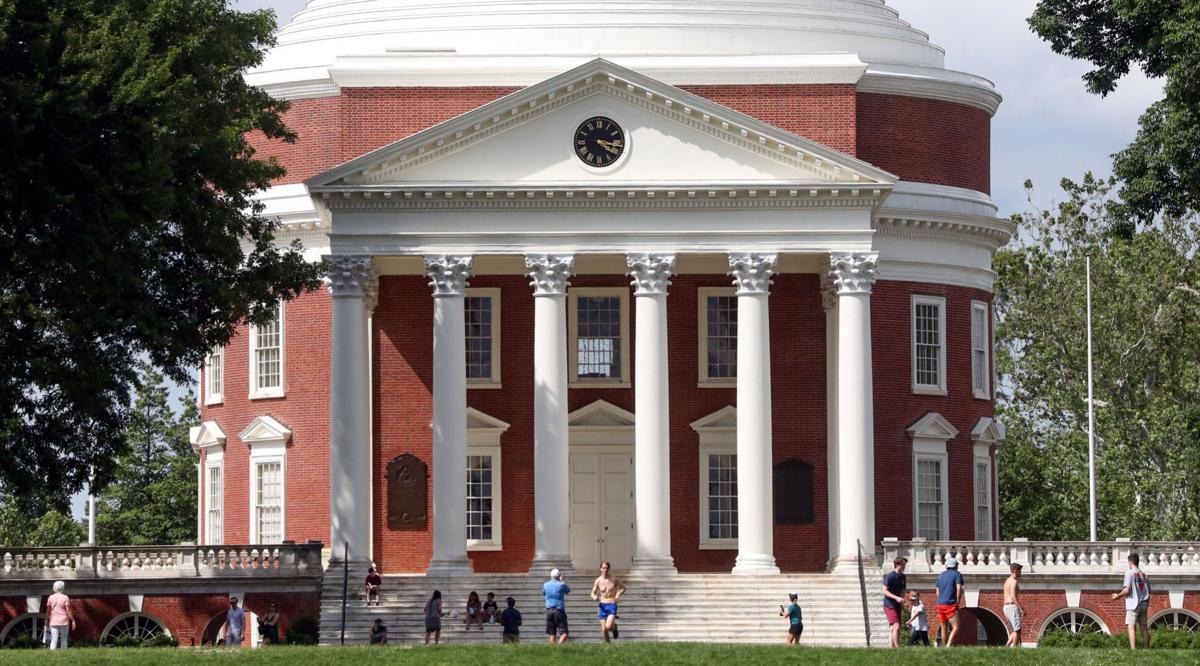 The University of Virginia is pushing back the start of in-person classes to Sept. 8 and delaying move-in day for undergraduates following an increase in COVID-19 cases in the state and nation.
UVa leaders announced the change Tuesday in an email that also cited supply chain disruptions that have affected the availability of testing materials. The decision comes after elected officials and community members have criticized the decision to bring students back.
Students were slated to move in Aug. 18 and start in-person classes on Aug. 25. Instead, online classes will begin Aug. 25 and in-person instruction for undergraduates will begin Sept. 8, the same day that thousands of students in the Charlottesville and Albemarle school divisions will start the academic year virtually.
The delay will allow officials to track the progression of the virus and ensure adequate testing capacity throughout the semester, as well as make sure health and safety protocols put in place are continuing to work.
Most UVa students live off Grounds, and university leaders urged those students to delay their return, as well.
Graduate and professional programs will start as previously planned.
Several other universities across the country have reversed plans to hold in-person classes as the virus continues to spread unabated.
Tuesday's letter to the UVa community was signed by President Jim Ryan, Provost Liz Magill, Executive Vice President for Health Affairs Dr. K. Craig Kent and Chief Operating Officer J.J. Davis.
"In response to these conditions, and based on the advice of UVa public health experts, we have decided to adopt a phased approach to the fall semester, which we believe will best safeguard the health and safety of our university community and our Charlottesville neighbors and give us the best chance of a successful return to Grounds," they wrote. "We still plan to welcome all students back to Grounds, but out of caution, we will do it a bit more slowly than originally intended."
UVa spokesman Brian Coy said officials are monitoring specific metrics and will provide additional details on their approach in the next couple of days.
University leaders will hold a virtual town hall Friday for students, faculty and staff, according to the email. Similar virtual gatherings for parents and Charlottesville community members will be held next week.
UVa leaders wrote that they will continue to track closely key criteria such as viral prevalence rates, hospital capacity, compliance with health and safety measures and the availability of testing materials necessary for fall reopening plans.
"If we need to change plans again due to the progression of the virus, the guidance of our public health experts, or guidelines from the Virginia Department of Health, we will," they wrote. "For now, we believe that this is the best plan to pursue in the face of the information we have, and we are optimistic that it will enable us to have a safe and productive semester on Grounds."
UVa has contracted with Let's Get Checked to test all students. With offices in New York City and Dublin, the company makes its own kits and tests the samples. On Monday, students posted on Twitter about challenges requesting and receiving the kits.
Charlottesville and Albemarle officials have roundly criticized the decision to have in-person classes, fearing that the return of thousands of students from across the country and world would spur more community spread of the virus.
"UVa students should not return," Charlottesville School Board Chairwoman Jennifer McKeever said last week. "They should not be coming back into our community from all over the world to hurt our community. The UVa thing is what keeps me up at night. I could probably protect a classroom. I might be able to protect the school. But with UVa students coming in from all over the world, I can't see how we can protect our community from that."
Officials became particularly alarmed after students returned in early July for traditional mid-summers parties and were documented on social media gathering in large groups without masks.
Allen Groves, dean of students at UVa, condemned the gatherings in an email to students shortly thereafter.
"Please recommit to observing social distancing and wearing masks when in the company of others with whom you do not share a home," he wrote. "Failure to do so places the most vulnerable at significant risk and will likely lead to an end to on-Grounds education this fall."
UVa will work to accommodate students in extenuating circumstances who need to return to Grounds as originally planned with alternate housing arrangements for the two-week delay.
International students planning to attend in person should plan to arrive in the United States by Aug. 25 in order to comply with quarantine and immigration requirements, according to the announcement.
The letter also noted positive signs, including that university has resumed research activity that stopped in the spring, started some graduate and professional programs in-person and brought back some student-athletes for preseason training.
"These early steps have shown that, by following proper precautions, we can resume in-person activity safely," officials wrote.
Be the first to know
Get local news delivered to your inbox!