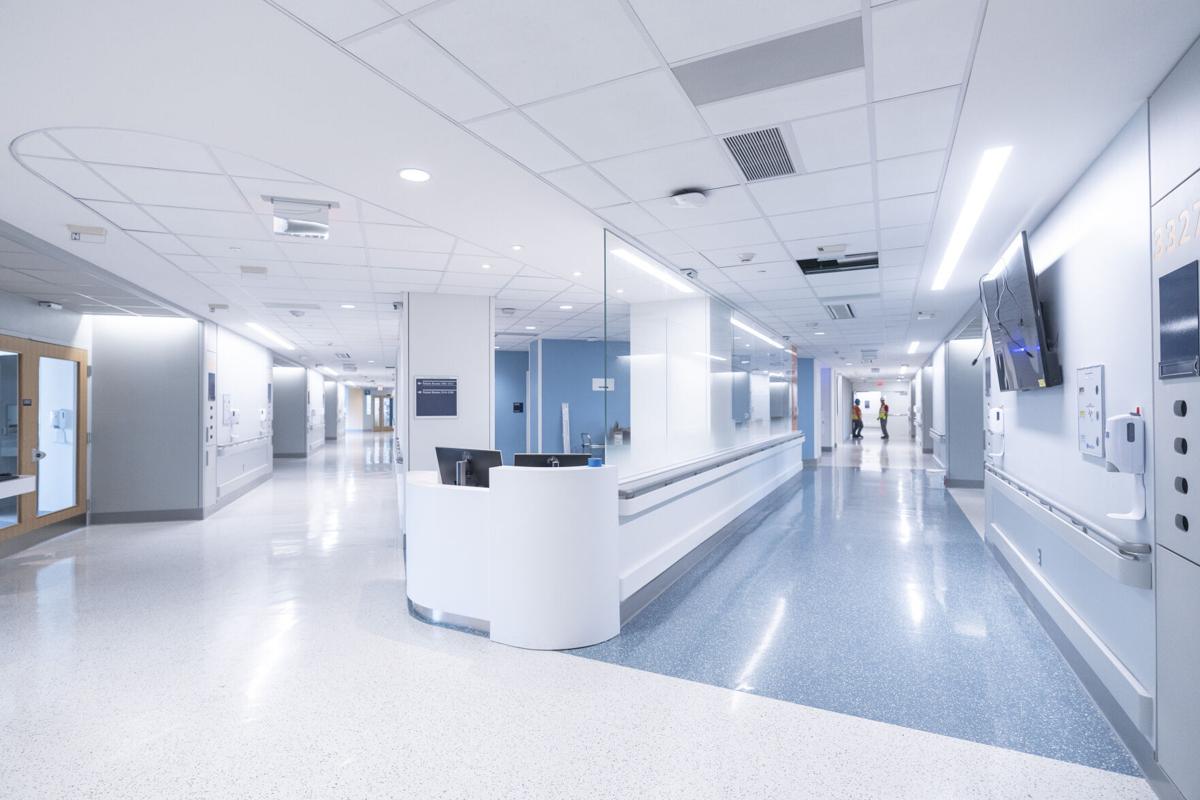 University of Virginia Health System officials are postponing non-essential medical procedures in an effort to ease possible staff shortages and maintain patient care as COVID-19 cases increase.
Physicians and patients are being asked to postpone non-emergency surgeries and procedures that can be put off without an adverse impact on the patient, officials said in a virtual press conference Friday.
The change will allow the UVa Medical Center to move medical staff around to different units based on need.
"Those procedures are certain surgeries that can be scheduled based on patient convenience and can be rescheduled," said Dr. Reid Adams, chief medical officer for the Health System. "We're seeing staffing challenges that combined with increasing numbers of COVID patients results in having to change the schedule for procedures and surgeries so we can meet the needs of those patients in our emergency department and COVID units."
A nationwide shortage of nurses and other medical staff also has impacted UVa clinics and the Medical Center. Because COVID patients tend to require longer hospitalization and more intensive care, the units require more staffing.
As of Friday, the hospital had 40 patients in the COVID care units, including 20 in acute care and 15 in intensive care, Adams said. Among the patients are a few children and expectant mothers, he said.
"We have open beds, they are staffed and we're able to serve our patients coming into our emergency rooms, whether they are COVID positive or not," Adams said. "We've asked some elective surgeries to reschedule and we anticipate being able to return to normal rescheduling sometime next week."
The number of patients being treated for COVID has increased as the delta variant of the SARS-CoV-19 virus has taken over across the country and the state. The variant is more contagious than the formerly dominant alpha variant.
The hospital registered as few as five COVID patients being treated at any given time through much of June and early July. That number has crept up since August to between 35 and 40 on a daily basis.
The increasing case counts recently led to further restrictions at local health facilities. On Wednesday, the Health System and Sentara Martha Jefferson Hospital made vaccination a requirement for all employees to keep their jobs. Previously, vaccinations where highly recommended.
UVa Health and Sentara employees must get the second dose of the Pfizer or Moderna vaccines or a shot of the Johnson & Johnson vaccine by Oct. 18. Those not fully vaccinated by Nov. 1 may face disciplinary action, including possible termination. So far, about 86% of UVa Medical Center employees are fully vaccinated, which does not include contractors.
Beginning Thursday, UVa restricted patients admitted to the hospital and in the emergency room to one designated visitor at their bedside. Admitted patients may have two designated visitors, but only one may be in the room at a time. No visitors other than the two designated will be allowed.
Visitation allowances at UVa medical facilities have varied throughout the pandemic, ranging from no visitors except in end-of-life situations and maternity cases in March 2020 and again in January to two visitors at bedsides for June and July.
Earlier this month, the rise in cases convinced UVa Health officials to limit patients to two visitors at bedsides but did not restrict who could visit. Other visitors were allowed to wait in lounges, lobbies and other public spaces.
This week's new restrictions prohibit more than two designated visitors per patient. Only the designated patient not at a patient's bedside can use those public spaces. No non-designated visitors are allowed in the hospital.
Medical officials say they are unsure when restrictions will be eased.
"The thing the pandemic has taught us is to be very humble. It's hard to predict the future and nothing is certain," said Dr. Costi Sifri, head epidemiologist for the UVa Medical Center. "The situation now is different than last year at this time or even in April before the alpha variant was supplanted by the delta variant."
Sifri said the virus is likely to continue to mutate and challenge the medical community, leading to more tweaks to protocols.
"All pandemics come to an end. History shows that. There will be a time in the future when COVID will not have the impact on us that it has now," he said. "But we're going to see a lot of changes over the next two or three years. It's a different virus than it was last year."