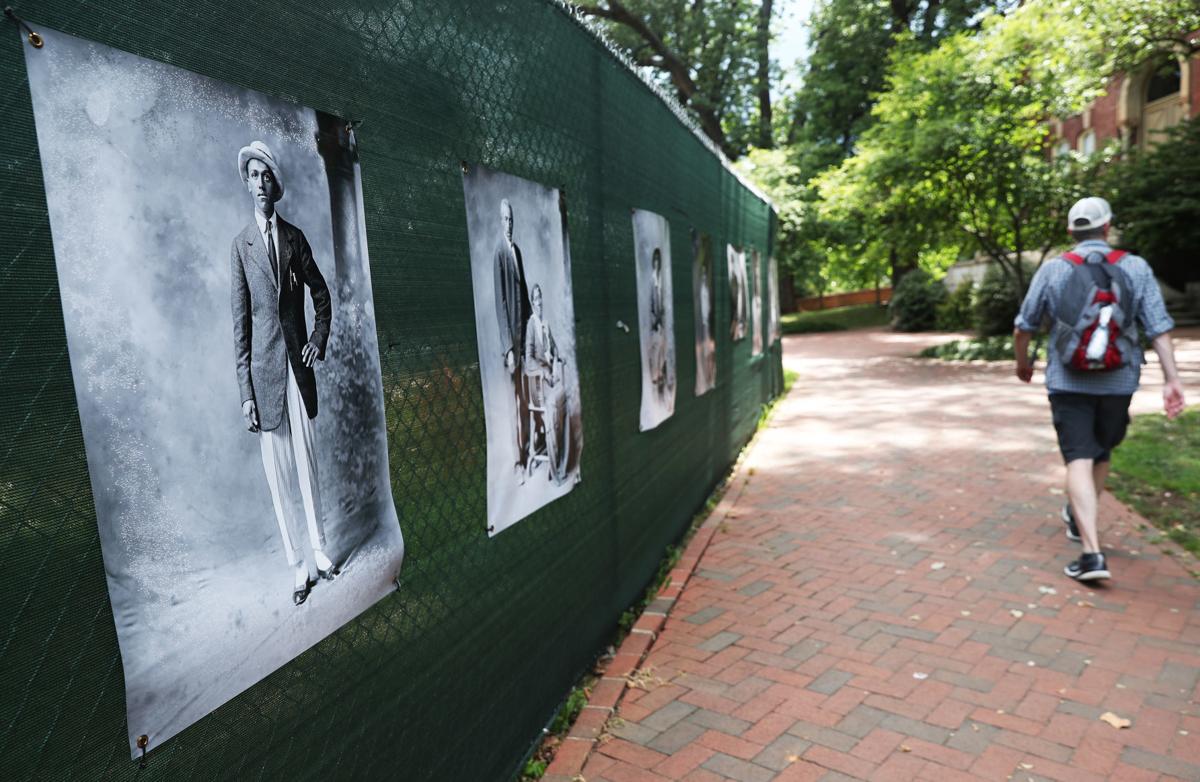 Handprints are visible in some of the University of Virginia's oldest bricks. Underneath attic stairs, chalk letters are found, faint traces of an illicit education. Bones in small cemeteries have been found in several locations.
For six years, the University of Virginia has made a sustained effort to learn more about the enslaved people who lived and worked at the university during its building and founding. But until this month, it had not made a large-scale attempt to identify living relatives of those people.
"Especially the people that only had a little bit of oral history about their ancestors, they might know their ancestors were enslaved but nothing else," said Shelley Murphy, a genealogist hired by UVa to identify and contact descendants. "But it's important to know your ancestors and be able to tell their stories, especially now. This country has still not reckoned with its history of slavery."
In 2013, UVa began a comprehensive research project that examined letters, documents and records of the early university. Eventually, researchers determined that an estimated 4,000 enslaved people lived and worked at the university from 1817 through 1865.
The slaves were not owned by the university itself, but were rented out from other plantations, or owned by professors. They lived in building basements and in shacks in the yards that are now university gardens. They ran student housing, cooked meals, tended pastures and laid bricks. They also were beaten, raped, force-marched and chained, according to a 2018 report.
Those activities, Murphy said, often left a trace. Even if she just has a person's name, such as "Sam the Carpenter," she can find that person's owner and then look for the person and hope they make an appearance in letters, census records and, after Emancipation, Freedman's Bureau and marriage and land records.
UVa gave her a list of people to search for; she hasn't counted the number. Instead, she took a series of names, some from one bookend of university records in 1818, and some from 1865, and began working inward. She also began posting names on a Facebook page, "Finding the Enslaved Laborers at UVa," in hopes that descendants and researchers will see a name they recognize.
She already has had some success in connecting distant family members; three members of one family worked at UVa, and she has now been able to connect distant cousins from different branches, she said.
"It's good work and it's really fulfilling," she said.
Twenty-five years ago, the two institutions most connected with Thomas Jefferson — Monticello and UVa — rarely acknowledged their ties to slavery, including that Jefferson, as widely acknowledged by historians, fathered children with his slave Sally Hemings.
In 1993, Monticello's Getting Word oral history project changed all that and reshaped the public understanding of Jefferson, his family and his plantation.
As Monticello has become more forceful about discussing slavery, so, too, has UVa, largely prompted by students.
The school has introduced more education about the practice of slavery and about the African Americans enslaved on Grounds. Officials expect the descendants project will further shift how the public perceives Jefferson's university.
"How could it not?" said Louis Nelson, a professor of architectural history and UVa's vice president of academic outreach."It would force a public conversation about the reality of the University of Virginia as a landscape of slavery."
UVa often has relied on Getting Word's work, and has asked descendants of people enslaved by Jefferson to speak at events. But while some Monticello slaves were hired out to work at UVa or were bought by professors after Jefferson's death, there were a vast number of other people involved in building UVa. Many moved on, but researchers believe many remained in Central Virginia, at least for a time.
UVa's program won't try to replicate existing work, but will share archives and information and rely on the expertise of historians and scholars such as Niya Bates, Monticello's director of African American history and the Getting Word project.
"It can be really easy to think of slavery as a monolith," Bates said. "But the benefit of engaging descendants, especially in an oral history project, is so that you can add back the human component."
More than a dozen universities — led by UVa, Brown University and Georgetown University — have recognized their ties to the slave trade and have formed a consortium to study and discuss its still-echoing effects. But moving from an apology to reconciliation with living people has proved much slower.
UVa and the College of William & Mary have decided to build monuments to enslaved people, and UVa's Alumni Association offers the Sonja Hoel Perkins Scholarship, which benefits the descendants of slaves. Georgetown students backed a referendum in April to help descendants of enslaved people sold in 1838 to pay off the school's debts. Other schools have tried to strengthen ties to historically black universities.
But as UVa solidified plans to build and dedicate the Memorial to Enslaved Laborers, Nelson said, it became clear that the university also should start a descendants project.
UVa officials said Thursday that they weren't sure whether UVa's project would lead to monetary benefits for descendants or continue more intangible efforts at repair. The 4th Circuit federal courts, for one, bar universities from offering publicly funded scholarships based on race.
UVa, said Kirt von Daacke, assistant dean of history and co-chair of the university's commissions on slavery and segregation, will have to decide how to shape its efforts around a working research university and make them effective in a city that is asking for more engagement.
"UVa is a historic site like Monticello and Montpelier, but we're also a living, breathing university with 25,000 people," von Daacke said. "A university is able to commit resources to the local and regional community, but what exactly that will look like I don't know."
For now, Murphy is deep into records and genealogy databases. She says she will continue working her way through until UVa tells her to stop, though she has a goal of contacting descendants in time for them to attend a private ceremony at the UVa memorial in November.
"African American research has its challenges, but it doesn't mean people aren't finding their ancestors. There are successes every day," Murphy said. "We're still here and we're standing on their shoulders."