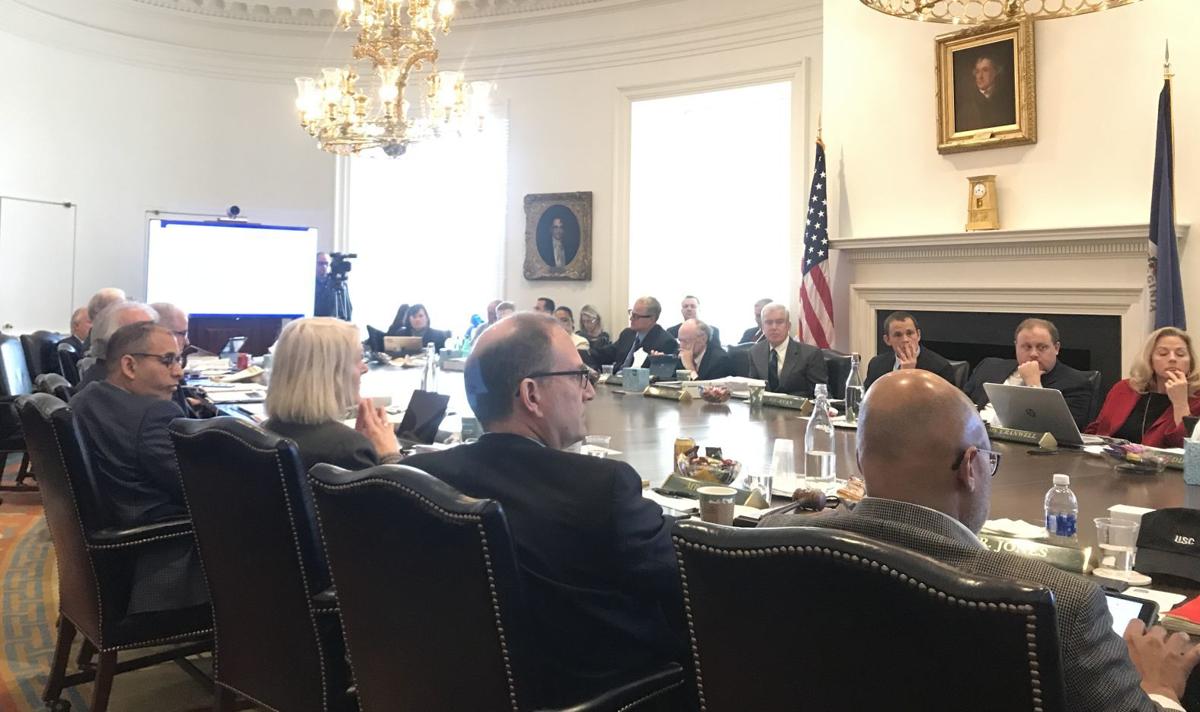 Tuition rates are increasing 3.6% at the University of Virginia.
The Board of Visitors on Friday set tuition and fee rates for the 2020-21 academic year.
Tuition and mandatory fees will increase for current in-state students between $510 and $880 annually and $1,710 to $2,094 for out-of-state students. The changes apply to those in the College of Arts & Sciences, the Curry School of Education and Human Development, the School of Architecture and the McIntire School of Commerce.
Tuition and fee rates for incoming students at the School of Engineering and Applied Science, the Batten School of Leadership and Public Policy and the School of Nursing will be between $1,000 and $2,000 more than the rates charged to current students in those schools.
In a news release, UVa emphasized that the school is facing potential state budget cuts and a variety of increased costs, including approximately $17 million for faculty and staff merit increases. Many of the Democrats who won seats in the General Assembly in November, sweeping the party into control of both chambers, campaigned on securing funding for schools.
The board considered other revenue sources before approving the tuition increases, according to the release.
The board also approved a 3% increase in tuition for both in- and out-of-state students at UVa's College at Wise.
Partners for College Affordability and Public Trust, an advocacy group focused on college affordability, said the tuition increase is disappointing.
"The University of Virginia is raising tuition 3.6% not because it has to, but because it can," Stacie Gordon, Partners' state advocacy manager, said in a news release. "It's disappointing that a university with a $9.6 billion endowment — and $2 billion reserve fund that's larger than the state's rainy day fund — still feels the need to squeeze hardworking students and families."
In other business, the board accepted the university's sustainability plan.
Earlier this week, UVa and the College of William & Mary announced a partnership to reach carbon neutrality by 2030.
As part of the partnership, the schools are sharing information and collaborating on initiatives aimed at achieving zero net greenhouse emissions.
"We don't quite know how we're going to get there yet, but we didn't know how we were going to get to the first set of goals and we made it," said Collette Sheehy, UVa senior vice president of operations.
In 2011, the board endorsed a goal of reducing greenhouse gas emissions to 25% below 2009 levels by 2025.
Cheryl Gomez, director of facility management, said that goal will be completed by the end of the year, six years ahead of schedule.
Board member Robert Hardie said the 2030 plan is "ambitious." It includes reducing use of fossil fuels, cutting down on energy waste and eliminating single-use plastics.
Gomez said one successful method of reducing emissions is storing heat created in the process of air-conditioning and using it for other needs.
Gomez said many of the drivers for carbon emissions in the coming years are new student-housing facilities, expansion at the hospital and UVa's new School of Data Science building.
The big issue for UVa is coal.
"The dirtiest thing we do is burn coal," said Jim Murray, rector of the university.
Murray, Gomez and UVa President Jim Ryan said the university uses coal sparingly. However, it's needed to meet demand in the coldest months.
UVa gets natural gas from Charlottesville, and during January and February, Murray said, city customers need the gas, so there's not enough capacity to meet demand.
"If we switched from coal to natural gas, our carbon footprint would be reduced, but that wouldn't advance us to being fossil free," Ryan said. "We need to think about how we can reduce our reliance on coal while increasing our use of renewable energy."
UVa also plans to focus on improving energy efficiency in its transportation system.
Gomez said the university is improving parking and enhancing its transit system through partnerships with other providers, including JAUNT and Charlottesville Area Transit.
Sixteen of UVa's fleet vehicles have been replaced with ones that use alternative forms of fuel, reducing fuel use by 5,700 gallons, Gomez said.
UVa also wants to move to electric buses, but isn't quite ready yet because they are much more expensive than diesel vehicles — at least for now.
"It does look like the cost of electric buses are approaching the cost of diesel buses, so we're excited about that," Gomez said.
Dr. Babur Lateef, a board member, said the plan also can support investment in the school.
"We have some financial benefits that aren't necessarily seen right off the bat," he said, "and that's getting an investor that's interested in our sustainability plan."