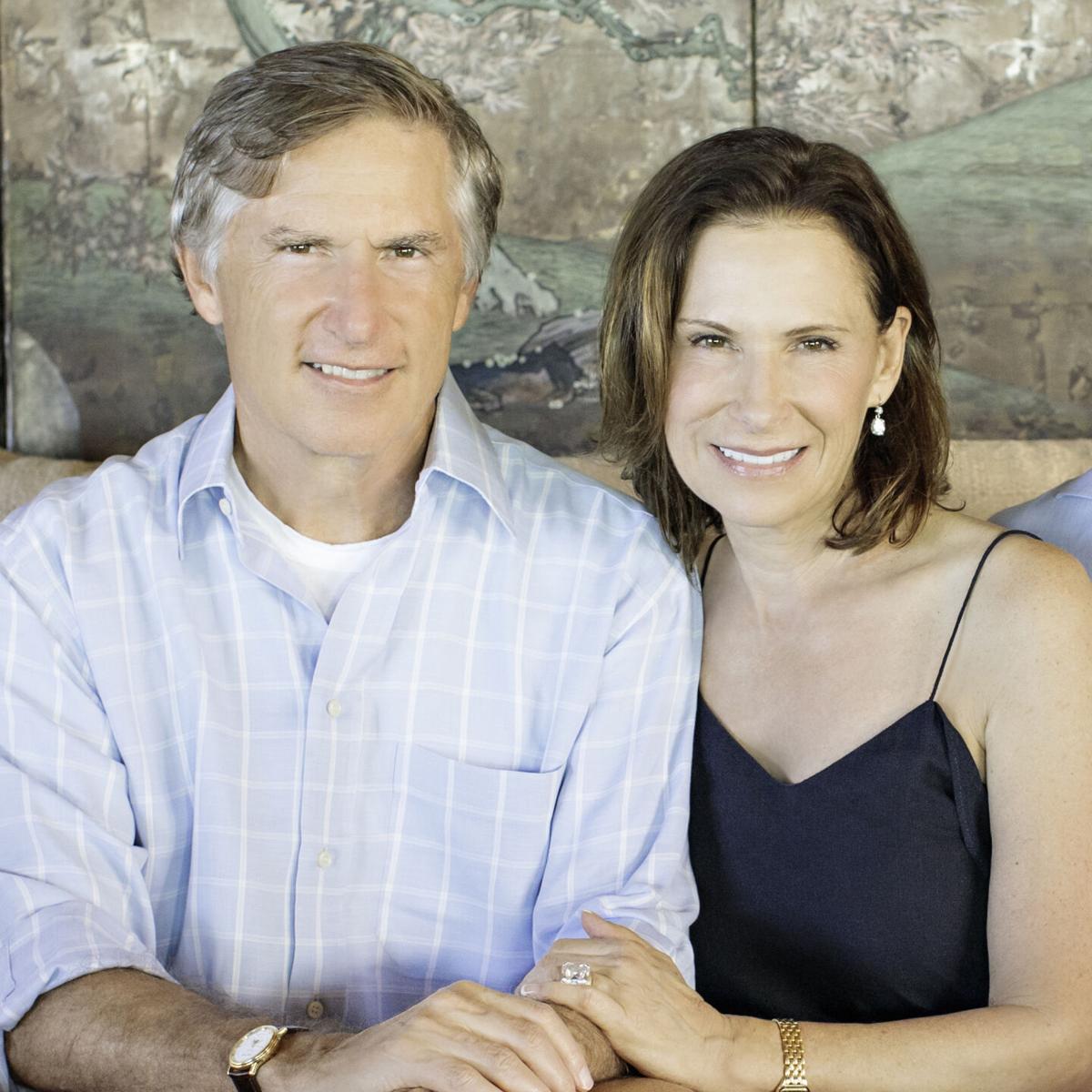 The University of Virginia plans to invest $100 million in a new democracy institute, President Jim Ryan announced during Friday's Board of Visitors meeting. The investment is made possible with a $50 million gift from alumni Martha and Bruce Karsh.
The Karsh Institute of Democracy at UVa will be a nonpartisan institute dedicated to the study, teaching and promotion of democracy. Its mission is to foster participation and civil debate on issues of national importance; support and amplify research, study and discussion of the underpinnings of democracy; and engage in public outreach focused on practical impact and action for students, citizens, policymakers and leaders.
The $50 million gift from the Karshes will support the establishment of the institute and provide funds for construction of a prominent building in the Emmet Street-Ivy Road area, which will serve as a hub for public forums, research and classes. UVa plans to match the Karsh gift with $50 million in additional philanthropy and university support.
The building is expected to open by 2026, but the institute will be operating and providing programming prior to the completion of the physical location.
"For a healthy democracy to thrive, its core principles, institutions and processes must not only be studied and understood, but also vigilantly protected and strengthened," the Karshes said in a statement. "We believe higher education is ideally suited for this responsibility, and we're delighted to support the University of Virginia's ambitious effort to lead in this work."
The Karshes are both UVa alumni and met as students at the School of Law. Bruce Karsh, a 1980 UVa Law graduate, is the co-founder and co-chairman of Oaktree Capital Management. He also serves on the executive board of the NBA's Golden State Warriors, of which he and Martha Karsh are co-owners.
Martha Karsh graduated from the UVa College of Arts & Sciences in 1978 and UVa Law in 1981 and co-manages the Karsh Family Foundation. Since they formed the foundation in 1998, the Karshes have committed more than $300 million in gifts, focusing primarily on education. She co-founded the Los Angeles design firm Clark & Karsh.
The Karshes established the Karsh Center for Law and Democracy at UVa Law in 2018.
Melody Barnes, currently co-director of UVa's Democracy Initiative, will serve as the institute's inaugural executive director. Barnes was the director of the White House Domestic Policy Council under then-President Barack Obama.
"My role is to literally build the institute, working across Grounds with the seven centers and schools that already do great democracy work here so that we can better collaborate and bring a greater intensity to that work by identifying the places where together we can do more than we can do as individual institutions, and then to also think about the practical and unique programs and projects that the institute can do," Barnes said.
Barnes said that prior to the announcement of the Karsh family's gift, UVa already had been working on programming for the institute. Ryan had announced the idea for the institute at the UVa Presidential Ideas Festival in May 2019.
"The institute has started to host democracy dialogues and bring together people across an ideological spectrum to talk about a range of issues," Barnes said.
Barnes said an example of the kind of programming the institute hopes to do was UVa programming, supported by the institute, to put the 2020 presidential election in context.
"We had a strong sense that it would be an unusual election, and that there would be a lot of questions asked about it. So we started planning for that prior to the election, and we were able to create programming online," she said.
Barnes said thousands of people have viewed that online programming.
"We brought in former Cabinet secretaries and other political officials, journalists, historians and others on relevant topics. We also created blogs, op-eds, news interviews to put this all in context for people and to help them understand what was happening," she said.
Two recent Democracy Dialogues events — one led by professor Larry J. Sabato on Jan. 6 during the U.S. Capitol attacks and one on bipartisan cooperation featuring Sen. Shelley Moore Capito, R-W.Va., and Sen. Tim Kaine, D-Va., also were presented with support from the new institute.
Barnes said she hopes the Karsh Institute of Democracy will become a center for complex political discussion and debate, as well as a place to brainstorm and work through solutions to major problems facing democracy.
"We're quite interested in having more fulsome engagement with practitioners who can spend time on Grounds, and having scholars and practitioners work together and inform one another's work," she said.
"We think it would be important … to have people who have different perspectives engaged in that way, identifying what are the best solutions to address some of the challenges that we're seeing, challenges to the rule of law, challenges to democratic institutions … and how do we think about ways to help those ideas scale across the country and on the federal level," she said.
Barnes said that while the institute will be fueled by partnerships between experts and students across the university, it also will be a resource for the community.
"This will be outward facing. We want to engage the country, engage the wider world on these issues, and it will have a level of practicality to it. [We're] bringing smart research and scholarship to these issues, but how does this help America deal with the issues facing our democracy," Barnes said.
One of the institute's first programs will be a UVa Democracy Biennial on Sept. 24-25, bringing in high-profile speakers for both in-person and virtual discussions. The event, which is being produced by the Miller Center and the College of Arts & Sciences' Democracy Initiative with the support of other centers and schools, will be held at the John Paul Jones Arena. More details will be announced at a later date.