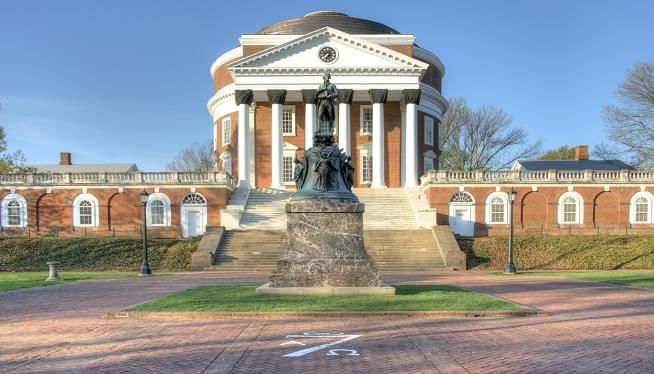 As more cases of the coronavirus are confirmed throughout the country and world, the University of Virginia is prohibiting university-related travel to China, Iran, South Korea and Italy. Staff members who have traveled to those areas are being asked to self-isolate for two weeks.
In a university-wide email, President Jim Ryan said the new travel guidelines will remain in place until April 15.
"Our immediate risk remains low," Ryan wrote, but the situation is "rapidly evolving." He said a university team is meeting regularly to discuss plans.
No cases of COVID-19, the disease caused by the virus that was first discovered in China this winter, have been confirmed in Central Virginia and no people in the region are awaiting test results as of Monday morning, according to the Virginia Department of Health.
Worldwide, more than 100 countries have confirmed more than 110,000 cases, according to The Washington Post's tracker. U.S. cases have climbed past 500.
Spring break for undergraduates at UVa started Sunday and runs through March 15. University events during this time are still planned as of this time, Ryan wrote.
"At this point in time, we plan for students to return to Grounds and to resume classes, but we will be making some modifications to mitigate against the risk of exposure to and transmission of the virus, which we will explain in more detail by mid-week," he said.
UVa is not prohibiting university-related domestic travel at this point, Ryan said, but "strongly discourages" work-related travel, particularly by air, to large gatherings and conferences and to areas experiencing high numbers of COVID-19 cases.
"While these guidelines apply to university-related travel, we ask members of the community to apply similar judgment in considering personal travel commitments, both internationally and domestically," Ryan wrote.
Amid updated alert levels, Albemarle County Public Schools detailed its three-phase plan for a potential outbreak of COVID-19.
"It's a phased approach, which allows us to adjust our infection control measures on an ongoing basis to meet the nature of the threat," said Rosalyn Schmitt, the division's chief operating officer.
The school system of more than 14,000 students is in preparation mode right now — emphasizing the importance of hand washing and staying home if not feeling well — and crafting contingency plans for ensuring adequate staffing and a stash of supplies such as hand soap and disinfectant wipes.
"We're aware of some limitations and have gotten ahead of it and have begun to procure some of those high-demand items such as Clorox wipes and hand sanitizer," she said.
The division will work with local and state health departments to decide when to move into the different phases. The plan will be updated as more information becomes available and has been posted on the division's website at k12albemarle.org/acps/division/Pages/COVID-19.aspx.
In the next phase, parents are advised to prepare for the possibility of having to secure child care over days or weeks. At the schools, disinfectant measures would increase, as well as screening measures for students and staff.
Closing schools would be a last resort and could occur in the third phase of the plan, which would potentially kick in if someone locally tests positive for the virus.
"We know that the possibility of school closure is on the minds of a lot of families right now," Schmitt said. "At this point, we will work closely with the health department to make that decision. We know the closure of a building would be pretty disruptive."
Principals have been asked to identify an isolation room in their schools, which could be used to physically separate those showing symptoms of the virus before they can be picked up.
"If we all work together, we can get through this," Schmitt said.
Concerned about COVID-19?
Sign up now to get the most recent coronavirus headlines and other important local and national news sent to your email inbox daily.