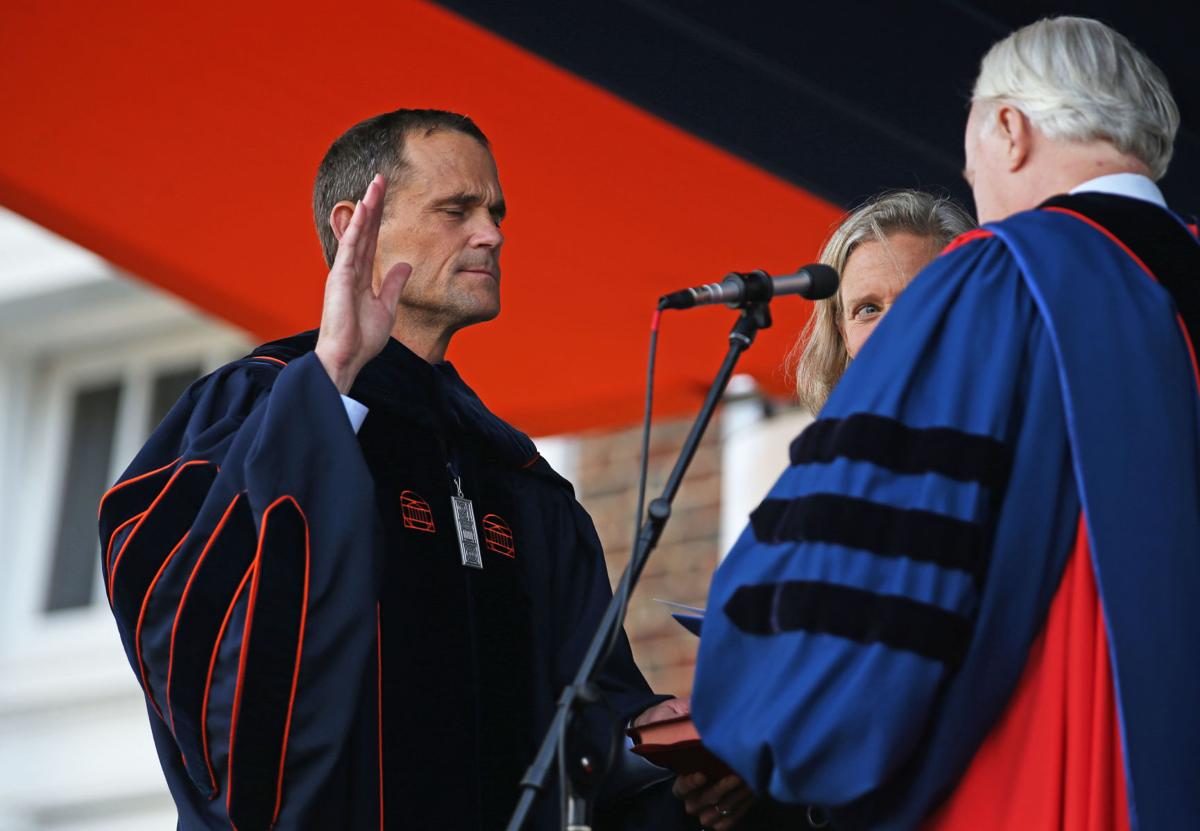 In an inaugural address that acknowledged the university's past while striding into the future, University of Virginia President Jim Ryan reaffirmed UVa's commitment to financial aid and promised to set the school on a firm moral foundation.
They are commitments, he said, that fit within a series of sketches of what he hopes the university will become in the next decade — a place of thoughtful inquiry and just leadership that is "not just great, but good."
Ryan received a cheer from faculty, students, staff and supporters on the Lawn on Friday afternoon when he said in-state students from families that make less than $80,000 will be able to attend UVa tuition-free, and those from families making less than $30,000 will receive free room and board, as well. The promise is near what UVa already provides to low- and middle-income students.
"Here is what I see when I look ahead over the next decade or so," Ryan said. "I see a community that opens wide the door to opportunity for first-generation, low- and middle-income students ... There is more work to be done in this space, but we might as well get started."
Access UVa, the school's financial aid program, was pared back in 2014. The program previously covered the cost of attending college for undergraduates from families that made less than twice the federal poverty guideline (in 2013, that was $71,000 for a family of four).
Currently, UVa promises to meet a student's demonstrated financial need through scholarships, loans and grants, but in-state students may need to take out up to $4,500 in loans per year. Tuition rates for the 2019-20 academic year will be set by the Board of Visitors in December; this year an in-state student in the College and Graduate School of Arts & Sciences would have to pay $13,682.
A university spokesman said the change was effective immediately and applies to any incoming and current students.
Ryan is the university's ninth president — the school, in keeping with founder Thomas Jefferson's democratic principles, didn't have chief executives until the 20th century.
Like most of UVa's former presidents, Ryan is an alumnus. After completing an undergraduate degree in American studies at Yale University, he graduated from UVa's School of Law in 1992.
Ryan is taking on a university that has an expanding and diverse class of students, is in the midst of an ambitious capital campaign and is facing criticism from community members for its impact on gentrification and inequality.
"Jim Ryan is ready to take on these challenges because he has lived the power of education and knows the perils of ignorance," said Drew Faust, the former president of Harvard University. "He knows through both his life and his scholarship the importance of access and opportunity, of making education broadly available and affordable. Who better than this eloquent lawyer, whose speeches go viral, to make the case?"
Brad Hargroves, a former professor of civil engineering, and his wife, Cindy Hargroves, attended the ceremony. Ryan seemed like "a great guy," Brad Hargrove said.
Their daughter is in her fourth year at UVa, they said, and they were impressed by Ryan's financial aid announcement.
"Too often, people can't really afford college, and graduating with lots of debt hasn't worked out too well," Hargroves said. "I'm sure it will be helpful."
Even though Ryan nodded to tradition and to the former and current presidents of universities present on the Lawn, including John T. Casteen and Teresa A. Sullivan, his speech was less an acceptance of the office and more of a charge — like a runner's dash into a fall afternoon — to himself and to the university.
"My friend Drew Faust, from whom you just heard, often said that universities should try to be not just great, but good," Ryan said during his address. "I agree and would take it one step further: I believe that in the future, it will not be possible for a university to be great unless it is also good."
UVa, he said, has to acknowledge that it was built by slaves, that it promoted eugenics, that it shut out women and African-Americans for decades and that gaps in equity still exist. But, he said, the university should also celebrate its progress in recruiting a class that is half female, contains 400 first-generation students and is the most diverse in UVa history.
"This is the grand faith of universities and those who participate in them: Faith in the possibility of progress," he said. "Progress toward a more prosperous, just and peaceful society, and progress toward lives that are more meaningful, purposeful and passionate."
By working toward the common good in research, teaching, sports, music and inquiry, Ryan said UVa can continue to progress.
"I confess that, in this regard, I maintain the strong faith of a parent. I know this project we call the University of Virginia is not finished and never will be. I know it's not perfect, and it never can be. But I believe in its fundamental goodness. I believe in its ability to be even better than it is now."
And, like most speeches during Ryan's time so far on Grounds, he ended with an anecdote that balanced humor with heart.
Sticking Nike Flyknits out from underneath his black regalia and robes, Ryan asked university presidents, faculty, students and supporters to join him on a mission to make UVa better.
"Friends, my running shoes are laced up."
Be the first to know
Get local news delivered to your inbox!