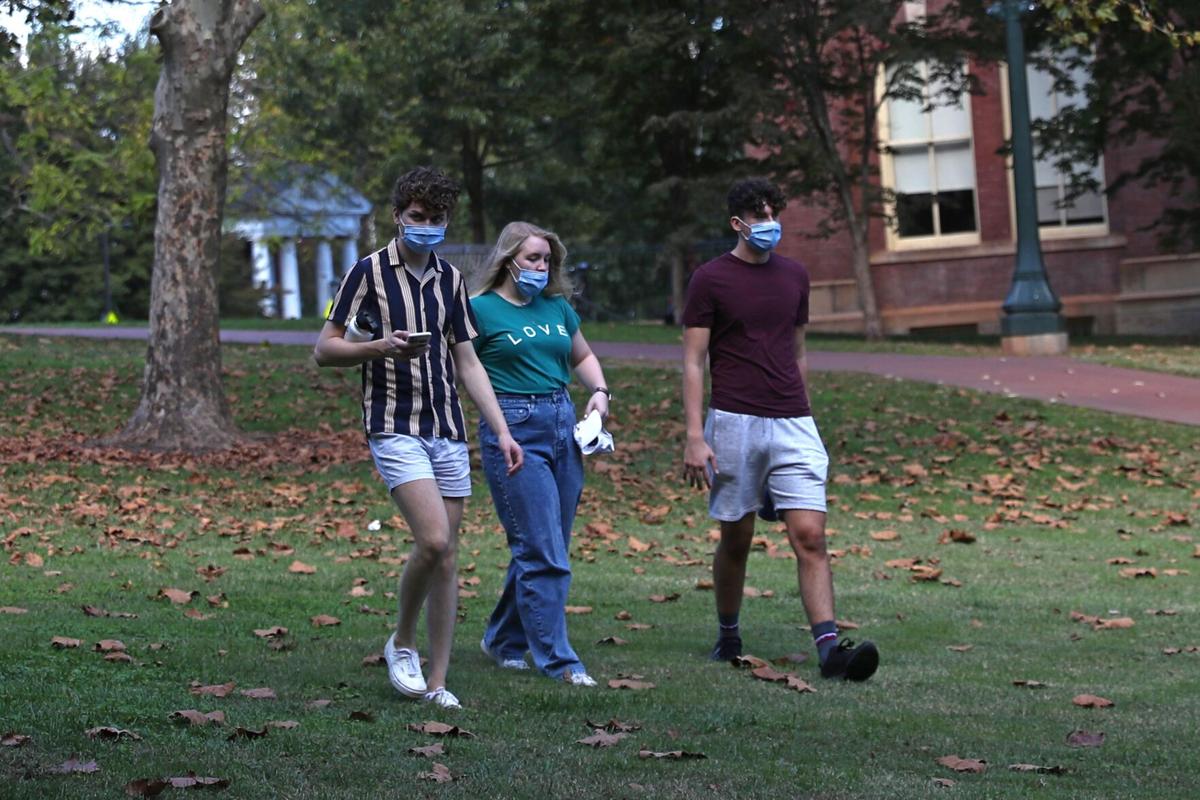 University of Virginia students can expect their spring semester to look much like the fall with a mix of online and in-person classes and restrictions on the size of student gatherings, face mask requirements and a regimen of regular COVID-19 testing, officials announced Thursday.
They can also expect a shortened spring break with shorter breaks scattered throughout the semester as encouragement to limit travel out of the area, officials said.
The spring semester will begin Feb. 1 and end May 6.
"The plans we are announcing today reflect the need to remain cautious in the face of a historic pandemic," UVa Provost Liz Magill and Chief Operating Officer J.J. Davis said in a message to faculty, staff and student "They also reflect our confidence in the capacity of this university and its people to continue to limit the spread and keep each other safe."
According to information released by the school, the university will offer as many in-person college life experiences "as it safely can." With the exceptions of lab courses or practical courses, each class is expected to have an online version for those students who wish to learn from home or are in isolation or quarantine.
"The number of teaching days will be very similar to the fall semester, but we will push the start date back to reduce the time students are living and learning together during flu season," the administrators wrote.
The decision comes as viral video of often maskless students crammed into Corner clubs has made its way around social media. Thomas Jefferson Health District officials have said they are looking into the videos to determine what action may be taken against the venues.
UVa officials said they investigate complaints against students to determine if policy requirements were violated and appropriate penalties.
UVa officials on Thursday said that spring break will be broken into small academic respites scattered about the semester.
"In order to limit travel to and from Charlottesville, the traditional week-long spring break will be replaced by multiple, shorter breaks for students to rest and recharge in the midst of a stressful semester," the administrators wrote. "Students will be encouraged to stay in the area in order to limit the spread of the virus."
The dates of the breaks will be announced later, they said.
The decision is similar to plans rolled out at Virginia Tech to give five one-day breaks instead of the traditional weeklong break in March. The traditional break has also been cancelled by Virginia Commonwealth University and the University of Richmond. Other universities across the country have also shortened or eliminated spring breaks for similar concerns.
On-campus students returning to Virginia Tech for spring semester must get tested for COVID-19 when residence halls reopen Jan. 16 and all classes will be online from Jan. 19 when they begin to Jan. 22. That will allow Virginia Tech officials to review results.
Tech officials are asking all students to quarantine themselves for 14 days before coming back to campus.
UVa spokesman Brian Coy said administrators are currently working out the details of pre-semester COVID testing for UVa students and that specifics will be announced later.
UVa's current academic semester ends Nov. 24 with final exams to be conducted online in December. Every student living in university housing will be tested for the virus before the Thanksgiving holiday.
"As Thanksgiving break approaches, UVa is planning to offer every student a COVID-19 test before they leave," Magill and Davis said in the message. "On Grounds students will take pre-departure tests through the student population testing program. UVa will provide off-Grounds students with the same [test kits] used for pre-arrival testing over the summer. We may offer some off-Grounds students saliva tests as capacity allows."
UVa this week also increased its random, asymptomatic testing of students living off-Grounds, and is now using saliva screening, in addition to testing kits to test off-Grounds students.
Because of changes to class schedules created by COVID-19, UVa students are eligible to take for free a January term course. Those courses begin Jan. 4 and end Jan. 15. All courses will be online.
UVa officials said the spring semester will see every person who comes onto Grounds being required to wear a mask, avoid large social gatherings, practice physical distancing and adhere to testing requirements.
Students are currently tested every nine days if they live in residence halls. Wastewater testing outside of residence halls is being used to screen for potential COVID-19 cases before the students become symptomatic, helping decrease transmission of the virus.
Students living off Grounds will be given test kits to perform their own tests. Tests are also available at the university student health clinics.
"Thanks to you, we have seen case counts fall in our community and our region recently – but other regions of the country are experiencing surges," the administrators said in their message. "We are monitoring the progression of the virus closely and will make changes if necessary."
Officials also announced on Thursday that graduation ceremonies for both the class of 2020, which was canceled by the pandemic, and class of 2021 will be determined by March 15.
Finals weekend for 2021 graduates is currently scheduled for May 21 through May 23, and May 28 through May 30 for 2020 graduates.