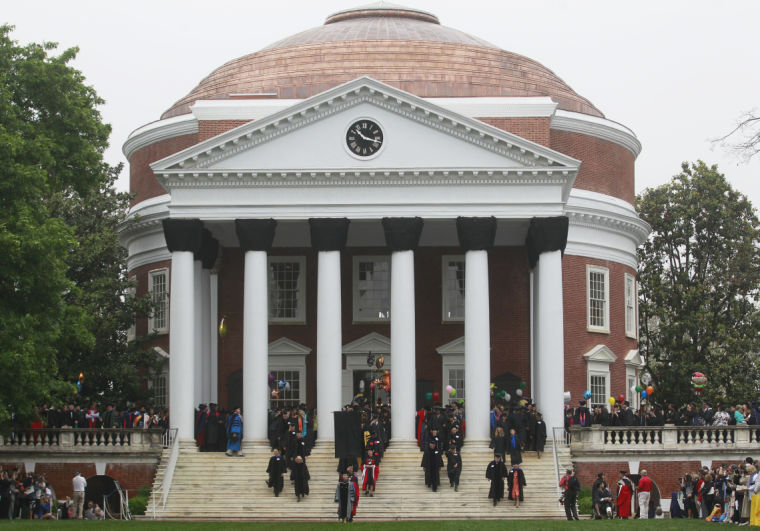 The University of Virginia, rated as one of the best values in college education, is also the second most expensive public university for tuition charged to out-of-state students, according to recently released U.S. News & World Report rankings.
Based on tuition and fees charged in the 2012-13 school year, UVa's $38,018 for non-residents was only $1,000 less than the University of Michigan's $39,109, the most expensive tuition charged to out-of-state students by a public school, according to the rankings.
Both universities have announced tuition increases for 2013-14, with Michigan set to charge $40,392 for freshmen and sophomores from out of state and UVa, $39,844.
"The University of Michigan and University of Virginia are two of the best public universities in the country," U.S. News staffers wrote. "Students living in those states can get a first-rate education at a bargain, but undergrads crossing state lines to attend should expect to fork over some cash."
UVa officials said the school's cost still is lower than most of its private college competitors.
"Our research has shown that many of our peer universities and primary competitors for the best students are prestigious, private colleges and universities that have higher costs," said McGregor McCance, UVa spokesman. "In comparison to these schools, our total cost for families, even out-of-state families, is still a bargain."
Two other Virginia universities made the top 10. The College of William and Mary and Virginia Military Institute placed fourth and 10th, respectively.
William and Mary's non-resident tuition was $36,753 and VMI's, $33,811, according to the survey.
The magazine published the information in a "short list" that focused on out-of-state tuition charged by colleges across the county. The publication collects information on schools each year and analyzes them for national rankings. It uses some of the information it gathers to create the short lists that examine different aspects of the colleges it rates.
Other public colleges making the tuitionlist include University of California-Davis, $36,755; University of California-Santa Barbara, $36,549; University of California-Santa Cruz, $36,284; University of California-Riverside, $35,582; University of Vermont, $35,582; and University of California-Los Angeles, $35,570.
The figures do not include room and board, books, transportation or other costs, according to the publication.
While the second-highest among public schools for out-of-state tuition, UVa's costs are cheaper than all of the private colleges in the rankings.
According to the publication's figures, UVa's out-of-state tuition costs are below the $47,246 tuition charged by the most expensive private college, Columbia, in New York. UVa's rate is also less than the $44,920 charged by the 10th most expensive private college, Williams College in Massachusetts.
"The University of Virginia is a public institution that prides itself on providing a world-class education for all students who are offered and accept admission, regardless of residency, ethnicity or socio-economic status," McCance said.
UVa is rated as the top value in education by the Princeton Review and second by Kiplinger magazine, which also rates colleges and universities by academic excellence and cost, McCance said.
"By offering its AccessUVa financial aid program to all students, without regard to residency, and by charging an out-of-state tuition price that is lower than all its private peers, [UVa] is consistently recognized for its value," McCance said.
UVa is listed by U.S. News as the 24th best overall value for a college education, based on quality of programs and its in-state tuition in 2012-13.
Out-of-state students often are recruited by colleges because the higher cost per student helps subsidize lower tuitions for in-state students, educators say.
"The influx of capital from out-of-state students can be good news for local applicants, if they can secure admission, that is," U.S. News staffers wrote. "Public schools often rely on tuition dollars from non-resident students, both domestic and international, to fill budget gaps and ease public pressure over in-state tuition rates."
U.S. News reported that the University of California school system bumped international undergraduate enrollment to roughly 13 percent last fall. The schools historically had less than 5 percent international enrollment.
University of Michigan regent Larry Dietch told reporters in June that raising out-of-state tuition at the Ann Arbor campus helps keep in-state rates lower.
Final admissions statistics for UVa's upcoming school year are not yet available, but according to the university's Institutional Assessment and Studies division, the school offered admission to 4,934 non-residents and 3,594 in-state residents for 2013-14.
UVa often offers admission to more out-of-state residents because fewer non-residents actually accept and enroll, division officials stated.
In 2012-13, the university offered admission to 4,492 out-state residents and 3,539 Virginians. School statistics show 1,190 out-of-state residents accepted compared to 2,220 in-state. Those statistics have remained fairly stable since the late 1970s, figures show.
"UVa has maintained its commitment to serving the commonwealth as the state's flagship public university," McCance said. "For academic year 2012, approximately 69 percent of undergraduate students were Virginia residents, a percentage that has held steady over the years."