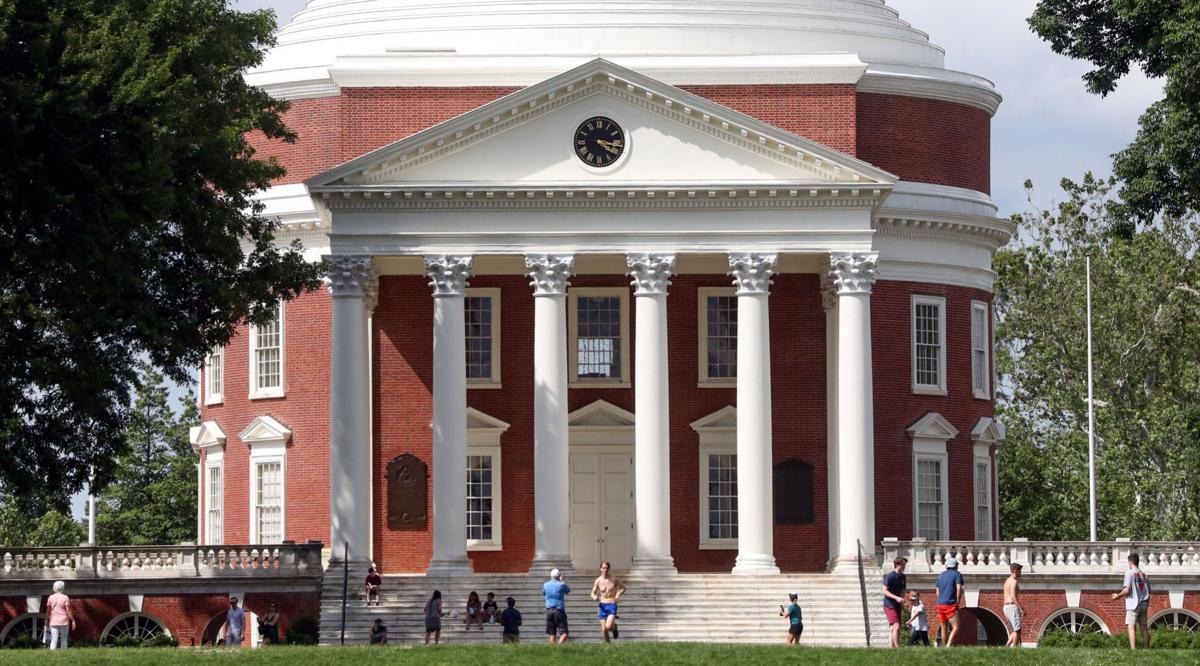 University of Virginia officials will open up Grounds to students later this month with a set of rules, protocols, a contact tracing cellphone app and a student-signed contract that they hope will allow classes to commence and continue despite the COVID-19 pandemic.
The university's Board of Visitors met Friday afternoon mostly behind closed doors to review the school's detailed pandemic response plans, including testing for the virus, public health and safety issues on grounds and liability issues.
The private meeting also included proprietary and business-related information about the UVa Medical Center's preparations for testing and clinical response, according to a prepared motion to go into executive session.
Rector James B. Murray said the pandemic will put to the test the reputation of UVa's history of student self-governance.
"I think we have as well conceived of a plan as any in America, but we have to be clear. This boils down to whether or not we have compliance," Murray told the board in a virtual meeting. "The pandemic is going to be the ultimate test of our students."
Murray said the university's tradition and history of student self-governance will be tested by whether students adhere to the protocols in place when returning to classes.
"If we live up to our history, live up to our traditions then the plans we devise are going to work," he said. "If we can enforce these standards among ourselves, we will succeed."
Murray curated questions from board members and led off the meeting by asking UVa staff to address concerns held by multiple BOV members.
According to staff, it is up to students to self-identify any medical risks they may have and to either choose online classes or a hybrid class schedule to more safely attend classes. Students living in on-grounds housing will have isolation and quarantine quarters provided by the university but those living off grounds will need to arrange their own, staff said.
"What we have done, because we can't quarantine them, is have them think through it with their families and their roommates," said Patricia Lampkin, vice president and chief of student affairs. "The [Virginia Department of Health] will work on that with [off grounds students] as they do with any other citizen."
Officials are also hoping students will download a contract tracing application to the cellphones developed by Google and Apple and in use in other parts of the world. The app is being deployed by the health department and will be integrated into the UVa student app on Aug. 10.
Those apps will allow cell phones to communicate to each other via Bluetooth when students are in close proximity to each and record an anonymous list of those with whom a student comes in contact.
If a student tests positive for COVID-19, that student would enter the test result into the app and that phone would text all of the phones in the app memory with which the student had been in proximity.
Identities of those with whom a student had contact, and even the student who tested positive, would be kept confidential, according to information provided about the app.
"It could well be the most important thing we do technologically," Murray said. "There is no way we're going to catch cases more quickly than this software can enable."
Murray said that while the app will not prevent the COVID-19 spread, it can help contain it by identifying quickly who has come in contact with a carrier.
"I would love to see it in the hands of merchants and people who work around and in close contact with university students and faculty," Murray said. "If we could it in the hands of those most in close contact with UVa students, like bartenders and grocery store clerks, we could go a long way to catching the virus quickly."
Undergraduate courses begin Aug. 25 and in-person instruction will conclude by Thanksgiving. Students will not return for the spring semester until after the new year.
Students must submit to the university a negative test result for COVID-19 before returning and are asked to self-quarantine for 14 days prior to returning.
Students who test positive may not return to school and will be asked to self-isolate at home, consult a local health care provider immediately. They may return 10 days after the date of a positive test or development of symptoms and a mandatory self-isolation.
During the school year, students will need to take a daily health check of possible symptoms and wear face masks in buildings or on university property when others are around or on a university transit bus.
If students fail to follow the rules and the virus breaks out on grounds, officials said they have several options.
"We've been contingency planning since March and have a variety of provisions," said Jennifer Davis, executive vice president and chief operating officer of the university. "We have the ability to do things like shelter in place, if we need to, and modify some aspects of our operations both in terms of academics and [daily operations.]"
Davis said officials could place restrictions on interpersonal interactions and could send some students home, providing it was safe to do so.
"Lastly, we could also go back to only essential operations," Davis said. "We have multiple contingency plans and we continue to work on them."