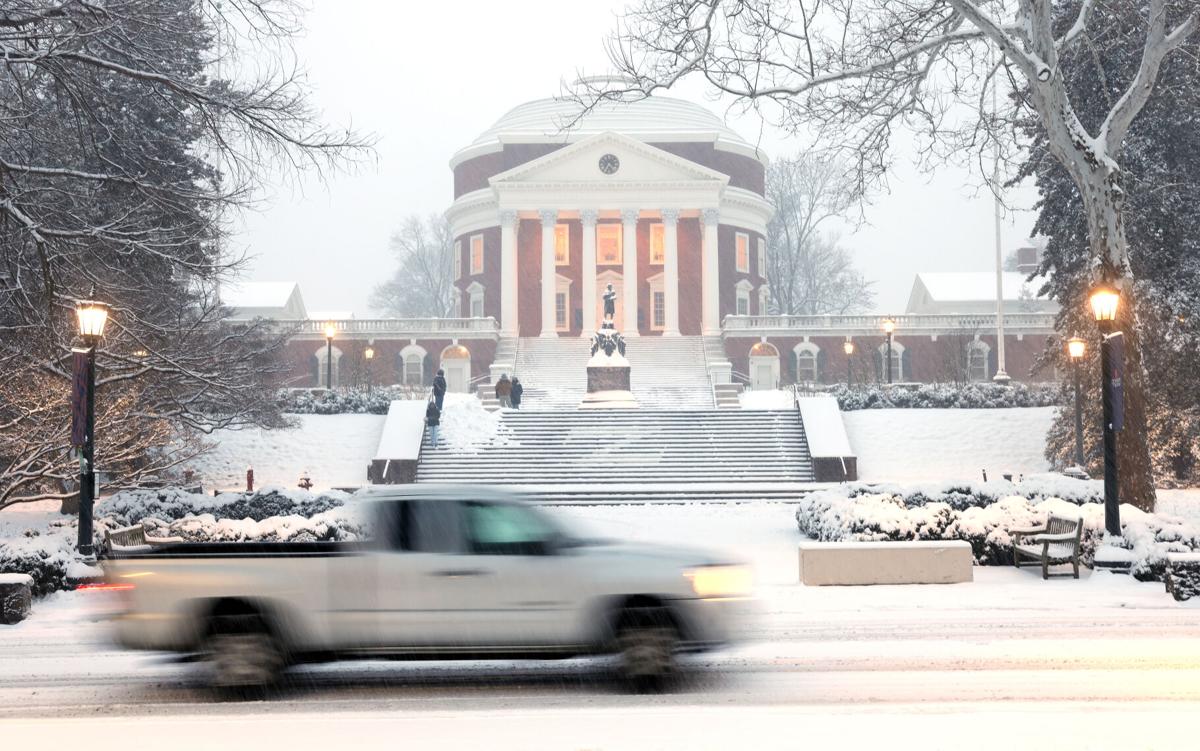 More than a dozen University of Virginia students asked the school's Board of Visitors to forego a possible 3.1% tuition increase for the next school year, citing financial impacts the hike would have on themselves, their families and their friends.
The board held the meeting Wednesday as part of its budget-setting process. The board will consider raising tuition between zero and 3.1% for next school year. The top end figure is based on the cost of providing a college education across the country, plus 1%.
The board is proposing a $114 increase in fees, including $75 to pay for expanding student health and wellness services and a new wellness facility. The remaining fee increase will pay for improvements to recreational facilities and Newcomb Hall.
Based on tuition, fees and other expenses listed by UVa for the 2020-2021 school year, an in-state undergraduate in the arts and sciences school would see a tuition and fee increase of about $554 a year. That would bring total tuition and fees to about $17,860.
Including room and board, food, books and personal expenses as estimated by the university for the 2020-20221 school year, an increase would push costs for students and families to about $34,600 a year.
A 3.1% hike in out of state tuition would be an estimated increase of $1,489, bringing tuition and fees charged nonresidents to about $53,417. With current existing cost of books and room and board, nonresident students would pay about $70,200 a year.
Different schools within the university charge different tuition rates and graduate schools often charge more.
Rector James B. Murray said the board is looking to balance its next year's budget after a tough current fiscal year. The year has seen the pandemic limit incomes; increase the cost of providing classes and safe facilities and cut athletics and other activities that earned the school money.
"2020 has been a tough year for everybody, for the students, parents and the administration. It's been a financially troubling year and psychologically troubling year," Murray said. "We have lost a lot of revenue. We don't have housing revenue, dining revenue, athletics, or student and public services. There are many areas of the university that usually support our working enterprise that are not available to the university now, under these conditions."
Murray said the school has had to cut back on personnel costs.
"We have been able to avoid extensive layoffs, but we have a hiring freeze," he said. "Faculty and staff have not had raises and many have taken pay cuts but they have been able to keep us on a solid financial footing where other [schools] have been in trouble."
The exact tuition increase won't be known until the state legislature sets its budget, including its contributions to UVa, Murray said. The school is planning to have its budget ready for Board of Visitors' approval by the board's March 5 meeting.
"The board is committed to keeping tuition increases at a minimum and using every other source of revenue whenever and where ever we can," Murray said. "Tuition is always the last lever that we pull. But we are here at the point where we have to set a final budget of the coming year. Parents of incoming students need to know what tuition they have to pay, so we have to consider that last lever."
The two dozen students who addressed the UVa board in the virtual meeting, many of whom were associated with the Student Council's legislative committee, sought to shelve of the tuition hike.
Many pointed to a student survey that showed between 58% and 64% of students, depending on their ethnicity, believe an increase would be detrimental to their studies.
They also noted that last spring several schools, including William and Mary, Virginia Commonwealth University and Virginia Tech voted to hold 2020-2021 tuition at the 2019-2020 fiscal year rate, citing the pandemic's impacts on the economy.
Virginia State University has indicated it will not raise tuition for 2021-2022.
"I'm here today to beg you to keep tuition at its current level, or even reduce it," said Levi Schult, a fourth year student studying astrophysics. "Most of my friends, including me, have lost their jobs due to the pandemic. I, personally, was only able to find a new job because I have a car and I was able to find a delivery job that still puts me at risk for contracting COVID-19."
Schult said many of his friends have taken jobs that put them at risk of the virus despite having no health insurance.
"The Board of Visitors and the UVa administration may not see the pain inflicted by this tuition raise, but it does not mean it won't be felt among those already most marginalized and in need," he said
Third-year math and economics student Madison Perry said she took on two jobs because her job in the restaurant industry "took a hit like so, so many others." Perry said a parent's illness has made her education a burden on her family and she has had to take out private loans to pay.
"Something really stuck out to me in Mr. Murray's opening address to the board; tuition is the last lever that the board wants to pull," she said. "Obviously, I'm assuming good faith here, but why do you pull it every year? Why has tuition gone up every year for decades now?"
Grace O. Gyamfi, a fourth year student, said she has been on financial aid for a while and felt blessed for the opportunity.
"I just have to say that, after I graduate, a tuition freeze isn't really going to have anything to do with me," she said. "But there are many students at UVa who have been struggling since their first year to pay for tuition. Money has always been an issue. Money has always been difficult."
Gyamfi said that the problems paying tuition impact the quality of education a student receives.
"People are woefully limited to the choices that they have to make. Some people have to make choices on whether or not they can go to school or whether or not they can take care of their family. They have to choose whether to go to the dentist or pay tuition," she said.
According to information presented at the virtual meeting, the cut in state funding over the years has not been made up by tuition increases. The university estimates that it costs $3,648 per student more to run the school than tuition and state funds cover. That money is covered through a variety of other funding sources, including donors and investment earnings.
Administrators said about 42 cents of every dollar raised in tuition or received from state funds pays for faculty salaries. They estimated that 35 cents of each dollar goes for academic support services, including libraries, student advising and technology.
About 8 cents of the tuition buck go to support graduate teaching assistants; a nickel goes to facilities and utilities; another nickel goes to administration; 4 cents goes to student support including the Dean of Students office; and 1 cent goes to public outreach.