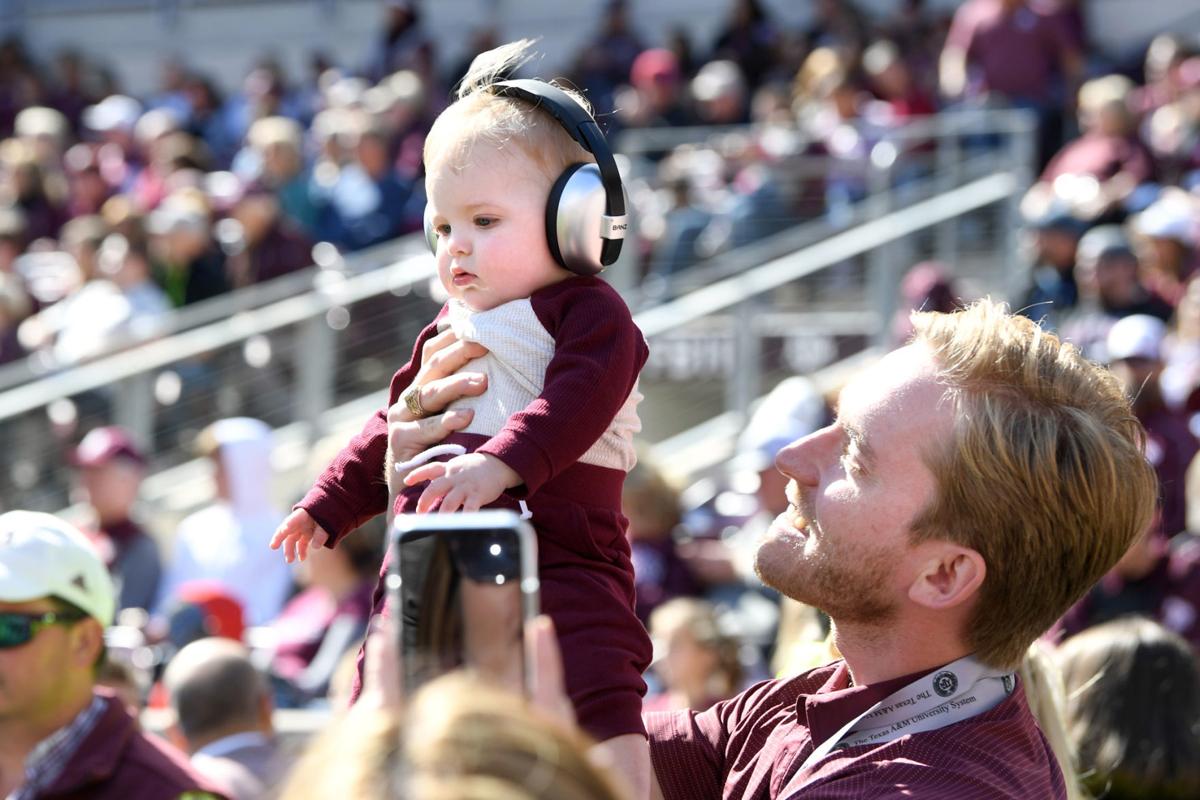 COLLEGE STATION, Texas — On Saturday as the Fightin' Texas Aggie Band marched onto Kyle Field, Nick Bourgeois lifted his son, Liam, into the air like the iconic scene from The Lion King.
A bright smile flashed on Nick's face as he gave his 7-month-old son his first look at the precise turns and pivots of the uniformed musicians.
"The look on Nick's face is amazing," Nick's mother-in-law Sharla Robles said. "And Liam, of course, is just checking everything out. That to me is my favorite photo of the weekend."
What should have been a long-awaited weekend of joy for the former student and his family felt full of mixed emotions.
On March 19, Dominique Robles Bourgeois, Nick's wife, died of cancer just a week after giving birth to Liam via emergency C-section. She was 28 years old.
Both are former A&M students who met in College Station while working at the Olive Garden. They spent many a night going on dates at the Dixie Chicken or dancing the night away at Hurricane Harry's.
They graduated in 2014 and were married two years later in Dominique's home town of Buda. After an initial battle with breast cancer, Dominique was unsure if she would be able to have a child due to the rigors cancer treatments took on her body. But while Dominique was in remission, the couple found out she was pregnant with their "miracle baby," Liam said.
It wasn't long before the couple began dreaming of taking their son on his first journey to Aggieland for a football game.
"It was always their plan," Robles said. "They couldn't wait to do it, and their core group of friends were also planning on coming as well."
That dream came true Saturday as Nick, Liam, Robles and other family members watched the game from A&M University System Chancellor John Sharp's suite as Sharp's guests.
The only piece missing was Dominique, represented Saturday by the wedding band Nick wore on his left hand.
"It's been amazing," Nick said. "It's been a flood of emotions, knowing how much Dom loved coming to football games and how we were here just last year when she was pregnant with Liam."
The Bourgeois' story came to light thanks to the Dallas-based Do It For Durrett Foundation, which provides financial support for families that experience sudden loss. Nick and Liam were the recipients of a $50,000 check from the foundation in June during a charity auction held annually in conjunction with a Texas Rangers' baseball game.
After hearing the Bourgeois' story, including their dream of bringing baby Liam to Aggieland, Sharp invited Nick, Liam and five guests to watch the game in his suite and take a picture on the field at halftime. The A&M athletic department also provided passes for the family to take an in-game tour of the press box.
The Aggieland community joined in the giving spirit. The Dixie Chicken provided a $50 gift card and a hat. Aggieland Outfitters gave the family a $200 gift certificate, which Nick used to dress out Liam in new Aggie gear, he said.
Most importantly, Nick was surrounded by family and friends during a pregame tailgate that they hope will continue every year, he said.
"I just know how much [Dominique] would love this first family and friends tailgate," Nick said. "We'd always talked about doing an annual tailgate with everyone and coming back year after year as our families grow."
Six years prior, Robles, her husband and their younger daughter Maci watched an A&M football game from the student section with Nick and Dominique. Through a few tears of sadness and joy on Saturday, they were there to introduce Liam to that same Aggie family.
"It brought back a lot of memories and a lot of other things I'm very grateful for," Robles said. "I absolutely love that we all got to be there for Liam's first Aggie game and created a ton of wonderful lifetime memories that we'll always have."
Be the first to know
Get local news delivered to your inbox!