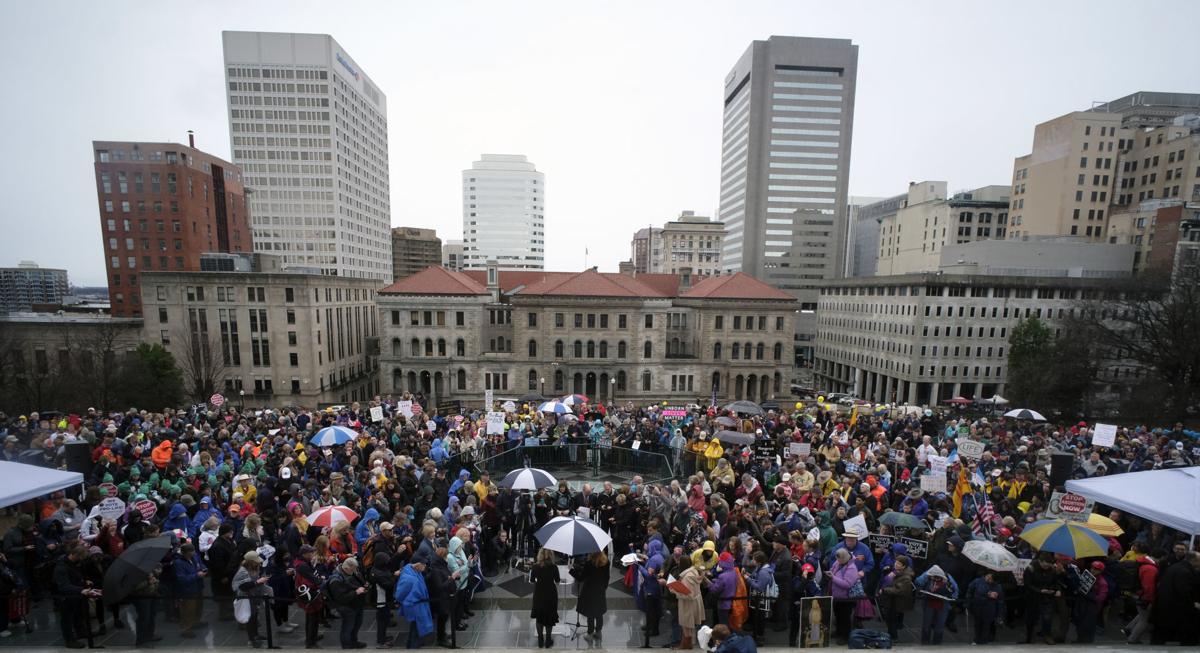 RICHMOND — With Virginia poised to roll back abortion restrictions, thousands of anti-abortion advocates descended on the Capitol Thursday to voice their opposition to legislation moving through the General Assembly.
"We need you to stand for life and stand behind us as we fight this battle with you," Del. Kathy Byron, R-Bedford, told the crowd gathered in front of the Capitol building.
Expanding abortion rights was on the list of top agenda items for newly empowered Democrats.
"Our cause faces the most challenge since Roe [v. Wade] was decided 47 years ago," Byron said. "Every statewide office in Virginia and majorities in both chambers of the Capitol are now occupied by individuals who are emphatically and unapologetically pro-abortion."
Both chambers already have passed a legislative package that would repeal a requirement for women to receive an ultrasound and scrap laws that mandate that women who are seeking an abortion wait 24 hours and undergo counseling that opponents described as "biased" and medically unnecessary. The changes also would expand the categories of health professionals who can perform abortions.
"They want it anytime, anywhere, and they want you to fund it," Sen. Steve Newman, R-Lynchburg, told rally attendees.
Republican legislators have watched as the legislation has moved along, not having enough votes to stop the bills dismantling abortion restrictions they've put in place over the past two decades. Sen. Bill Stanley, R-Franklin County, before the vote on the Senate floor last month, broke down in tears after a speech about his daughter dying soon after her birth.
"Over the last few years, you've heard of some of the bills we've passed, and we have done the right thing for many years," Newman said.
Thousands of people carrying signs marched around the Capitol in the rain. Republican legislators stood at the top of the steps of the Capitol building to thank the people for continuing to fight against abortion.
"Now, with so much of the progress we've made reversed, we must stand stronger than ever," Byron said.
The crowd was much smaller than last year, when Virginia became the center of controversy over abortion-related legislation. The legislature heard a bill that would have removed some restrictions on third-trimester abortions, and Gov. Ralph Northam, a Democrat, made comments during a radio interview that some of his opponents interpreted as an endorsement of infanticide.
Instead of running away from the issue, Democrats ran on it during last year's election.
"Medical decisions should be between a woman and her health care providers," said House Majority Leader Charniele Herring, D-Alexandria, the patron of the House bill to expand abortion rights. "Medical professionals know the proper protocol for each individual patient, not politicians."
Be the first to know
Get local news delivered to your inbox!