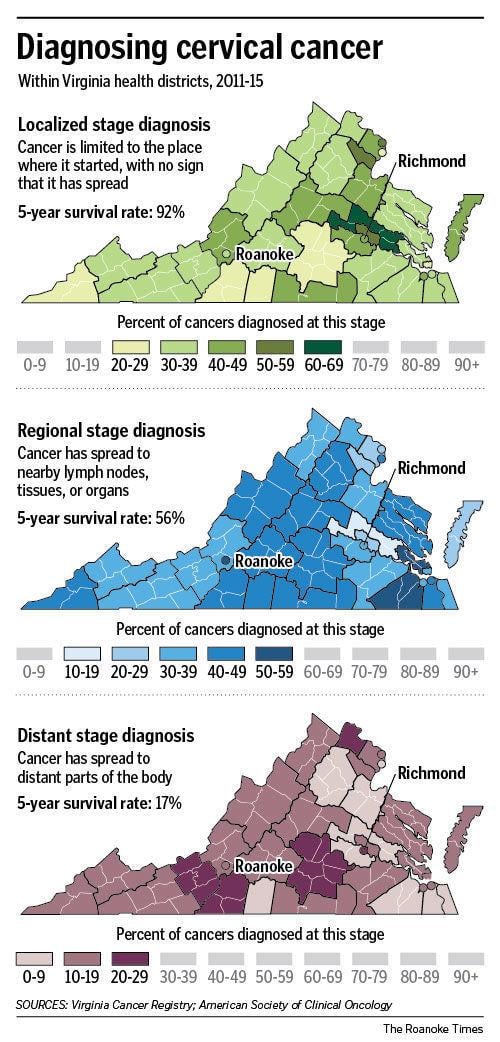 ROANOKE — Women living in Virginia's Appalachian counties are not only more likely to have cervical cancer than those living elsewhere, but their diagnoses tend to come after the cancer has spread, increasing their odds of dying.
Three things — vaccinating adolescents to prevent human papillomavirus, or HPV, infections; getting routine Pap tests; and stopping smoking — can prevent 90% of the cancers, researchers said.
Yet these practices aren't widespread in the westernmost parts of Virginia.
"Even though the rates for cervical cancer mortality have been declining over the last 50, 60 years, there's still sort of a hot spot of excess cervical cancer mortality in Appalachia," said Roger Anderson, professor of public health sciences at the University of Virginia.
Anderson is leading a team of researchers at UVa who are part of an $11 million National Institutes of Health multi-year, multi-state effort to reverse this trend in Central Appalachia.
The University of Kentucky, West Virginia University and Ohio State University, as well as their cancer centers, will work together on the project.
Rates of HPV vaccination and screening are lower in the study area, while smoking rates remain high. Smoking can interfere with the body's ability to clear the virus before it can cause harm.
To change this, Anderson said the researchers will work with 12 federally qualified health clinics, at least two from each of the states, to initiate programs known to work in lowering cervical cancer rates, and to do it in a way the clinics can sustain once the study is over.
The clinics, rather than the patients, will be randomized, with half getting the interventions early and the balance getting them six months to a year later.
"We don't have a control group that doesn't get anything because we feel it's really important that all patients have access to these important public health preventative practices," he said.
In Virginia, UVa will work with Stone Mountain Health Services and Southwest Virginia Community Health System. Both are federally qualified clinics that care for uninsured or underinsured patients by charging them on an income-based sliding scale.
Anderson said people without insurance tend to skip wellness visits and preventative care such as Pap tests, and visit clinics only when they aren't feeling well. Earlier this year, Virginia expanded Medicaid to include adults so that health care becomes more accessible to low-wage workers, which could, by itself, raise the rates of patients seeking preventive care.
The study's design accounts for that. Researchers first will comb through the clinics' electronic health records to establish a baseline of rates of smoking, HPV vaccinations and cervical cancer screening.
They expect, going forward, that both Virginia clinics will see more patients accessing routine care because of Medicaid, but that the one with early interventions will have a higher rate.
"We're not changing anything in terms of who they bring in, who comes through their doors. We're really changing what happens when someone's inside the system," Anderson said.
HPV vaccinations
The key to preventing cervical cancer is to prevent infections of the sexually transmitted human papillomavirus.
Soon after the FDA approved the first HPV vaccine, Virginia was among the first states in 2007 to require girls entering middle school to receive a series of vaccinations. The vaccine prevents common infections of nine strains of the virus that are responsible for nearly all cervical cancers and also can cause cancer in the throat, anus, vagina, vulva and penis.
"But the problem is with the way the legislation is, they never extended it to boys. And the exemptions are so loose they aren't enforced in a meaningful way," said Jessica Malprass, an associate professor at UVa's nursing school. "So even though it is on the books, it hasn't been really effective."
Anderson attempted two years ago to figure out the rate of HPV vaccination, but information on the number of children receiving the vaccinations isn't collected by the Health Department in the same way that it is for other mandated inoculations.
"It's not tracked in a way that was very usable to us. The way that they counted it was by the provider, or the office. So you would know this particular practice gave out 25 vaccinations, but you don't know who got it and you don't know what the denominator was, how many other people were eligible," he said.
So they had to contact health providers and ask how many children in their practices were between 10 and 12 years old and then how many of them had been vaccinated.
"We know there are a lot of pockets that are under-vaccinated. It's the only vaccine we have for cancer prevention, but we still haven't found a way to get the population of Virginia up where it needs to be," Malprass said.
As part of the project, researchers will help clinics reach out to parents and educate them about the vaccine.
Consistent screening
If a woman's body fails to clear the virus, it can years later cause changes in her cervix. Routine Pap tests detect these cellular changes, which if not treated can lead to cancer.
But women living in Virginia's coal counties have more difficulties accessing routine screening. Emma Mitchell, an assistant professor of nursing at UVa, said women face barriers of cost, transportation and distance that could be cleared with at-home tests.
The clinics will use their electronic health records to identify women who should be screened. They will send letters inviting the women to come to the clinics. If the women don't respond, they'll be sent a second letter with an at-home HPV test, along with instructions for using and mailing it.
"It is actually a really widely used technology around the world," Mitchell said. "It's had a big impact in Australia, which is actually on track to eradicate cervical cancer by 2028."
She said a pilot study involving 50,000 women is taking place in London to look at integrating it into a national screening program.
The kits are used solely for research in the U.S., so the clinics will be using them to help determine if the ease of at-home tests will increase screening.
She said the test is no more difficult to use than a tampon, and during a small research project in Wise County, they found that women will use it.
When the virus is detected, someone at the clinic will reach out, explain the results and encourage the woman to come in for a Pap test.
"We have found that knowing your risk of cervical cancer through your HPV result does motivate people to the clinic for follow-up treatment," she said.
Smoking cessation
More than half of adults have had an HPV infection.
"Your body often can clear it, but not always. The problem with smoking is a risk factor that inhibits your body's ability to clear it effectively," Malprass said. "So it doesn't mean if you are a smoker and get HPV that you are going to get cancer. But it is another risk factor for developing the disease. That's why the cervical cancer rate in smokers is higher."
Smoking rates are still high in Virginia's westernmost counties, where 25% to 30% of adults smoke.
"I'm sure all the doctors, when they know their patient smokes, they'll say, 'Well, you know you really ought to quit,' and, 'it's not good for you' and so on, and so forth. But that doesn't really work," Anderson said. "So what we want to do is encourage the physician to have a stronger opinion about it, like, 'I really want you to quit smoking, and we actually have a new program here in our clinic that can help you do that. Can I refer you to our staff person who's part of our program?'"
The clinics will be staffed with navigators to offer evidence-based smoking cessation programs and to work with people instead of just giving them a hotline number to call.
After the study
Anderson said the goal is help the clinics implement long-lasting change.
"You know it's not really discovering new ways of doing it. It's just getting what we already know works implemented," he said. "A lot of these clinics are strapped. They don't have a lot of resources and oftentimes they are not part of a large medical system with lots of revenue."
He said that's why they are focused on federally qualified health centers.
"They serve a really needy population, and they are willing to work with us," he said. "They are really dedicated obviously to their patients' health and well-being and anything we can do to help. So it's really a nice partnership."
Be the first to know
Get local news delivered to your inbox!