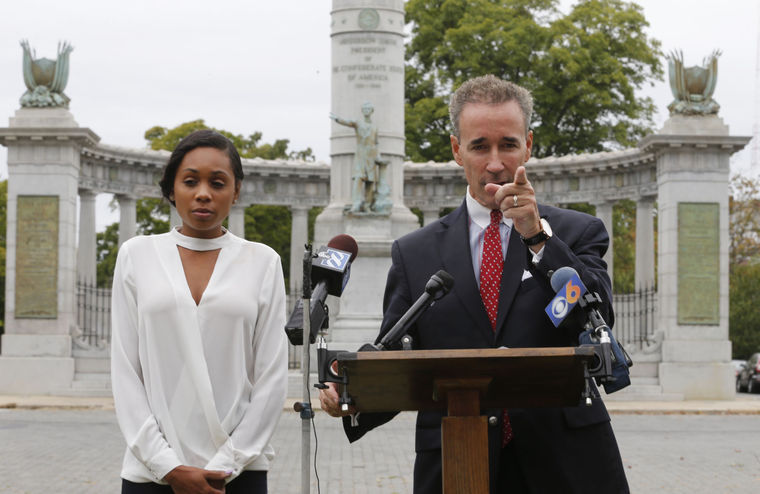 Former Del. Joe Morrissey said Monday one of his first actions as mayor would be to pursue removing the Jefferson Davis statue from Monument Avenue.
"The Jefferson Davis statue is a political statue that glorified a failed political organization and championed a cause - slavery - that all Americans now find abhorrent," he said, citing "how hurtful and painful this statue is to people of color."
Morrissey, standing in front of the statue, said he would not call for the removal of any of the other Confederate statues on Monument because they depict Virginians who actually fought in the war.
"To glorify a general who wore the cloth of Virginia and fought on Virginia battlefields is one thing," he said. "However, to glorify a politician who fought for the continuation of the institution of slavery is another."
Davis, of Mississippi, served as the president of the Confederate States of America during the Civil War.
The statue, at the intersection of Monument and Davis avenues, was erected in 1907 - 42 years after the war ended. It was celebrated at the time as "a vindication of President Davis, an utter rout for the army of slanderers, and above all, a noble tribute to the memory of the 'Lost Cause.'"
Morrissey's announcement makes him the only candidate in the race to stake out a strong position in favor of removing Confederate iconography on city property.
The only other mayoral candidate to suggest they would consider such action has been former Secretary of the Commonwealth Levar Stoney, though he approached the topic with less certainty, saying he supports discussing the issue and suggested that such a discussion should begin with Davis.
For the most part, the other candidates in the race have said they favor leaving memorials intact and instead focusing the city's efforts on creating new monuments that honor other contributions to the city's history, particularly prominent black residents.
There has been a nationwide push in recent years to address the issue, particularly after the mass shooting at a historically black church in Charleston, S.C.
New Orleans City Council voted last year to remove its Confederate statues, though the effort has been stalled in court.
Here are a couple interesting facts about Monument Avenue.
Davis, in particular, has been targeted. The University of Texas at Austin removed a statue of Davis last year.
Last week Alexandria City Council voted unanimously to change the name of Jefferson Davis Highway. They also said they would seek to remove a statue of a Confederate soldier in Old Town.
Ned Oliver reports for the Richmond Times-Dispatch
(804) 649-6580
Twitter: @nedoliver