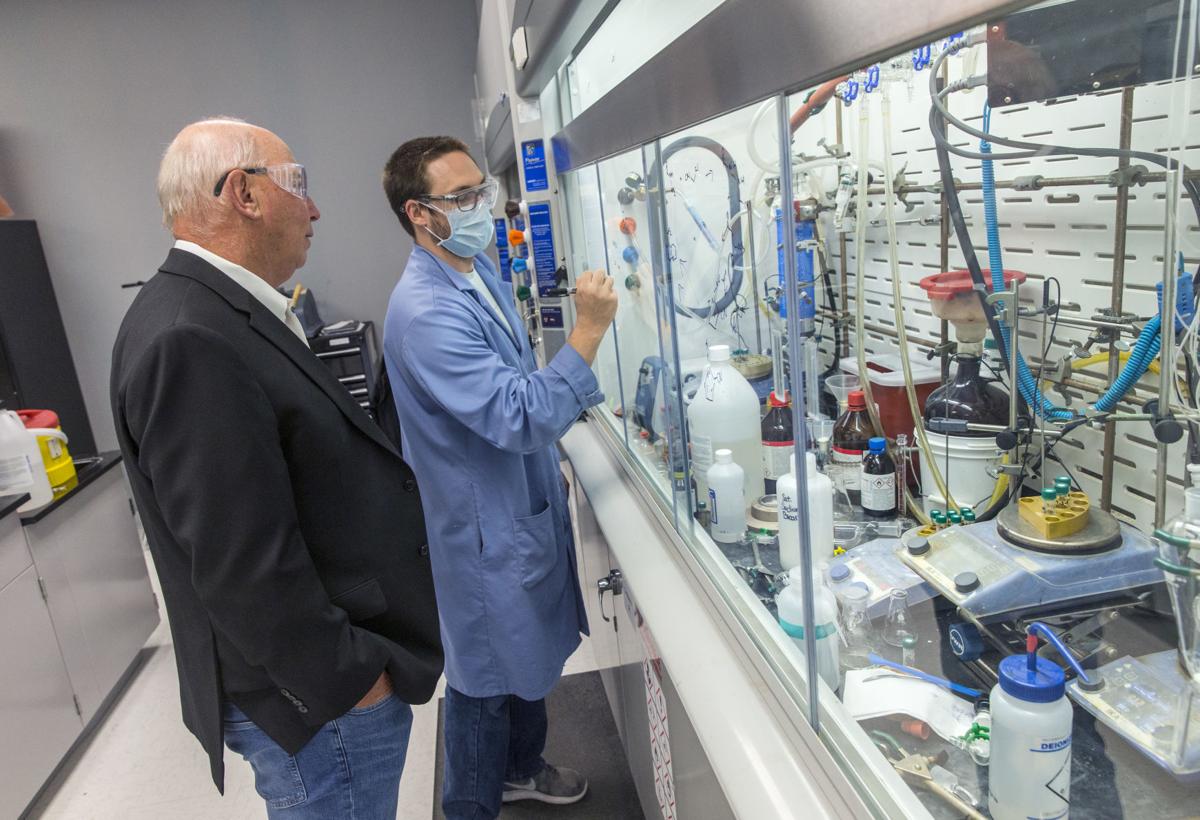 RICHMOND — When Frank Gupton traveled to San Francisco with then-Gov. Terry McAuliffe in 2017, he was hoping for a major financial boost from a high-profile backer of research at the Medicine for All Institute at Virginia Commonwealth University.
The Bill and Melinda Gates Foundation had given almost $15 million over the three previous years to the institute, part of what is now the VCU College of Engineering, to develop new ways to produce medicines to fight AIDS and other diseases across the world.
Their visit resulted in a $25 million grant to the VCU enterprise to develop more cost-effective methods of pharmaceutical production to increase global access to drugs for treatment of AIDS, malaria and resurgent forms of tuberculosis.
Little did they know what else would flow from that visit — a $354 million, four-year federal contract to a Richmond startup company, Phlow Corp., co-founded by Gupton and closely allied to the VCU institute, to produce ingredients for generic drugs to treat patients with COVID-19.
"This is exactly what we wanted to do in Virginia," McAuliffe said in an interview on Tuesday, after President Donald Trump's administration announced the contract. "This was a priority for us to be a leader in innovation."
Gupton, a chemical scientist with a long career in industry before arriving at VCU in 2007, says the Phlow contract shows the value of the investments Virginia is making in higher education research to produce innovative technology with commercial potential to boost the state economy, now crippled by the coronavirus pandemic.
"This is a unique opportunity the state has to jump-start our economy," Gupton said in an interview, citing plans to create 350 high-paying jobs at a manufacturing operation in economically depressed Petersburg.
"If the state continues making substantial investments in VCU, we will be able to create enough economic goodwill to more than compensate for the investment," he said. "If we don't do that, we're really going to miss a great opportunity."
The state began laying the foundation of its new strategy of linking economic development to higher education research with a more than $2 billion bond package McAuliffe proposed at the end of 2015 and the General Assembly approved in its 2016 session. The package included $850 million in capital projects for higher education, including the expansion of the VCU engineering school and construction of a new building for the university's School of Allied Health Professions.
During that same session, the Democratic governor and Republican-controlled assembly worked together to pass legislation that would create the Virginia Research Investment Fund and the Virginia Growth and Opportunity Act. The new laws, coupled with significant budget investments, were intended to promote collaboration among research institutions and local governments instead of competition for limited funding.
"All of that was intertwined," former House Appropriations Chairman Chris Jones, R-Suffolk, recalled. "With a vision to the future, we wanted to make sure we had an infrastructure investment that was significant enough to compete in that space."
Jones said the strategy recognized that "higher education had to be the driver of our economy."
Two years later, the assembly created the Commonwealth Cyber Initiative, to be led by Virginia Tech and involve research institutions across the state, to spur research of cybersecurity and other data sciences. The VCU College of Engineering emerged as the leader of one of the initiative's regional nodes for research.
The first big success came in late 2018, when Amazon chose a site in Northern Virginia for its East Coast headquarters, largely because of an economic development package that committed to a $1.1 billion, 20-year investment in higher education to develop talent for the state's growing technology industry. Initially a $2.5 billion investment and 25,000 high-paying jobs, the payoff potentially doubled when Amazon dropped plans for a sister headquarters in New York City.
"As a state, I think Virginia has really seized a great opportunity, first with Amazon and now with this [Phlow contract]," said Bob Holsworth, former dean of the VCU College of Humanities and Sciences, who helped lure Gupton out of retirement in 2007 with a twin appointment to the university's chemistry and chemical engineering departments.
JB Holston, the newly named CEO of the Greater Washington Partnership, was trying to help Colorado win the Amazon HQ2 sweepstakes as dean of the School of Engineering and Computer Science at the University of Denver.
"We didn't have the higher education pipeline," Holston said in a recent interview. "That was a real eye-opener to me."
The state's strategy took a new turn this year with the creation of the Virginia Innovation Partnership Authority, effective July 1. The new authority, which Gov. Ralph Northam proposed and the new Democratic-controlled assembly adopted, will absorb the research investment fund and the Center for Innovative Technology.
It also will oversee independently managed research enterprises such as the cyber initiative, Virginia Catalyst and the Commonwealth Center for Advanced Manufacturing in Prince George County.
The authority will become the main state instrument to advance commercialization of research, provide critical financing for startup companies and foster the emergence of entrepreneurs as traditional jobs become more scarce in the COVID-19 economy.
"You're going to see a lot of sparks in the economy come from this," said Robby Demeria, chief of staff at Phlow and former deputy secretary of commerce and trade who helped write the legislation.
For the greater Richmond area, VCU has become central to the research-driven economic development strategy.
The engineering school established in 1996 under the leadership of then-VCU President Eugene Trani has become the third-largest research institution in Virginia — behind Virginia Tech and the University of Virginia — with $310 million in sponsored research in the last fiscal year.
"We are the [engineering] college for central Virginia, and one of the mandates I believe is developing a workforce for central Virginia," said Barbara Boyan, dean of the VCU College of Engineering.
The contract awarded to Phlow by the Biomedical Advanced Research and Development Authority, an arm of the U.S. Department of Health and Human Services, has a total potential value of $812 million. Phlow is led by Dr. Eric Edwards, who has medical, doctoral and bachelor's degrees from VCU, and Gupton, who is CEO of the Medicines for All Institute and chair of the Department of Chemical and Life Science Engineering.
"Someone like Frank Gupton is hard to come by," Boyan said. "We got lucky and we got him."
Gupton, 69, is a Virginia Beach native who received his bachelor's degree in chemistry at the University of Richmond, followed by a master's degree at Georgia Tech and a doctoral degree at VCU. He spent 31 years in the chemical manufacturing industry, retiring in 2007 as executive director of process development at Boehringer Ingelheim Pharmaceuticals Inc., which then owned the Petersburg factory that will become the hub for Phlow production under new owner AMPAC Fine Chemicals.
Holsworth credits Fred Hawkridge, associate dean at the College of Humanities and Sciences, for VCU's coup. "He told me, 'We absolutely have to hire this man!'" Holsworth said.
A year after Gupton retired, he noticed that Boehringer Ingelheim was moving to outsource the active pharmaceutical ingredients of drugs it manufactured to China. "It didn't bode well for the Petersburg site [which closed in 2014]," he said.
He was well-acquainted with the process of continuous manufacturing in the commodity chemical industry, but it was new to the pharmaceutical industry, which produced drug ingredients in batches.
Gupton, as CEO of Medicines for All, began working on the new manufacturing process at the institute's laboratory in the VA Bio+Tech Park in downtown Richmond. The GO Virginia region for central Virginia awarded a $500,000 grant to the VCU Pharmaceutical Commercialization Program two years ago, but it withdrew the funding with the departure of one of the companies that was supposed to help commercialize the manufacture of drug ingredients with the technology.
"We saw it as a great opportunity," said Wilson Flohr, CEO of the Grow Capital Jobs Foundation, which administers GO Virginia grants in the region that stretches from the Richmond area through the Tri-Cities region and Southside.
The tariff war between the U.S. and China raised concerns about the threat to the supply chain of active pharmaceutical ingredients for drugs made in this country, which Gupton said prompted the beginning of discussions between Medicines for All and the Trump administration in November.
The emergence of the coronavirus pandemic in January sharpened the focus on developing a financially competitive domestic supply of active pharmaceutical ingredients for generic drugs to treat patients with COVID-19, the disease caused by the virus.
"Our goal is to develop a process that is cost competitive with any other manufacturer in the world," Gupton said. "It can be done right here."
Here begins in Petersburg, where the factory AMPAC reopened last year sits on 36 acres of a 300-acre property that is primed for additional development.
"This is how our region can become a leader in pharmaceutical engineering, which I think is a strong example of developing a new [business] cluster that takes advantage of all our strengths in the biosciences," said Holsworth, who worked with Trani to produce a report on Richmond's future and with GO Virginia in creating an economic development strategy for the region.
Ed Albrigo, president and CEO of the CIT, called the Phlow contract "a very tangible outcome and benefit to the commonwealth for the investments that the commonwealth has made."
Secretary of Commerce and Trade Brian Ball said, "It's the proof of the pudding."