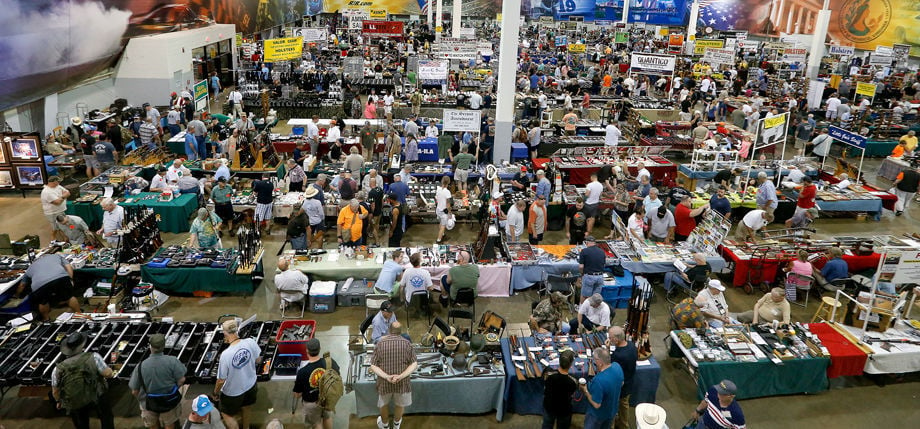 RICHMOND — A new state law designed to expand background checks at Virginia gun shows has resulted in only one person being denied the purchase of a weapon at 41 weekend events during the first six months of the initiative, which required $300,000 in funding to hire three new state police employees.
A 21-year-old Richmond man tried to purchase a firearm from a private seller at a Nov. 12-13 gun show at the Richmond International Raceway complex. But when he agreed to undergo a voluntary background check at the seller's request, he was denied because he had an outstanding felony warrant for his arrest from Richmond, state police said. Troopers immediately took him into custody.
But he is the only person so far to be stopped from buying a firearm from a private seller under a new law that allows voluntary background checks to be performed by state police upon request. A total of 39 voluntary checks have been requested by private sellers of firearms or their customers from July 1, when the law went into effect, through Dec. 31, 2016, according to Virginia Firearm Transaction Center data.
By comparison, 21,935 mandatory criminal background checks were performed by federally licensed firearms dealers on their customers at the 41 Virginia gun shows during that period, resulting in 178 denials, the transaction center said.
Prospective gun buyers can be denied the purchase of a firearm, and in some cases arrested, if they are among those prohibited by state or federal law from buying a gun, such as a felon, someone convicted of domestic violence or a person who has been committed involuntarily to a mental health facility.
Virginia Public Safety Director Brian J. Moran remains upbeat about the law and is convinced it was right thing to do. He views the 39 voluntary background checks and one arrest thus far as a positive start that demonstrates the law's effectiveness.
"Every marathon starts with the first step," Moran said. "What the governor wanted to do is expand background checks. And this has indeed expanded background checks and led to an arrest. I would say that's a good day's work."
The person who was arrested after being denied the purchase of a gun "could have gone out and caused mayhem," Moran added. "I think that's very significant."
The voluntary background check measure was one of several components to a bipartisan gun safety deal struck last year that Democratic and Republican state lawmakers praised as a historic compromise.
In exchange for reversing course on Virginia Attorney General Mark R. Herring's earlier decision to sever concealed carry reciprocity agreements with 25 states — which enraged gun rights supporters — lawmakers agreed to sign into a law a requirement that state police be available at all gun shows to perform voluntary background checks for unlicensed private sellers who lack access to the federal and Virginia Firearms Transaction Center databases.
The deal also codified a requirement that anyone subject to a permanent protective order must sell or transfer guns in their possession within 24 hours after its issue, a policy aimed at removing guns from domestic violence situations.
Moran said short of making background checks between private sellers and their customers mandatory — which the Virginia General Assembly killed again this year in proposed House and Senate legislation — the voluntary checks are "the best we could do. It was the only avenue to expand background checks."
Gun control advocates have long sought to close what they call the "gun-show loophole" by requiring background checks on all prospective buyers, which would include firearms sold by collectors or between private parties. State authorities estimate that roughly 5 percent of gun show transactions involve unlicensed, private sellers, and the number of private sellers appears to be declining.
At least one voluntary background check was requested by a private seller or their customers at 21 of the 41 gun shows held across the state between July 1 and Dec. 31, transaction records show. No voluntary checks were requested at the other 20 shows.
The largest number of voluntary checks occurred at the Chantilly Dulles Expo Center in Northern Virginia; five were conducted there July 29-31; three on Sept. 30-Oct. 2; and three more on Dec. 30-31, records show.
It was unclear what legal penalty, if any, the Richmond man faced after being denied the purchase of a gun and arrested at the Henrico gun show in November.
A Richmond police spokesman said the man was wanted for failing to appear before a grand jury in September. He went before a judge after being detained by state police and then was released, the spokesman said.
There's no record he was charged with an offense related to his November detention. He has a minor criminal record and has been charged with numerous felony offenses that all were eventually withdrawn by prosecutors, a check of court records show.
Moran said when he went to a Henrico gun show in July, just days after the law went into effect, he talked to several private sellers of firearms, and many told him they liked having the ability to run voluntary background checks.
"They could now access a background check" if they felt a customer "didn't look right or wasn't behaving in a manner that made them suspicious," Moran said.
Private sellers who request background checks are protected from any legal liability that could ensue in the sale of a firearm once state police performs the check and find no red flags.
Moran noted that only one other state, Nevada, has passed legislation that makes voluntary background checks available, but the measure isn't enforced by Nevada's state police agency.
Eight states and the District of Columbia require universal background checks for all firearm purchases.
"That kind of underscores that [Virginia's law] is pretty significant, considering other states," Moran said.
But the mandatory check law came with a price: Upon the passage of the measure during the 2016 General Assembly session, Virginia State Police was authorized three new, full-time civilian positions — with benefits — to fulfill the requirements of the new law, a state police spokeswoman said. That's costing taxpayers about $300,000 annually.
But when not on the road, the new employees will supplement existing staff within the Virginia Firearms Transaction and help develop and provide instructional materials to licensed firearm dealers registered with the VFTC, as well as to private sellers and buyers of firearms.
Philip Van Cleave, president of the Virginia Citizens Defense League, one of Virginia's largest gun rights groups, questioned the efficacy of the law.
"If it costs the state nothing to do, then one could argue, well all right. ... It wouldn't bother me," said Van Cleave, whose organization generally opposes background checks for private sales of firearms. "But if this is costing taxpayer money, it's definitely not worth it."
"Find out what it costs and divide that by 39 (mandatory checks performed so far) and we can figure out what it cost taxpayers for every single person that did a background check," he added.
During the full 12 months of 2016, state police arrested more people than ever for illegally attempting to buy firearms from federally licensed firearm dealers at Virginia gun shows, but the percentage of customers denied approval through background checks who were subsequently arrested declined for a second straight year.
Troopers monitoring 75 gun shows throughout the state in 2016 arrested 100 people, the most on record, for offenses related to someone being prohibited from possessing a firearm, newly released records shows. All but one of those arrests involved transactions through federally licensed firearm dealers, who are required to perform background checks.
The previous record of 91 was set in 2015.
The largest share of arrests — 29 — were for people convicted of felony offenses, followed closely by people convicted of misdemeanor domestic violence — 27. People prohibited from purchasing firearms for mental health reasons and those with misdemeanor warrants for their arrest ranked third and fourth, with 13 and 12, respectively.
Although the number of arrests jumped, the percentage of people who were denied permission through a background check to buy firearms at Virginia gun shows who subsequently were arrested dipped from 33 percent in 2015 to 31 percent last year.
That percentage had been steadily rising since Virginia State Police began tracking gun shows transactions in 2011 until the number peaked at 35 percent in 2014.
State police repeatedly have declined to provide any explanation or perspective of the gun show denials and arrests, saying the department's function is only to capture the data in accordance with state and federal law.
However, law enforcement experts have previously noted that not all purchase denials correspond with a violation of the law by the would-be buyer.
Some misunderstand what they are required to disclose on the background check form or unknowingly provide false information, others don't satisfy identification requirements and a few are accidentally flagged as being prohibited from buying a gun, among other reasons.
Last year's 41,919 gun show transactions represented 8.2 percent of Virginia's 2016 annual total of 505,722 transactions involving all commercial sales, state police figures show. Last year's total, a rough estimate of firearm sales, set a new state record.
As gun rights advocates frequently point out, the number of denials and arrests continue to remain a fraction of those involved in total gun transactions at Virginia gun shows.
Last year for example, the 321 people who were denied and the 100 people arrested represented 0.76 percent and 0.23 percent, respectively, of the 41,919 transactions.