Do you drink alcohol? How often? How many drinks would you say you have a day? A week? A month? Ever binge drink?
If you are being quizzed by a doctor while sitting in a sterile room and naked under a gown, would you fudge the answers?
Sara Snider, founder of BEAM Diagnostics, thinks those types of questions, or long paper-and-pen forms asking directly about alcohol use, are posed in such a stigmatizing way that people are uncomfortable answering truthfully.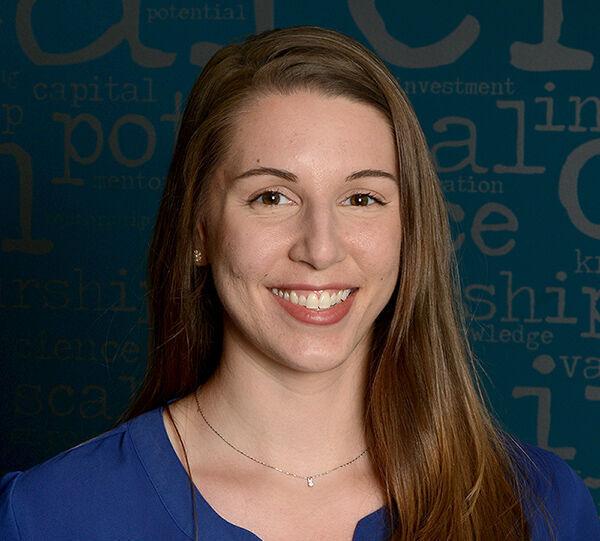 What if instead you were asked, perhaps on the comfort of your own phone, if you'd prefer $50 now or $100 in a week, or how many drinks you'd purchase if they cost $1, how many if they cost $10?
Snider has developed a quick assessment tool that does not ask people how much they drink, but scores their answers so that physicians can better figure out if patients are misusing alcohol. The electronic app has been under development since 2017, thanks to a National Institutes of Health transfer grant aimed at taking discoveries out of labs and into medical practices. With increased alcohol sales during the pandemic, developers think the tool will help physicians figure out which of their patients might now have problems with misuse.
The premise is based on the behavioral economics theories studied in Warren Bickel's lab at the Virginia Tech Fralin Biomedical Research Institute in Roanoke, where Snider was a senior research associate. Bickel is BEAM's senior scientific director.
The tool scores patients' potential for misusing alcohol based on questions that rate how impulsive they are and the value they place on drinking.
"We are leveraging some excellent research based on behavioral economics that asks the person to make a decision about a small amount of money now or a large amount of money later," Snider said. "That may seem like a benign type of question, but in fact we can predict an individual's likelihood of severity of alcohol misuse from those questions and output a score for the doctor to be able to better understand where that patient is and connect them with referral to treatment or preventative services much more quickly because the earlier we're screening patients it prevents the risky drinking turning into abuse or hazardous drinking."
Carilion Clinic psychiatrist Dr. Anita Kablinger collaborated on the testing of the tool. About 300 patients who agreed to the screening were enrolled. The tool gave their physicians a score indicating if they were possibly misusing alcohol. Their medical records were looked at before and after they were screened to see if there were any visits in which alcohol played a role, such as a fall that sent someone to the emergency department.
"They found that it was 87% predictive or accurate when you were predicting mild, moderate or severe alcohol use disorder," Kablinger said. "The interesting part is that with these patients, they looked at their medical records six months before they completed this application and six months after, and it looks like the app predicted about 12% of the 300 patients would meet criteria for alcohol use disorder, but in the charts that was only about 4%."
Kablinger said that difference would prevent missed opportunities by physicians to find and help people who are misusing alcohol. She said the tool will prove helpful as primary care physicians begin to deal with the fallout from the pandemic.
"This is coming at a time that is kind of fortuitous, although we started about three years ago," Kaplinger said. "During COVID, alcohol use is only increasing."
"We have seen an increase in addictive behaviors pretty much across the spectrum," said Dr. Bob Trestman, chair of behavioral health at Carilion. "Since the beginning of the pandemic, as you know painfully, opioid use has gone up, as has methamphetamine. People are smoking more cigarettes. They have gained weight through much more eating. The national average is two pounds increase a month. Certainly there is an increase in alcohol and alcohol content and the consequences of inappropriate alcohol use."
The Virginia Alcohol Control Board sold $1.26 billion worth of liquor in 2020 — or $200 million more than 2019 — during a time that sales to bars and restaurants dropped by $70 million. ABC store sales shot up the first month of the pandemic in Virginia to $97 million, about $27 million more than March 2019.
That trend was seen throughout the year, even as restaurants reopened. December store sales were $26 million over the same month in 2019.
Trestman said people have difficulties talking about misuse of alcohol.
"There can be real advantages to questionnaires, even when people know that this is intended to assess their illness or their risk of alcohol misuse, when the questions aren't as obvious," he said. The BEAM tool is also quick.
"We're always looking for more effective and efficient ways to gather information to help in decision making. And if we can automate and enhance the speed and efficiency of asking questions using technology, that's always going to be better," he said. "But part of our challenge is then what's the next step? It's an important, critical first step to screen people. But if we see a problem but then we can't refer them for treatment, that's also a problem."
Trestman said that Carilion, as with many other health systems, is expanding behavioral health capacity knowing that many problems have developed during the pandemic.
Snider said she is hoping that BEAM's tool can help uncover problems. The validation part has finished, and she said BEAM is now working with health systems and providers to put it to use in their practices.
"We're excited about really helping health care providers and patients in the region get screened for alcohol misuse and prevent the progression," Snider said. "As a local startup company, we're helping to translate that mission from the research laboratory into the real world by implementing a tool that could be really helpful."