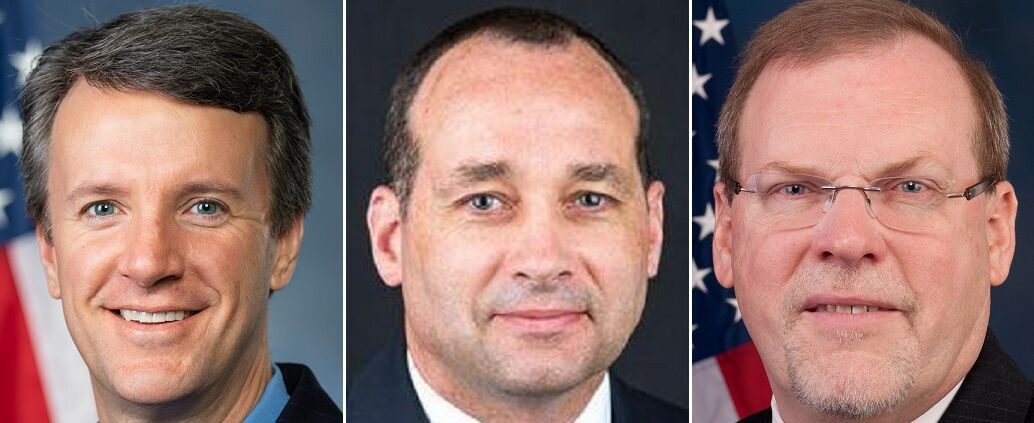 Reps. Ben Cline, R-Botetourt, and Morgan Griffith, R-Salem, joined the majority of House Republicans in voting against impeaching President Donald Trump for his role in inciting a violent mob that stormed the U.S. Capitol one week ago while Congress certified President-elect Joe Biden's victory.
Many Republicans have called for unity after joining in a divisive attempt to overturn the results of the presidential election, culminating in Trump exhorting supporters to attack the Capitol. Meanwhile, Virginia's Democrats have said Trump must be held accountable for the attack and that healing will come with sending a signal the behavior from Trump and his supporters won't be tolerated.
"Attempts to impeach the president in his final eight days in office will only further fuel the political divide among our citizens and will be detrimental to long-term efforts to unify our country," Cline said in a statement. "Both President Trump and President-Elect Biden have called for a peaceful transition of power, so I would urge Speaker Pelosi to reconsider pursuing Articles of Impeachment."
The House voted 232-197 to impeach the president on a single article, "incitement of insurrection," becoming the first president in American history to be impeached twice. Ten Republicans — none of whom were from Virginia — joined Democrats to impeach Trump.
Rep. Morgan Griffith, R-Salem, did not return a request for an interview. He previously said he didn't think it was feasible to conduct a proper impeachment process and trial to remove the president before the end of his term on Jan. 20.
Rep. Bob Good, R-Campbell, took to the House floor to praise Trump for his policies. Good, who was sworn in as the new representative of the 5th Congressional District last week, has repeated many of the baseless claims and misinformation that Trump has made about rampant voter fraud and how Democrats "stole the election."
"This action will only serve to further offend the 75 million people who voted for President Trump and further deepen the division within our nation as we try to move forward with a peaceful transition of power," Good said. "However, the Democrat majority has determined he's already guilty, and there's no need of a trial, and, therefore, move forward quickly with this phony impeachment charge."
Rep. Rob Wittman, R-Westmoreland, said in a statement that the attack was "perpetrated by misguided individuals who were led to believe that something could have been done that day that would have changed the outcome of the election."
"My vote against impeachment in no way means I agree with the president's actions and statements leading up to the storming and illegal entry of the Capitol building, but I believe impeaching the lame-duck president before the peaceful transition of power occurs will only further inflame emotions and further divide the nation," he said. "Our focus now needs to be on unifying our nation and moving forward as one, and I believe impeachment does the opposite."
After the attack on the U.S. Capitol, which ended with five people dead, Democrats and some Republicans immediately started calling for Trump's immediate removal from office.
"The perpetrators of this heinous attack on democracy were Americans encouraged and emboldened by president trump because he could not accept the outcome of a free and fair election," Rep. Elaine Luria, D-Norfolk, said on the House floor. "His actions are seditious, and he is not fit to serve."
"A democracy that has been a bedrock of American ideals was attacked from within, not just by the mob, but by Donald J. Trump," Rep. Jennifer Wexton, D-Loudoun, said in a video statement. "The president remains a clear and present danger to our nation and our democracy. If our institutions are going to survive, he must be held accountable."
Rep. Gerald Connolly, D-Fairfax, said that after Biden's win, Republicans didn't call for unity, but rather legitimized Trump's lies to voters.
"Before we can have unity we must first have justice," he said. "President Trump has torn apart our nation, attacked our democratic institutions, damaged our standing in the world, and now ends his term with a violent insurrection."
Democrats had called for the Cabinet, led by Vice President Mike Pence, invoking the 25th Amendment and removing Trump. The House held a largely symbolic vote urging Trump's Cabinet to act to get the president out sooner.
"The president's incitement of an insurrection is an impeachable offense, and in recent days, we have seen principled Republicans join the effort to uphold our oaths to the constitution and protect our democratic republic," Rep. Abigail Spanberger, D-Henrico, said in a statement. "This vote represents a united response to a disgusting act of brutality and sedition."