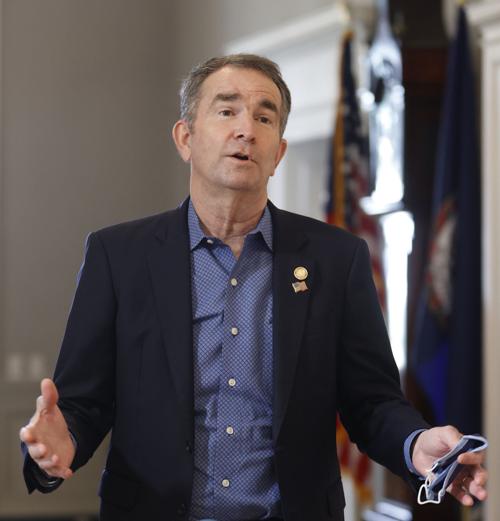 Gov. Ralph Northam announced Tuesday he is restoring the voting rights of 69,000 Virginians who completed their prison sentences for a felony but remain under probation - a change in the state's policy he said will help people fully reenter society.
People convicted of a felony automatically lose their right to vote in Virginia. Until Tuesday, they could petition the governor for restoration of those rights after fully completing their sentences, including probation. Moving forward, Northam said, they'll be eligible for rights restoration once they are no longer incarcerated.
The change in policy mirrors a constitutional amendment tentatively approved by the Democrat-controlled General Assembly that would automatically restore the right to vote to people convicted of a felony as soon as they are released from prison. To go into effect, the constitutional amendment would need to be approved by the legislature again next year, and then by Virginia voters in a statewide referendum in November 2022.
While a governor can't automatically restore voting rights - according to a 2016 ruling by the state Supreme Court - the administration argued Tuesday nothing is stopping Northam from accelerating rights restoration.
"Probationary periods can last for years. But that's also time in which a person is living in the community, rebuilding their lives. They should be able to exercise those civil rights, even if they are still under supervision," Northam said Tuesday during an event at the OAR of Richmond, which helps people who have been incarcerated reenter society.
Virginia is one of just three states that permanently disenfranchises people convicted of a felony. More than half a million people previously convicted of a felony live in Virginia, and the state estimates that about 1 in 7 are ineligible to vote. An additional 33,000 individuals are incarcerated in Virginia due to a felony conviction.
While the state's governors have in recent years used their powers to grant people their voting rights back, the process is a messy one that is not applied equally across the state. Bob McDonnell, a Republican who served as governor from 2010 to 2014, kick-started the process in earnest during his administration, restoring voting rights to about 8,000 people.
Gov. Terry McAuliffe restored voting rights to 173,000 people — a process that was wrapped up in legal disputes. (In July 2016, the state Supreme Court struck down McAuliffe's blanket executive order restoring voting rights to 206,000 felons. McAuliffe then restored rights individually.)
It's unclear if the Northam administration's new policy will face legal challenges. Including people whose rights were restored under the new policy announced Tuesday, Northam has so far restored the voting rights of 111,099 Virginians.
Northam acknowledged Tuesday the racist origins of the constitutional provision that revokes the voting rights of people convicted of a felony. In the early 20th century, Virginia lawmakers enacted policies to disenfranchise Black people. Advocates regularly point to transcripts of the state's constitutional convention in 1902, when many lawmakers talked of the need to "purify" the ballot, referring to Black voters.
"Too many of our laws were written during a time of open racism and discrimination, and they still bear the traces of inequity," Northam said. "We must change it so we can get closer to being a state where people can move beyond their mistakes, and where justice is our priority."
Supporters of the move on Tuesday broadly credited Democrats' control of state government  for the changes coming to Virginia in this area. Still, there's significant debate among Democrats about how far the state should go.
Sen. Mamie Locke, D-Hampton, who sponsored the constitutional resolution on the topic in the Senate, originally advocated for a more significant change that would have allowed people who are currently incarcerated the right to vote.
During a legislative hearing, Locke said voting is a fundamental right that shouldn't be taken away, and argued that the policy's racist origins should be addressed by scrapping it completely. A coalition of civil rights groups backed Locke's proposal.
It was ultimately amended to mirror a proposal from the House that would automatically restore voting rights for people who complete their prison sentences. House Majority Leader Charniele Herring, D-Alexandria, introduced that resolution.
"Automatic restoration of rights is not racial justice," Locke said before the Senate Privileges and Elections Committee on Feb. 4. "It is beyond dispute that felony disenfranchisement is as Jim Crow as poll taxes.
"Why are we talking about giving something back to people that should have never been taken away in the first place? The right to vote is the essential currency of democracy.
"Withholding it from 100,000 of Black Virginians whether they are incarcerated or not makes a mockery of any pretense that we are a commonwealth seeking to right past wrongs, and offer reparations for past injustices."
(804) 649-6254
Twitter: @MelLeonor_