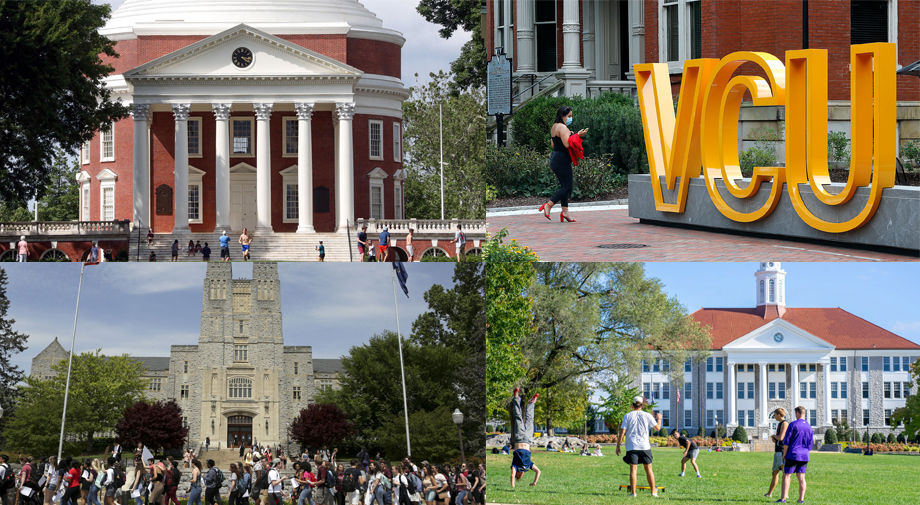 RICHMOND — On Monday, the Senate approved three bills impacting higher education in Virginia.
Two were passed by narrow Democratic margins. One prohibits colleges from asking applicants on an application if he or she has a criminal history, an effort known as "banning the box."
The other requires five universities to identify their enslaved laborers and offer a scholarship or economic program to descendants of the enslaved.
A third bill that passed unanimously requires college governing boards meet a higher level of transparency.
All three bills now head to the governor's desk for his consideration.
Banning the boxThe General Assembly has endorsed a push to "ban the box" on college applications, which stops public colleges from asking applicants on the initial application if they have a criminal record.
The Senate on Monday passed HB1930, sponsored by Del. Lashrecse Aird, D-Petersburg, by a vote of 21-18. The vote fell on party lines, carried by the Senate's Democratic majority.
There are 70 million people in the country with a criminal history, and two-thirds of them won't complete an application if there is a question regarding criminal history, Fran Bradford, a deputy secretary for education, told a Senate subcommittee. A person convicted of a crime is 40% less likely to recidivate if he or she has a college degree.
Kimberly Haven is part of a nonprofit called From Prison Cells to PhD. She began taking college classes while in prison. After her release, when she applied to college, she saw the question on an application.
"I knew what that meant: Thank you, but no thank you. You are not welcome," she said.
Her education stopped there.
No evidence suggests removing criminal history from a school application has an effect on crime on campus, Aird said.
"This measure is being brought before you to ensure we don't have students that feel intimidated by this question appearing on their college application," Aird said.
Common App, used by several schools in the state, already has removed the question. The General Assembly removed the question from job applications last year.
The bill allows universities to inquire about an applicant's criminal history later in the process and reject the applicant if it so chooses.
"We're not saying that you can't ask the question," Haven said. "Just ask it later, and give someone the opportunity to apply."
George Mason University uses this approach. Once a student is given conditional approval, the university then asks about criminal history. In 2020, GMU initially accepted 22 applicants with felony records. Twelve of them were given full acceptance, said Mark Smith, GMU's executive director of state government relations.
Questions about a person's criminal history are a form of perpetual punishment, Haven said. Rehabilitating inmates and re-entering them into society are key components of the prison system.
The bill gives an exception to Virginia Military Institute and public law schools.
Enslaved laborersLegislation approved by both chambers requires five Virginia universities to acknowledge the enslaved laborers who worked on their campuses and indemnify their descendants.
On Monday, the Senate approved HB1980, sponsored by Del. David Reid, D-Loudoun, which requires the University of Virginia, Virginia Commonwealth University, the College of William & Mary, Virginia Military Institute and Longwood University to create a scholarship or economic program for groups of people with a demonstrated connection to slavery, in hopes of lifting them out of the cycle of poverty.
The bill, which passed 22-17, starts to correct wrongs that took place in Virginia, said Sen. Ghazala Hashmi, D-Chesterfield. John Cosgrove, R-Chesapeake, was the lone Republican to vote in support.
UVa has identified 4,000 to 5,000 enslaved laborers on its campus, and the bill calls for the school to offer one scholarship for every enslaved worker. The state will not fund the scholarships, and universities cannot raise tuition to pay for them.
The bill instructs the State Council for Higher Education of Virginia to work with each college and determine how to fulfill its obligations. UVa is the only school among the five that has determined how many enslaved people worked on its campus. The number likely varies from school to school. While William & Mary received its charter in 1693, Longwood didn't open until 1839.
Sen. Steve Newman, R-Lynchburg, said it will be difficult to identify the people eligible for scholarships, and if the recipient already can pay for college, he or she doesn't need the money.
"The Senate of Virginia has done the right thing in that we have set up more and more needs-based scholarships," Newman said. "We have led the way. The House has not. We are doing the right thing. They do not. And I am proud of that."
TransparencyBoth chambers approved a bill that raises the level of transparency from college governing boards.
The Senate on Monday unanimously passed HB2120, which was sponsored by Del. Mark Keam, D-Fairfax.
The bill requires universities publish the names of their board members, the dates of upcoming meetings, instructions for accessing those meetings and an archive of agendas.
It also requires them to post a single email address or an email address for each member in which the public can submit comments. This was a point of contention in committee meetings.
Megan Rhyne, head of the Virginia Coalition for Open Government, asked a subcommittee why college boards shouldn't be required to post the email addresses of their members when so many other public bodies already do so.
Peter Blake, head of SCHEV, responded that the bill carefully threads the needle between transparency and practicality.
Del David Reid, D-Loudoun, has proposed a budget amendment that would require boards to list the individual email addresses of each member.