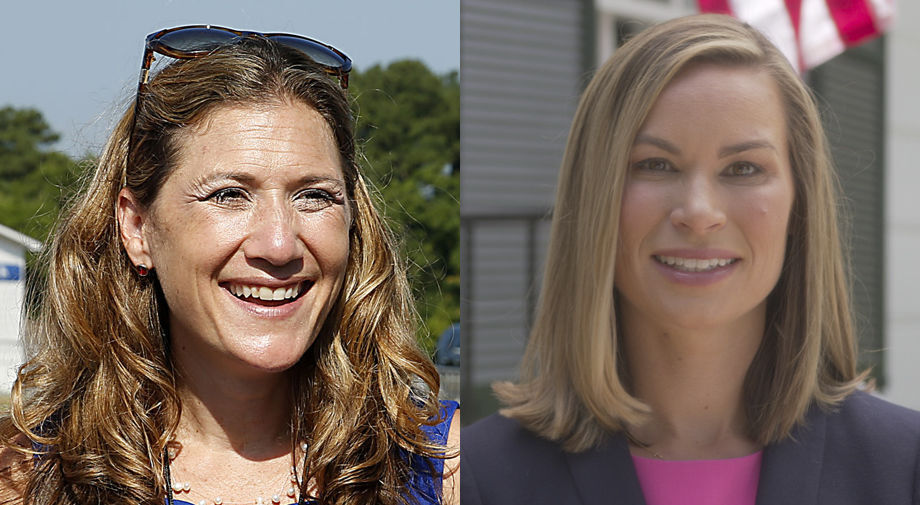 RICHMOND — With public education at the top of the agenda for Virginia Republicans, two women already are vying for the GOP nomination to challenge Rep. Abigail Spanberger, D-7th, in midterm elections next year that will determine control of the U.S. House of Representatives.
Taylor Thornley Keeney, former press secretary to Bob McDonnell, Virginia's most recent GOP governor, jumped into the race Wednesday with support from a number of high-profile Republicans and a resume that includes politics, business and nonprofit work to help low-income families with young children.
"Throughout my career, when I see a problem, I get to work and find solutions," she said in her announcement. "Right now, Washington is broken and has stopped working for us."
"Our current representative has simply not gotten the job done in Congress — she's all talk," said Keeney, a Goochland County resident and mother of two.
Chesterfield County businesswoman Tina Ramirez, a single mother and founder of a nonprofit organization for religious freedom, got the jump on the field and said she raised $100,000 within a week of announcing her candidacy on July 1.
Ramirez finished third last year in a hotly contested GOP convention fight for the nomination, won by Del. Nick Freitas, R-Culpeper, who lost to Spanberger last November.
But that was a presidential election year, with President Donald Trump on the ballot and a rallying point for Democratic voters in a swing district that had been represented by Republicans for decades before his election in 2016.
"This is a very different atmosphere than it was last year," Ramirez said in an interview.
Both Ramirez and Keeney portray Spanberger, a Henrico County native and mother of three, as a liberal politician who is out of step with the district she won twice — first defeating Rep. Dave Brat in 2018 — with a moderate message and a background as a former CIA officer.
"This is a very different time," Ramirez said. "She has a track record. This is a conservative district and she doesn't reflect the values of the district."
Both say that Spanberger votes "lockstep" with President Joe Biden and House Speaker Nancy Pelosi, D-Calif., on a range of progressive priorities.
Ramirez acknowledges Biden as the president, but, when asked about the 2020 election, she said, "I think across the country all of us think there was fraud in the election."
The 7th Congressional District extends from the Richmond suburbs to the Piedmont, including Orange and Louisa counties. However, its boundaries could change during political redistricting, which has been delayed because of the effect of the COVID-19 pandemic on the U.S. Census.
After Chesterfield and Henrico counties, the third-largest pot of votes in the district is Spotsylvania County, where state Sen. Bryce Reeves, R-Spotsylvania, also has been preparing for a possible run for the seat — with a little help from his friends.
Red Maverick Media, a Pennsylvania-based political consulting firm with an office in Richmond, recently organized Resolute PAC Inc., as a political action committee that can raise unlimited donations to use for independent expenditures in political campaigns — either for a candidate or against an opponent.
"There are a number of donors that want to be helpful to Bryce in a congressional race," said Ray Zaborney, co-founder of Red Maverick.
Reeves, in his third term representing the 17th Senate District, has not declared his candidacy for the 7th District seat.
However, he said, "We're testing the waters."
Ramirez said she is not surprised by the possible candidacy of Reeves, who ran unsuccessfully for the GOP nomination for lieutenant governor in 2017.
"I think Bryce is a nice guy, but I think he's run for everything," she said.
Del. John McGuire, R-Henrico, finished second behind Freitas for the GOP nomination in the 7th District a year ago, but hasn't said whether he will run again.
Another potential challenger, state Sen. Amanda Chase, R-Chesterfield, said Wednesday that she doesn't rule out a bid in the 7th, but she's recovering from her unsuccessful race for governor and focusing on issues of election integrity in the aftermath of the 2020 election.
"I'm not even really thinking about it right now," Chase said.
Two other candidates, unknown in Virginia, also have filed for the seat — John Castorani, of Orange County, who finished fifth in a race last year for the Republican nomination in Alabama's 1st Congressional District, and Gary Barve, of Henrico, who ran for city council last year in Santa Clara, California.
At the moment, the two major contenders are women with compelling personal stories and professional backgrounds.
Ramirez, a Powhatan County native, is the founder and owner of Hardwired Global, a nonprofit foundation that promotes religious freedom around the world.
She is the daughter of second-generation immigrants — her father's family was from Mexico and her mother's from Czechoslovakia.
Ramirez also is a former public school teacher before starting her business eight years ago, and she considers public education and support for business as the foundations of her campaign.
She blames progressive Democrats for the shuttering of public schools during the pandemic and for allegedly advocating Critical Race Theory to be taught in schools.
"I don't want my daughter indoctrinated in the public school system," she said.
Keeney is well known in Virginia Republican circles. In addition to serving as press secretary for McDonnell, she was the spokeswoman for the campaign by Richmond lawyer John Adams for attorney general in 2017. Adams lost to incumbent Mark Herring.
"I was impressed by her," said Richard Cullen, a former attorney general and white-collar defense lawyer at McGuireWoods, the Richmond law firm where Adams is a partner. "I think she will be a formidable candidate and an excellent member of Congress."
Keeney works at Hunton Andrews Kurth, a rival law firm in Richmond, as director of strategic communications and advocacy, but she also has made a name for herself as community volunteer and nonprofit leader.
She previously handled regional communications at Teach for America, which recruits teachers for low-income schools, and founded Little Hands Virginia in 2019 to ensure that all children under 3 have access to diapers, clothes and other essential supplies. The organization expects to serve more than 1,000 children this year.
"I know what it takes to build consensus, bring people together and find solutions to the problems facing our community," Keeney said Wednesday.
"When I saw that families in central Virginia had trouble getting basic essentials for their children, I launched Little Hands Virginia from my garage while on maternity leave," she said.