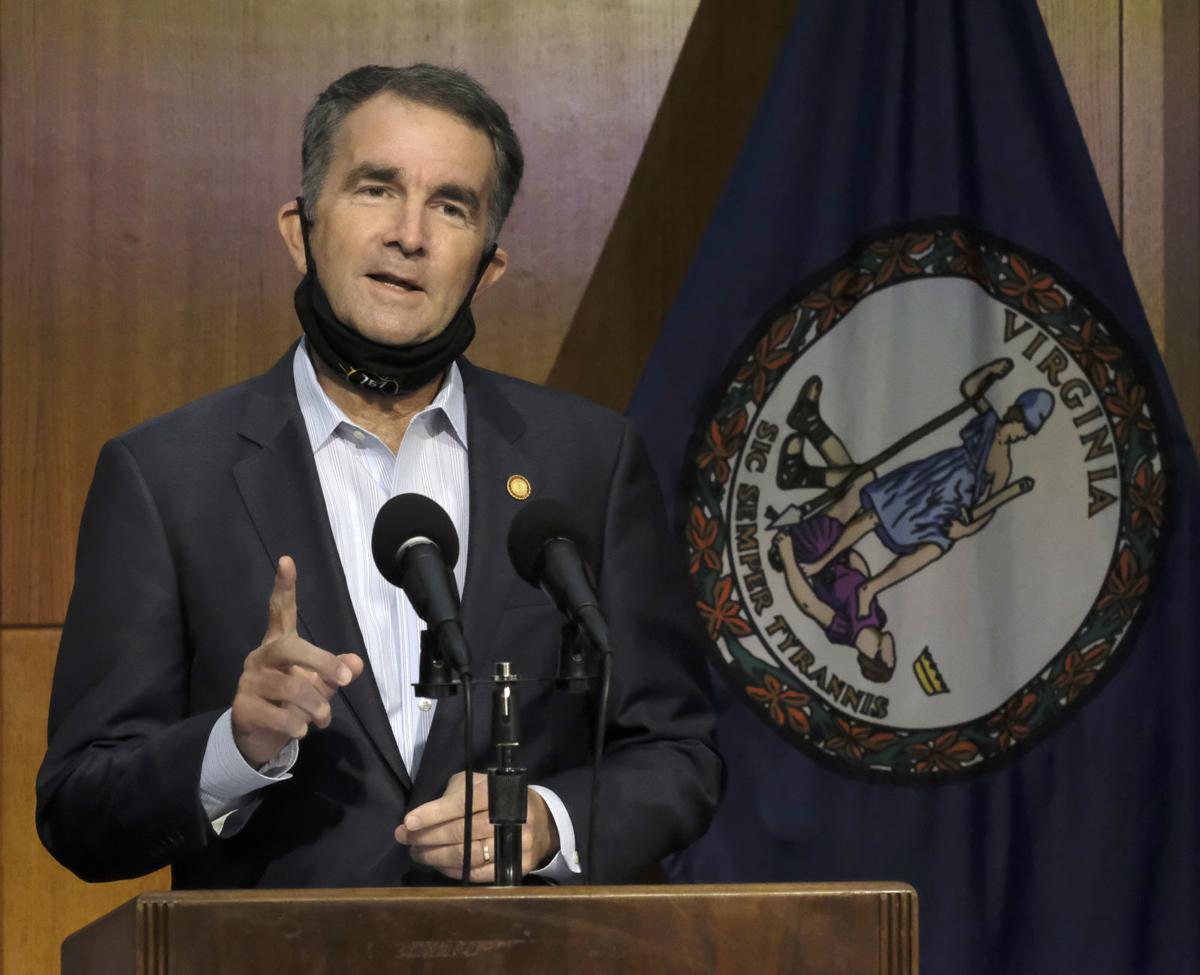 RICHMOND — Gov. Ralph Northam has mixed news about state revenues as the General Assembly prepares to consider proposed changes to the state budget — tax revenues are steady, but don't count on a speedy economic recovery from the COVID-19 inspired recession.
Tax revenues were down slightly in August, $3.6 million less than the same month a year ago, but the state is about $375 million ahead of the revised revenue forecast that Northam issued last month when the assembly convened in special session to consider changes to the budget.
"Despite trying economic conditions, collections from payroll withholding and sales taxes remained steady," Northam said Thursday. "We look forward to September's receipts, which will provide more insight into Virginia's financial picture."
The revised budget projects a 1.8% decline in total state revenues during the fiscal year that began on July 1, but the state collected $325.6 million more in the first two months than it did a year ago, an increase of 11.6%.
Most of the gain came from estimated and final income tax payments that came due on June 1, a month later than normal because of the public health emergency, and carried over into the new fiscal year. Those payments, made by sole proprietors and investors, rose about $30 million in August and $312.6 million in the first two months, compared with a year ago.
Income taxes withheld from paychecks, which constitute more than 60% of the revenues in the state general fund budget, fell by 4% in August, compared with the same month a year ago. However, the decline was due primarily to one less payroll deposit day in August compared with a year earlier, and the state expects to make it up with one extra deposit day in September.
Sales tax revenues rose about $3.6 million during August and $68 million for the fiscal year, compared with the same periods a year ago, primarily because of internet sales that Virginia began taxing last year.
"Payroll withholding and sales taxes are holding up well right now," Secretary of Finance Aubrey Layne said Thursday.
However, Layne said revenue collections are closely tracking a revised forecast that expects a $2.7 billion shortfall in the $46 billion general fund budget for this year and next year, prompting Northam to recommend the elimination of more than $2 billion in new spending approved by the assembly on March 12, the same day the governor declared a public health emergency.
"I think everybody can rule out the snap-back in the economy," he said.
Layne also doesn't expect Congress to agree on a new emergency relief package with additional help for state and local governments, as well as millions of unemployed Virginians and economically damaged small businesses.
"I don't think there's any will in the Republican Party and Congress right now to do any additional stimulus," he said.
The good news includes a continuing boom in taxes paid on deeds, wills, lawsuits and contracts — so-called recordation taxes that include house sales and refinancing of mortgages.
"The housing market is still strong and people are refinancing," Layne said.
The bad news is a continuing decline in revenues to support Virginia's transportation program for highways, rail and public transit. Motor fuels taxes fell by more than $17 million in August and almost $34 million for the fiscal year, or a decline of more than 23% in the first two months. Taxes on motor vehicle sales also fell by almost $1.2 million, or 11.6%, in August and are down about 2% for the year. Sales and use taxes were up, but motor vehicle license fees and insurance premium were down.
Virginia collected $120 million less in transportation funds in the last fiscal year than had been budgeted, and Northam's revised budget predicts a $750 million shortfall in transportation revenues in the two-year budget.