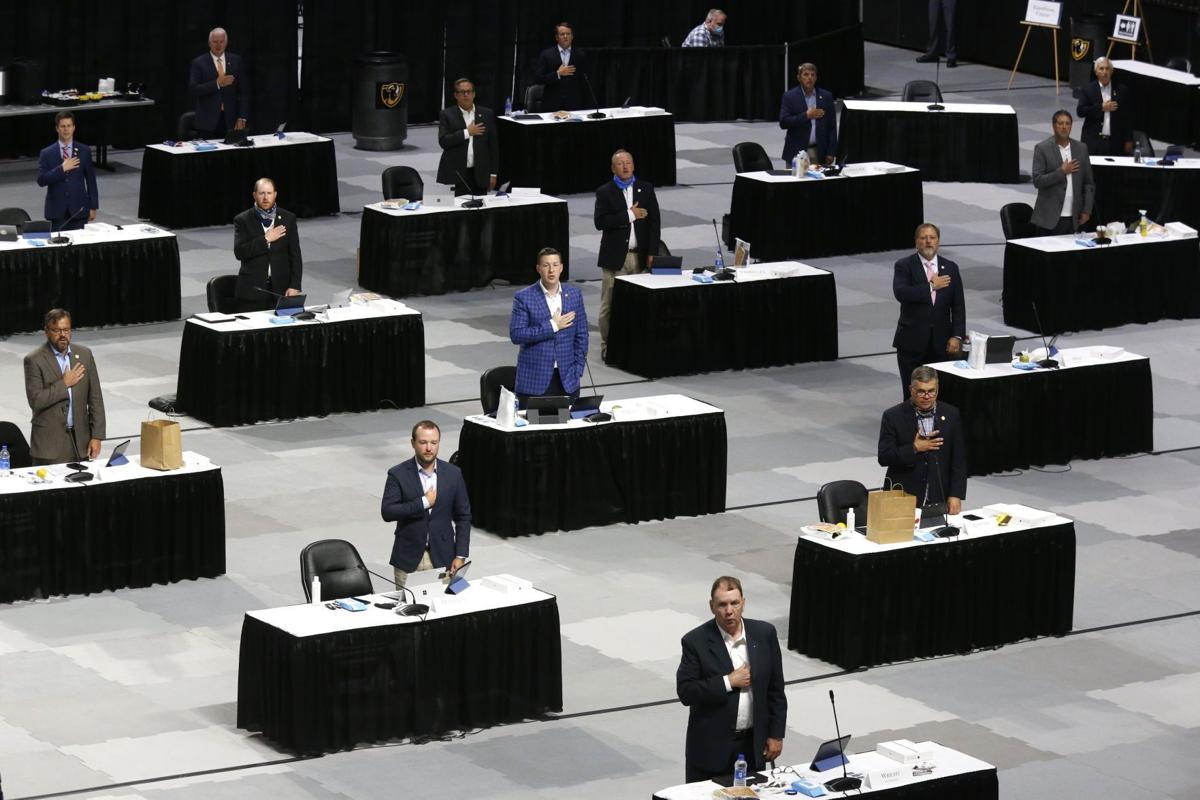 RICHMOND — A Plexiglas box separates a senator recovering from a surgery from his peers scattered around a museum. Hand sanitizer is stationed on their tables. Senators are wearing masks — sometimes. The 100 members of the House of Delegates are crowded into a video chat.
The General Assembly is back for an unusual special session, and no one knows how long it will last.
"We don't even know," said Speaker Eileen Filler-Corn, D-Fairfax, saying legislators need to remain flexible.
Several days into a special session, the Senate had met in person for three days and advanced legislation while the House of Delegates had yet to debate any bills. At this rate, the session likely will last at least through the first week of September.
"It's kind of ridiculous," said Sen. John Edwards, D-Roanoke. "We don't know what the General Assembly is doing and what the plan is."
Governing in the age of the coronavirus pandemic has presented numerous hurdles for how to do business while staying safe. More than a quarter of the legislators are over the age of 60. For the first time since the General Assembly formed 400 years ago, the House of Delegates is going to meet virtually, with its 100 members scattered across the commonwealth in their living rooms, kitchens and home offices.
"The bottom line is I've always been about the health and safety of the members and staff," Filler-Corn said.
The House will reconvene on Monday to conduct all of its business online. Filler-Corn said it was unknown whether the lawmakers would return to Richmond in person for the rest of the special session, but it was still a possibility.
The House spent the better part of Tuesday, its first day, haggling over parliamentary rules and Filler-Corn's authority to shift proceedings online. Republicans blocked Filler-Corn's push to move to virtual immediately, so now there is a lag of when the House can begin its work.
The House has had to meet briefly every day online since the session started. This has provided it the opportunity to work out some technical kinks. On the first day, a Republican delegate posted on Twitter that he was unable to join the video call and published a screenshot of the video program notifying him that the chat room had reached attendance capacity. Others complained about having issues joining the video chat or weak internet causing a disconnection.
Minority Leader Todd Gilbert, R-Shenandoah, raised the issue of delegates not displaying themselves on video like they were supposed to.
"I'm not sure we have proper protocol to govern these scenarios yet," Gilbert said.
Democrats have remained optimistic that these wrinkles will get worked out in the next few days before they start digging into their work.
Lawmakers have filed more than 200 bills, an unusually high number for a special session, an event that typically lasts just a few days. Changes to the biennium budget are a must-do, and the main reason Gov. Ralph Northam called the General Assembly back. The legislature usually convenes in January, for 60 days in even-numbered years and 45 days in odd-numbered ones.
The rough start has caused some uncertainty about how the session will proceed. The Senate decided Thursday to go home for a few days so that the House could catch up. The senators were especially concerned about the two chambers — both controlled by Democrats — not operating in unison because it will be tricky to work on the budget if the chambers are passing different bills with fiscal effects.
"We're trying to figure it out, and we'll probably figure it out after we finish," said Sen. George Barker, D-Fairfax, who is still recovering from an open-heart surgery from months ago so is sitting in a Plexiglas box.
Senate Minority Leader Tommy Norment, R-James City, asked Majority Leader Dick Saslaw, D-Fairfax, if House Democratic leaders have been communicating with him about the House schedule.
"They have not," Saslaw said.
Filler-Corn said in an interview that she has been in regular communication with Senate Democratic leadership.
"They do not have the experience, and they have demonstrated that on making effective and efficient leadership," Norment said about the House, which came under the control of Democrats this year. "If you look back on previous leaders in the House of Delegates, no matter what party they were, they had years of experience in having worked through the legislative process."
Serving in the General Assembly is a part-time job. Some lawmakers said they told their bosses they had no idea how long they would be gone. Del. Israel O'Quinn, R-Washington, said he blocked off two weeks from his job as director of strategic initiatives at K-VA-T Foods, parent company of Food City grocery stores. He said the uncertainty of whether he has to return to Richmond in person complicates things when the commute is five hours.
Sen. Siobhan Dunnavant, R-Henrico, is a gynecologist, so many of her patients schedule appoints with her months in advance.
"It's an incredible honor to serve in the Senate, but the disregard for people's schedules by constantly changing what we're doing and not knowing what is going on is incredibly frustrating," she said.
The Senate had its own hiccups as it adjusted to have online committee meetings. Senators remained seated at their tables at the Science Museum of Virginia. People signed up to offer public comment on the bills. On the one hand, this provides people the opportunity to provide their thoughts without having to possibly travel hours to Richmond to testify in person.
But Sen. Ryan McDougle, R-Hanover, observed that people waiting in the queue to speak were dropping off, and he worried it was due to people's internet connectivity. At a few points, senators said someone texted them their support for a bill because they dropped off the call.
McDougle also voiced frustration that people had to sign up a day in advance of the meeting — which in some cases was before the list of bills being heard is published. During a normal legislative session, people sitting in the room during a meeting stand up and wait in line to speak and don't have to sign up in advance.
"It's incredibly frustrating you can't sign up simultaneously when the committee is being held," McDougle said.
Republicans have complained that Democrats set an agenda that is limiting debate. Democratic leaders have already indicated it's unlikely they'll hear all the Republican bills. Dunnavant complained that there is little flexibility for lawmakers to access COVID relief funds to support ideas the Northam administration hasn't put forward.
"If I spend so much time listening to my constituents and how to help them, and I can't help them because I have no access to the relief fund, I can't properly represent them," she said.
Meanwhile, legislators got agitated about bills submitted dealing with intricate issues. They said those needed to wait until a regular session.