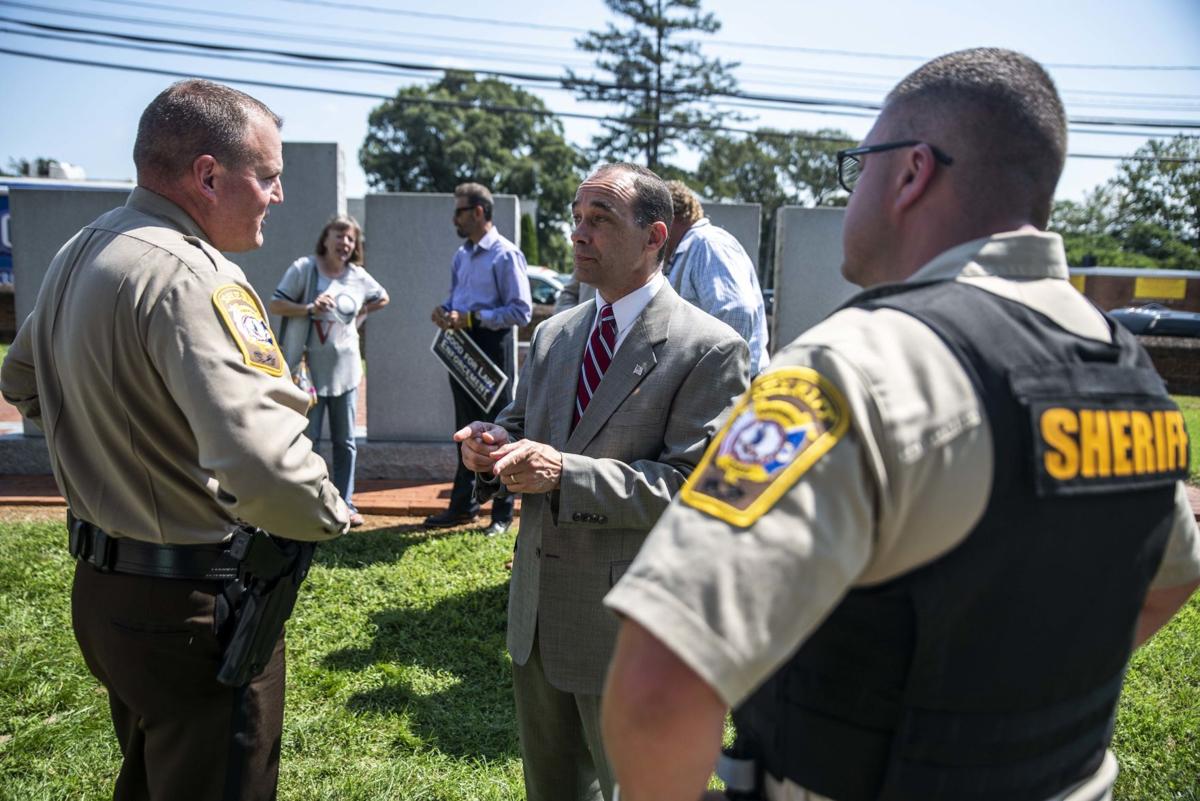 APPOMATTOX — Amid nationwide unrest and protests of excessive police force, Bob Good was courting voters around Central Virginia on Tuesday, describing how he's "good for law enforcement" and decrying "radical Marxist" movements.
Good, a former Campbell County supervisor and former Liberty University employee, is running as the Republican candidate for the 5th Congressional District against Democrat Cameron Webb, from Charlottesville. The district stretches from Fauquier County down to Virginia's southern border and includes 22 localities and parts of others.
Riding to Appomattox Courthouse Theatre Tuesday afternoon in a Trump/Pence 2020 bus, Good painted a grim picture of "Democrat-run cities" rife with rioting, cop-killing and "attacks on innocent civilians."
He attacked Webb and Democrats in general, especially on the state level.
"My opponent has stood with the radical left, he's marched with the radical Marxist BLM movement," Good said to booing. "He has advocated for defunding the police."
Good promised support of law enforcement and gun rights, advocating for more funding and higher salaries for officers. He voiced concern over momentum in Virginia toward eliminating sovereign immunity for officers, which helps protect them from lawsuits.
After the rally, Good said in an interview he believes any attack on law enforcement should be categorized as a hate crime, he wants assaults on law enforcement to be restored to a felony and is in favor of an automatic death penalty for the killing of a police officer. Those are all matters of state law.
Paul Michael Raymond, the pastor of Reformed Bible Church in Appomattox, espoused Good's views on BLM and Webb for having supported the movement. He heralded Good as a candidate who'll move toward making the U.S. a "nation of law."
"The vote for Mr. Good is a vote for American principles of law, liberty, family and order," he said.
Raymond added he wants to see ministers stop voting Democratic as the "party of death."
Bill Talbert, who worked in Appomattox for 45 years but lives in Buckingham County, said he happened across the rally while in town and decided to stop in to see what Good is about. He said he plans to vote Republican down ballot.
"We've got to back our law [enforcement officers]," he said. "We've got the best here in Appomattox, and the town of Farmville … anywhere, bar none."
Appomattox was Good's second stop for rallies scattered throughout the district promoting rule of law, having spoken Tuesday morning in Bedford County and heading to Buckingham County later in the day, with five more rallies to go within the next week.
Both Appomattox and Bedford counties are safe harbor for Good — both counties saw around 72% of voters turn out for Donald Trump in 2016 and close to 74% of voters supporting Nelson County businessman Denver Riggleman when he campaigned as a Republican for the 5th District seat in 2018.
Overall, Riggleman won the seat with 53.2% of the vote, but lost the Republican nomination to Good this year in a June drive-thru convention, after he controversially officiated a same-sex wedding and leaned libertarian in his views.
Get Government & Politics updates in your inbox!
Stay up-to-date on the latest in local and national government and political topics with our newsletter.