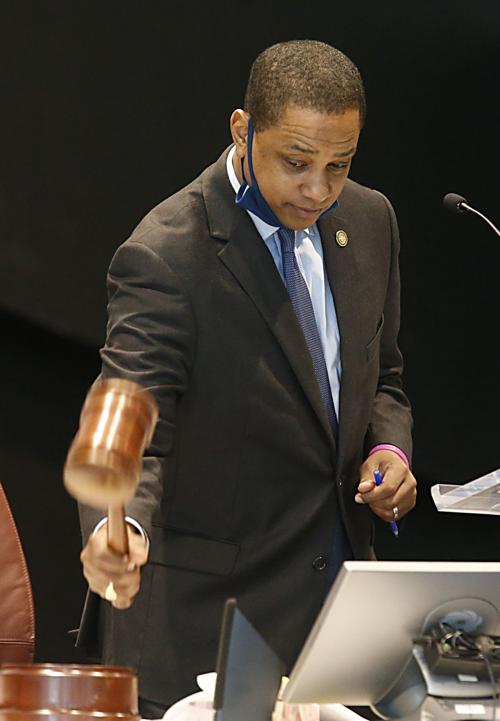 Virginia will legalize possession of small amounts of recreational marijuana for adults this summer, an accelerated timeline meant to curb the disparate impact of prohibition on people of color in a Southern state remade by its Democratic legislative majority.
The General Assembly on Wednesday backed a proposal from Gov. Ralph Northam to allow Virginians over the age of 21 to possess up to an ounce of marijuana and grow up to four cannabis plants at home starting on July 1. Legalization will come with immediate spending on police training and public education, but without a legal marijuana market, which remains years away.
Virginia joins nearly 20 other states that have voted to legalize recreational marijuana, and will forever be the first state in the South to do so. Sales and public consumption will remain illegal for the time being.
Democrats in Virginia hailed the legalization of marijuana as a step toward racial equity after the decades-long "war on drugs," which saw Black Virginians disproportionately harmed by disparate enforcement. Even after Virginia decriminalized marijuana last year, and studies showed that different racial groups use marijuana at similar rates, Black people in the state continued to face penalties for recreational marijuana use at higher rates.
This is the appeal that many Black lawmakers and civil rights advocates made to a majority-white, Democrat-controlled legislature, and to the state's governor, who vowed in 2019 after disclosure of a racist photo on his medical school yearbook page to dedicate the rest of his time in office to addressing racial inequities in the state.
The governor's amendments to the measure cleared the House in a 53-44 vote, and the Senate in a 21-20 vote, with Lt. Gov. Justin Fairfax casting the tie-breaking vote.
Along with an accelerated legalization timeline, the state will move to expunge and seal criminal records related to marijuana, and to adjust sentences for marijuana crimes through the courts system.
Democrats have also promised to let equity guide the creation of the new legal market, but lawmakers punted until next year key decisions on how to set up the legal market. Thorny debates about how to create and dole out licenses, and intense lobbying, created major rifts among lawmakers that they could not resolve.
Republican opposition was unanimous, wide-ranging and heated. On the House and Senate floors, they argued that the bill was incomplete and would open Virginia up to harm by making roads less safe and by encouraging use among youth.
Sen. Chap Petersen, D-Fairfax City and Del. David Bulova, D-Fairfax, bucked their party to oppose the bill. Del. Vivian Watts, D-Fairfax, abstained from voting on the measure.
Sen. Mark Obenshain, R-Rockingham, said the legislature was "putting the cart before the horse," in its approach to legalization.
"I think it's a bad idea to do this that quickly," Obenshain said. "It is clear that we are unprepared to address the issues particularly that are going to relate to children, teenagers, adolescents, and the impact of immediate legalization for them."
Obenshain acknowledged the $1 million budgeted by Northam to pay for a public education campaign that includes youth, but said it was not enough.
Republicans also took issue with a labor provision the Northam administration added to the bill: the new Cannabis Control Authority would have the power to remove a company's business license if it interfered with union organizing, paid employees less than legally required or classified more than 10% of its workers as independent contractors.
Republicans said the clause is an attack on the state's right-to-work policy under which union membership cannot be a condition of employment—which is popular among the state's business community—seeking to rock Democratic support for the bill. Appetite for repealing the state's right-to-work policy among Democrats is mixed.
The measure would require the legislature to reconsider this aspect and certain other parts of the bill again next year.
Per the outline in the bill passed Wednesday, once marijuana sales kick off in January 2024, people would be allowed to possess up to an ounce. Anyone found with more than an ounce or less than a pound would face a $25 civil penalty. Possession of more than a pound would constitute a felony.
People would be allowed to share an ounce of marijuana or less with other people, as long as there is no exchange of money or goods.
People under the age of 21 would face a $25 civil penalty for possession of any marijuana, and undergo treatment and education.
Public use of marijuana would not be allowed. Driving with an open container of marijuana could result in a Class 4 misdemeanor charge, punishable by a fine of up to $250. Law enforcement would not be able to search cars based on the odor of marijuana.
As for the legal market, the state will create a new agency that will issue regulations. That work will start this summer.
(804) 649-6254
Twitter: @MelLeonor_