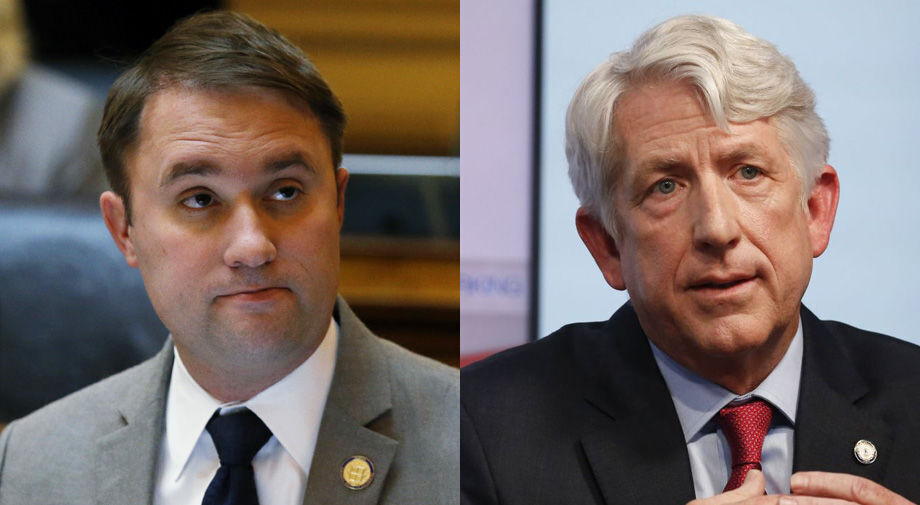 RICHMOND — Democratic Attorney General Mark Herring and GOP challenger Del. Jason Miyares debated virtually on Tuesday in a preview of the ideological differences they'll highlight for voters in the November election.
Herring said Miyares, a delegate from Virginia Beach, would roll back Virginia's progress on gun safety, health care and LGBTQ protections. Miyares said he would be Virginia's "top cop" and blamed Herring for a rise in crime rates.
Miyares attacked Herring over decisions made by the scandal-plagued Virginia Parole Board, which Herring represents, but Miyares implied incorrectly that Herring had decision-making power over which inmates were released. After the debate, Miyares clarified that Herring had a duty to stop the board from violating state law or policy in processes it used.
The two candidates debated virtually during the 82nd annual meeting of the Virginia State Bar, the administrative court agency that enforces rules governing lawyers.
Herring is seeking a third term against Miyares, a former assistant commonwealth's attorney in Virginia Beach who has been a member of the House of Delegates since 2016.
Some of Miyares' arguments — that Herring was too political and picked which laws he wanted to enforce and which ones he didn't — mirrored arguments made by John Adams, the GOP nominee who lost to Herring in 2017 by nearly 7 percentage points.
Herring said he had won fights on protecting voting rights, gay marriage, health care and gun control and said Miyares' conservative positions are out of step with Virginia.
Herring said Miyares "would abuse the powers of the office to roll back all of those gains and make Virginians less safe. Jason Miyares voted against every gun violence prevention measure we passed, including expanded background checks ... Jason Miyares is shockingly opposed to LGBTQ rights. Even in 2021 he voted against marriage equality, against discrimination protections."
Miyares touted his background as a former prosecutor whose mother fled Cuba for a better life.
"Unfortunately, Mark Herring has forgotten our victims," he said. "He's been pushing a criminal-first, victim-last mindset that's made Virginians less safe and less secure. The attorney general is the top cop of Virginia, and by every objective standard, Mark Herring has failed at his job."
Miyares said he'd provide a check on the "far-left, liberal monopoly" in Richmond. Democrats currently control both chambers of the legislature and all three state elected offices.
On health care, Herring said he'd fought for the federal Affordable Care Act and its protections for people with pre-existing medical conditions, and supported Medicaid expansion in Virginia. He criticized Miyares for voting against Medicaid expansion.
Miyares focused on his support for requiring able-bodied people receiving Medicaid services to search for jobs. Miyares said he supports protections for people with pre-existing conditions. Herring replied: "He's always been opposed to the Affordable Care Act and protections for pre-existing conditions are part of it."
Herring touted his efforts to win legislation he said would reduce gun violence, while Miyares said his focus would be on arresting violent criminals, especially repeat offenders.
"If you want somebody who's going to go after gun violence, that will be me going after the criminals using the guns," Miyares said.
He said Herring turned down federal money to combat gun violence "because he did not want to obey the federal rule that said if you picked up an illegal immigrant ... using a gun in the commission of a felony, you have to report them to ICE."
Miyares dodged a question asking for his position on universal background checks, limits on magazine capacity, and a ban on assault weapons. Herring said he supported all of those.
Miyares brought up cases of inmates who had been freed from prison on parole. "Who signed off on that? Who was the parole board's lawyer? Mark Herring was," he said.
Virginia abolished discretionary parole in 1995, but the Virginia Parole Board, whose five members are appointed by the governor, considers release of people who were convicted prior to then and qualify for parole. The attorney general represents the parole board, but the attorney general does not have power over whether or not to release someone on parole.
Herring later responded, "Jason knows better. He knows those are parole board decisions. I don't sign off on them."
A state watchdog agency, the Office of the State Inspector General, last year found violations of law and policy in how the parole board operated in certain cases. Democratic lawmakers have resisted calls for an investigation of the parole board and instead funded up to $250,000 for an investigation of how the inspector general handled its investigation into one of the most controversial parole board cases.
With advice from Northam and Democratic leaders, Herring selected the law firm that did that investigation, Nixon Peabody. Miyares noted that the investigation didn't even look into the parole board, and also said he opposed the release of people such as Vincent Martin, who was serving a life sentence in the killing of a Richmond police officer before being released on parole last year.
"Mark Herring had the opportunity to advise the parole board that they were violating the law in letting out Vincent Martin early without notifying the commonwealth's attorney or the victims," Miyares said after the debate.