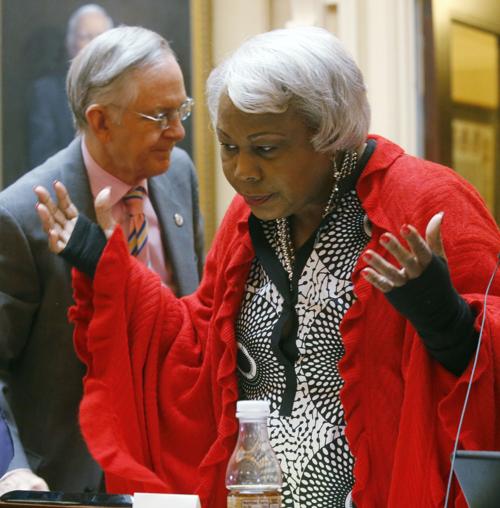 RICHMOND — Virginia legislative leaders have selected 62 finalists for the eight citizen spots on Virginia's new redistricting commission, with Democrats' picks coming from mostly population centers and GOP choices chiefly from rural areas.
A panel of five retired Virginia judges will select the eight citizen members of the commission by Jan. 15. The judges will meet Wednesday.
The drawing of Virginia's congressional and legislative districts remains a partisan undertaking, but the new commission is meant to balance Democratic and Republican interests. The 16-member commission will include four Democratic lawmakers, four Republican lawmakers, four citizens nominated by Democrats and four citizens nominated by Republicans.
A late surge before the Dec. 28 deadline pushed citizen applications to more than 1,200 hopefuls for the eight spots.
House Speaker Eileen Filler-Corn, D-Fairfax; House Minority Leader Todd Gilbert, R-Shenandoah; Senate President Pro Tempore Louise Lucas, D-Portsmouth; and Senate Minority Leader Tommy Norment, R-James City, culled the citizen applications to four lists of at least 16 names each. The judges will pick two people from each of the four lists.
Five names appear on both Republican lists and one person appears on both Democratic lists.
Norment's list includes Marvin Gilliam of Bristol, former vice president of a family-owned coal mining company that Massey Energy acquired in 2010. Gilliam is a former member of the University of Virginia's Board of Visitors.
None of 62 finalists lives in the Charlottesville area.
Virginia lawmakers have instructed the judges to make sure that the commission's members are representative of the state's ethnic, geographic and gender diversity.
The commission's eight lawmakers are Sens. Mamie Locke, D-Hampton; George Barker, D-Fairfax; Ryan McDougle, R-Hanover; and Steve Newman, R-Lynchburg; and Dels. Delores McQuinn, D-Richmond; Marcus Simon, D-Fairfax; Les Adams, R-Pittsylvania; and Margaret Ransone, R-Westmoreland.
The full commission holds its first meeting Feb. 1.