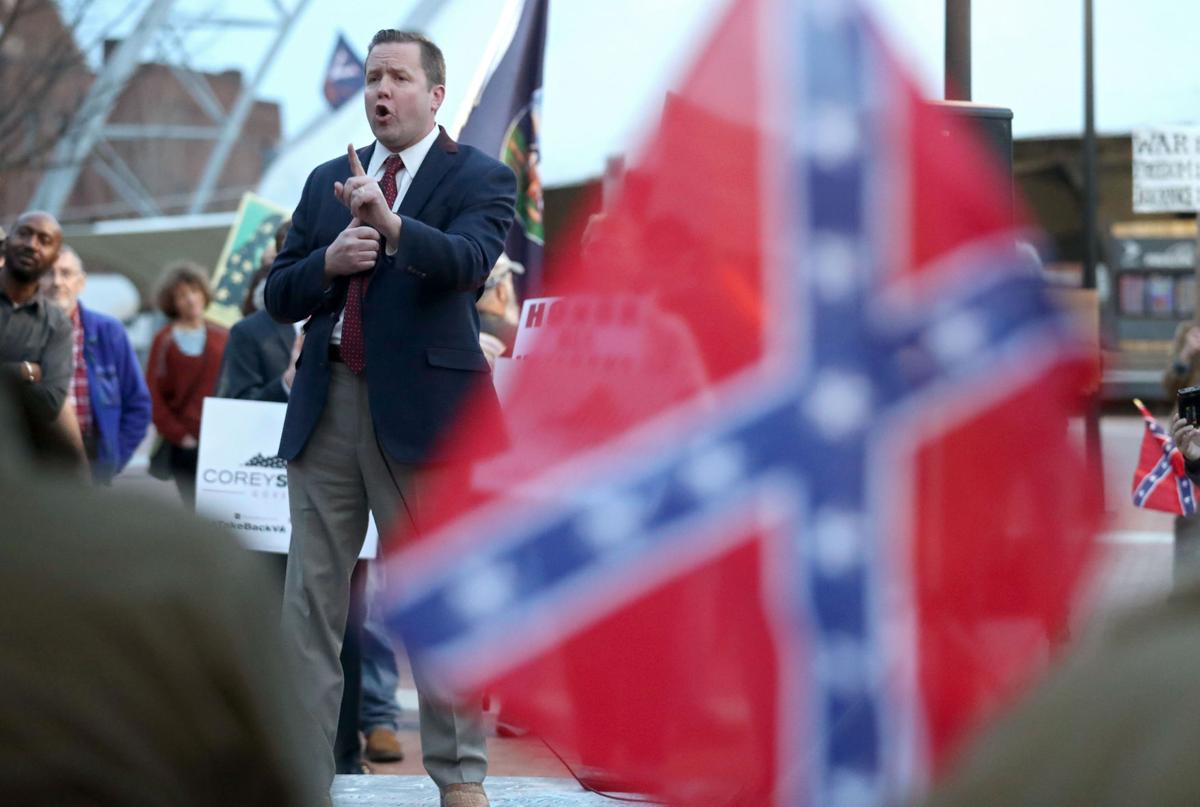 A Virginia gubernatorial hopeful whose platform has been heavily rooted in the fight to preserve Charlottesville's statue of Confederate Gen. Robert E. Lee has been catching flak nationwide for a tweet he wrote Monday night.
Corey Stewart, a Minnesota native who moved to Virginia in 1988 and is now the chairman of the Prince William Board of County Supervisors, has been an outspoken proponent of conservative values and Confederate heritage since he announced he would seek the Republican nomination for governor one year ago.
Following months of controversy and derision from Democrats and some mainstream Republicans over his defense of Confederate statues, Stewart doubled down on his stance on Monday night, tweeting: "Nothing is worse than a Yankee telling a Southerner that his monuments don't matter."
While his tweet has garnered more than 700 retweets and 1,700 likes, it quickly garnered nationwide attention from those who said it was tone deaf.
"Like, literally, nothing?" quipped singer John Legend, alluding to slavery. "Nothing is worse?"
"Except for slavery," added broadcast journalist Soledad O'Brien. "That was worse."
Critics also were quick to mock Stewart's Northern roots, with some comparing him to a Civil War-era "carpetbagger," the derogative term for a Northerner who moved to the South after the Civil War to profit from Reconstruction.
"You're no southerner, you are a Minnesotan," tweeted former NFL wide receiver Donté Stallworth. "Respect your home state's sacrifice for helping the United States win the Civil War."
Stewart initially responded to some of the reactions — he wrote to Stallworth that while he respects Minnesota's history, he calls Virginia his "adoptive state" and noted that "you cannot erase history" — but the number of replies has since grown to more than 8,500, though not all of them are critical of Stewart.
This isn't the first time Stewart has faced criticism over a controversial stance. Days after the City Council voted to have the Lee statue removed, Stewart came to Charlottesville to defend the statue, only to be met in Lee Park by swarms of protesters who outnumbers his supporters and drowned out his message with cries of "White supremacy has got to go!"
Undeterred, Stewart came back to Charlottesville weeks later in support of right-wing blogger Jason Kessler's petition to have Councilor Wes Bellamy removed from office over allegations of misuse of office and promoting a "black supremacist agenda." That petition was shot down in early March by a city judge, who found that Kessler had not collected enough signatures.
In late February, Stewart again returned to Charlottesville for a rally just outside of City Hall, where he roused support from more than 100 people from across the state for the statue and against the City Council's actions.
At the rally, Stewart called for the reclamation of Charlottesville and the University of Virginia from the "liberal wacko left" and a revitalization of conservative values in line with the platform of President Donald Trump. Stewart was Trump's Virginia campaign chairman until October, when he was fired for taking part in an unauthorized protest outside of Republican National Committee headquarters in Washington.
As the summer's gubernatorial primaries draw closer, Stewart's focus on the Lee statue has remained a central issue to his campaign. On April 18, one day after the City Council voted to sell the statue, Stewart's campaign issued a news release that said Stewart, if elected, would "restore the Robert E. Lee statue" by requiring Charlottesville to buy it back if it were sold.
"This is why I have made protecting Virginia's heritage and history a central theme of my campaign," Stewart added. "This is why, as governor, I will require Charlottesville to buy it back, and put it back."
When asked Wednesday, Mayor Mike Signer dismissed Stewart's pledge, noting that Stewart already has lost the endorsement of four of his Republican colleagues on the Prince William County board, as well as the county's sheriff.
"Mr. Stewart's divisive histrionics, no matter whom they are directed against, only seem to be hastening the implosion of his campaign, as seen in the recent defection of even his own colleagues from Prince William County," Signer said.
When asked for clarification about how Stewart planned to "require" the city to buy back the Lee statue, the campaign responded with a reference to the removal of a New Orleans monument commemorating an attempt by the Crescent City White League to overthrow the biracial government in 1874. New Orleans also is planning to remove a statue of Lee.
"Charlottesville's and New Orleans' removal of these monuments is the historical equivalent of burning our own house down," the statement says. "Anyone who's had their home destroyed in a fire knows it's not easy to replace their photos and their family history. But we will rebuild."
When asked for additional clarification, a spokesman for Stewart did not respond.
Charlottesville is currently facing a lawsuit over its intention to remove the Lee statue and redesign the parks named for Lee and Confederate Gen. Thomas "Stonewall" Jackson. A court hearing on the city's motion for an injunction is scheduled for Tuesday.