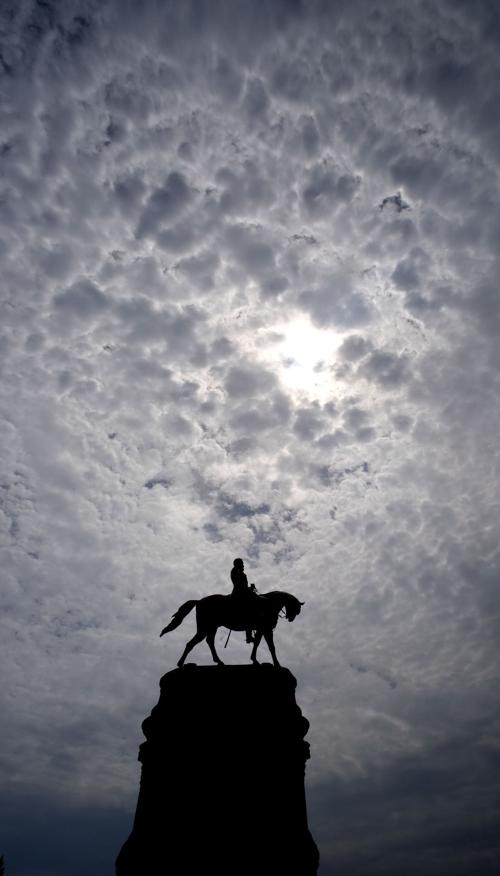 RICHMOND — Lt. Gov. Ralph S. Northam, the Democratic nominee for governor, said in a statement on Wednesday that Confederate statues "should be taken down and moved into museums."
Republican nominee Ed Gillespie said in response that he agrees that decisions about Confederate monuments should be made at the local level, but that the monuments should remain and "be placed in historical context."
Gillespie credited the "balance" that Richmond was taking in what until later Wednesday was its approach. On Wednesday afternoon, Richmond Mayor Levar Stoney said his commission will now consider removal or relocation of some or all of the Confederate statues.
Gov. Terry McAuliffe then changed his position on letting the monuments stand and fell in line with Northam, urging localities to "take down these monuments and relocate them to museums or more appropriate settings."
A day of twists and turns by local and state politicians underscored how Saturday's white nationalist rally in Charlottesville that turned deadly is rapidly resetting the politics of what to do with Confederate memorials.
Northam said in his statement: "I support city of Charlottesville's decision to remove the Robert E. Lee statue. I believe these statues should be taken down and moved into museums. As governor, I am going to be a vocal advocate for that approach and work with localities on this issue.
"We should also do more to elevate the parts of our history that have all too often been underrepresented. That means memorializing civil rights advocates like Barbara Johns and Oliver Hill, who helped move our commonwealth closer towards equality."
Northam released his statement after a memorial service in Charlottesville for Heather Heyer, the 32-year-old woman struck and killed Saturday by a car that plowed into counterprotesters at the white nationalist rally.
Northam campaign spokesman David Turner said the statement on Wednesday breaks new ground on the issue for the Democratic candidate, but he said it is consistent with past statements made by the lieutenant governor, including as recently as Monday, that he believes the statues belong in museums but defers to local authority.
"Does this go a little bit further? Yes, but he doesn't want to suggest that the governor has the authority to take down statues under local control," Turner said.
Northam personally favors removing Confederate statues in Richmond, but again would defer to the city on the best approach to the monuments, his spokesman said. "He would work with Richmond on this issue to resolve it," Turner said. "He would be a vocal advocate for taking them down."
Northam's statement — which went beyond the previous positions of McAuliffe and Stoney — comes less than 100 days before Virginia's election for governor.
Gillespie, the Republican nominee for governor, nearly lost the June primary to Corey Stewart, the Prince William Board of County Supervisors chairman who made protection of Confederate monuments a centerpiece of his campaign.
The day before the June 13 primary, Gillespie's campaign reiterated in a headline on its website: "No, Ed Gillespie Doesn't Support Removing Confederate Monuments."
The Gillespie campaign said at the time that in "an act of desperation," Stewart was promoting "his false claim that Ed is 'OK with taking down Robert E. Lee.' "
Gillespie's camp clarified on his website: "This is 100 percent false, untrue and totally made up. Ed Gillespie has consistently opposed efforts to take down historical statues, including Civil War monuments."
Gillespie said in his statement on Wednesday that he and Northam have "legitimate differences" on the issue and that "I know Virginians are engaging in an ongoing, thoughtful conversation on these issues, one marked by respect and understanding."
"There is a balance that can be struck here, one that recognizes the outsized role Virginia has played in our history, while acknowledging that we have not always been on its right side," Gillespie said.
"Rather than glorifying their objects, the statues should be instructional. While ensuring that Confederate statues are not exalting them but educating about them, we should do more to elevate Virginia's history in expanding freedom and equality by extolling the many Virginians who played critical roles in this regard."
Stewart now plans to seek the Republican nomination to run for the seat of U.S. Sen. Tim Kaine, D-Va., in 2018.
Stewart said in a Facebook post on Wednesday afternoon: "The left never lets a good tragedy go to waste. We must not give them an inch."
He added: "Right after November, Monument Avenue will be coming down. Republicans need to speak before it's gone."
In 2015 McAuliffe took steps to ban Confederate flags on Virginia's license plates, but said he did not back the removal of Confederate statues.
"I mean, Robert E. Lee, Jefferson Davis, these are all parts of our heritage," McAuliffe said in a June 2015 appearance on MSNBC.
"And the people that were in that battle, the Civil War, many of them were in it obviously for their own reasons that they had for that. But leave the statues and those things alone."
McAuliffe in 2016 vetoed legislation that would prevent Virginia localities from taking down monuments to the Confederacy and other war-related memorials, saying it would prohibit communities from making their own decisions about controversial symbols.
In announcing the veto in March 2016, McAuliffe said he supports historic preservation, but called the legislation a "sweeping override of local authority" that has ramifications for "interpretive signage to tell the story of some of our darkest moments during the Civil War."
"There is a legitimate discussion going on in localities across the commonwealth regarding whether to retain, remove, or alter certain symbols of the Confederacy," McAuliffe said in his veto message. "These discussions are often difficult and complicated. They are unique to each community's specific history and the specific monument or memorial being discussed. This bill effectively ends these important conversations."
A Confederate heritage advocate who sought a permit to hold a rally on Sept. 16 at the Robert E. Lee statue on Monument Avenue this week withdrew his request for a permit, saying he did not want to see a repeat of Saturday's violence in Charlottesville.
Northam also has previously said that the Confederate flag belongs in museums and has spoken about the idea of a commission to examine racial issues following earlier protests over the proposed removal of the Robert E. Lee statue in Charlottesville.
As for the civil rights figures Northam cited on Wednesday, Oliver W. Hill was a famed attorney from Richmond whose advocacy helped win decisions on issues such as teacher pay for African-American teachers and voting rights.
He is perhaps best known for taking up the case of black students at segregated R.R. Moton High School in Farmville, who walked out of the school in 1951 to protest substandard facilities that were separate, but not equal. It was one of five cases rolled into Brown vs. Board of Education, which prompted the U.S. Supreme Court's landmark school desegregation decision in 1954.