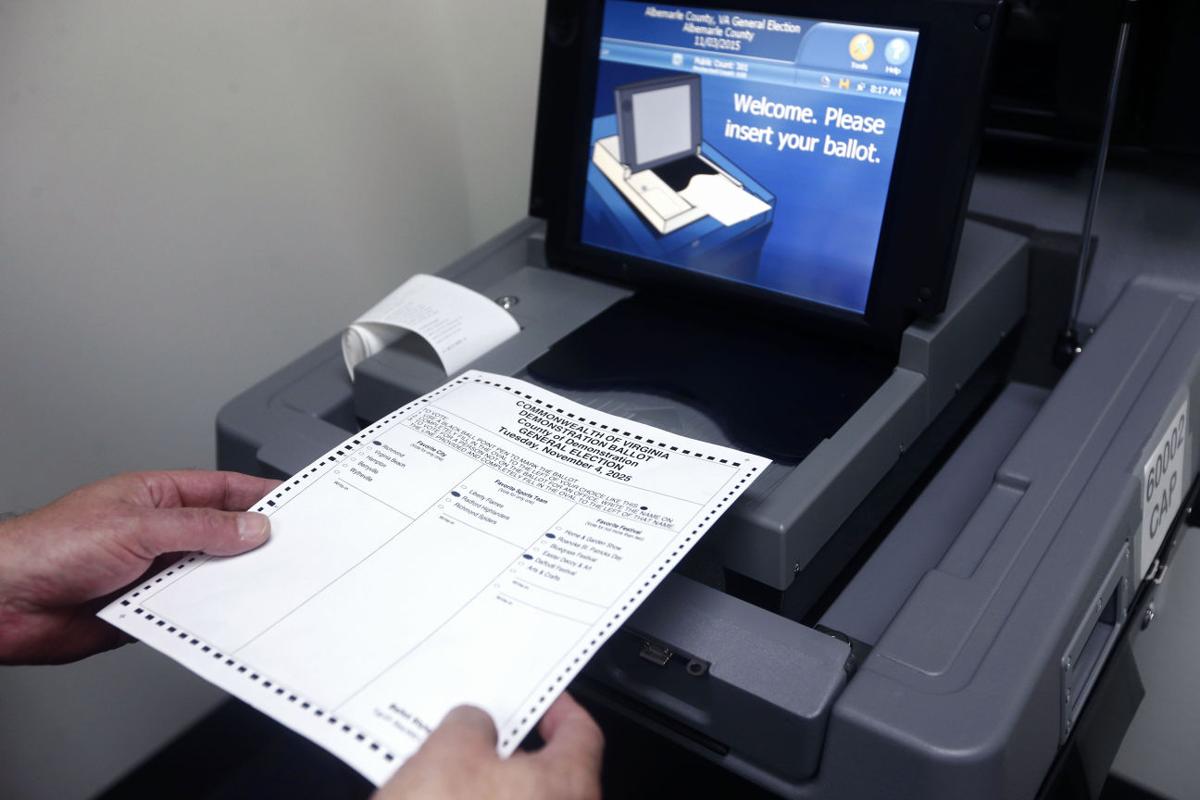 RICHMOND — In 37 states and Washington, D.C., there is a period of early voting in which voters don't need to offer a justification.
First lady Dorothy McAuliffe cast an absentee ballot on Tuesday morning at the voter registrar's office in Richmond, highlighting the opportunity to cast a vote in Virginia ahead of Election Day.
Her vote also underscores that Virginia is in the minority of states when it comes to early voting because it requires voters to offer an acceptable excuse as to why they can't vote in person on Election Day.
In 37 states and the District of Columbia, some period of early voting is allowed and "no excuse or justification is required," according to the National Conference of State Legislatures.
As of January, Virginia was one of 13 states that required an excuse for absentee voting before Election Day, along with Rhode Island, Connecticut, New Hampshire, Delaware, New York, Pennsylvania, Michigan, Kentucky, Missouri, South Carolina, Alabama and Mississippi.
In order to cast an early ballot in Virginia, a voter must cite one of 19 excuses deemed acceptable under state law, such as military service, illness, being away from home, pregnancy, and a long commute tacked on to a long work day.
As for Dorothy McAuliffe: "The first lady will be out of the city on personal business," said Brian Coy, a spokesman for Gov. Terry McAuliffe. "She'll be attending campaign events around the commonwealth in support of the Clinton-Kaine ticket."
That justification — personal business or vacation outside the locality — is the most commonly cited by Virginians who have voted absentee so far this year. It is the excuse cited by 129,173 absentee voters, followed by disability or illness, cited by 81,150; business outside the city or county, cited by 66,998; being a student, cited by 59,036.
The first lady urged voters who will be otherwise occupied on Election Day to cast an early absentee ballot. The deadline to vote absentee in person at a registrar's office is 5 p.m. Saturday.
"It is the greatest of our responsibilities that we should go out and vote and to make sure that we're able to have our vote counted," she said.
"We want to make sure that everyone knows" that if "your job or other plans ... might keep you from the polls on Election Day, that early voting is an option here in the commonwealth of Virginia and Saturday is your last day to early vote."
As of Tuesday evening, Virginia had 5,605,671 registered voters, according to the Virginia Department of Elections.
The state had received 466,412 applications for absentee ballots and 341,480 had been returned.
In neighboring North Carolina, anyone who is registered can vote absentee by mail or in person before Election Day — no excuse required. Early voting begins on the second Thursday before an election and ends at 1 p.m. on the Saturday before Election Day.
North Carolina has 6.86 million registered voters. So far, 1.87 million have cast absentee ballots.
During the 2016 General Assembly session, at least half a dozen bills to let Virginia voters cast ballots before an election without offering an excuse were defeated in the House Privileges and Elections Committee. Democrats offered most of those measures, but Republicans sponsored at least two.
"I think this week's events call into question the wisdom of early voting," Del. Mark L. Cole, R-Spotsylvania, chairman of the committee, wrote in an email Tuesday.
Four days earlier, FBI Director James B. Comey had notified leaders of eight congressional committees that the bureau is examining additional emails "that appear to be pertinent" to the investigation of Democrat Hillary Clinton's private server.
It "may take time for candidates to get their message out or for information regarding a candidate to become known," Cole wrote.
"If someone may be unable to make it to the polls on Election Day, then they have the opportunity to vote absentee either in person or by mail. If Virginia were to have early voting like some other states, local registrars would need additional funding to purchase more voting machines and hire additional personnel. I do not see that happening in the current fiscal environment."
Del. Richard C. "Rip" Sullivan Jr., D-Fairfax, sponsored a bill that would have established 21 days of no-excuse absentee voting in Virginia. The committee killed his bill in January.
"The Republicans on the committee claimed that this would be an unfunded mandate on localities because it would, in their view, require local registrars to hire additional staff," Sullivan wrote in an update to his constituents during the General Assembly session.
Sullivan wrote that his bill, "if anything, would decrease the burden on local registrars. It's time we make voting in Virginia easier, not harder."
Chesterfield County registrar Larry Haake says he hasn't taken a position for or against no-excuse absentee voting. But he says such a change would increase the costs for registrars.
Additional early expenditures on personnel, computers, voting equipment and extra ballots would not result in savings on Election Day, he said. Decisions on staffing and machines for Election Day must be made long before registrars know the outcome of early voting.
The bottom line, Haake said, is, "if you approve this, we need resources."