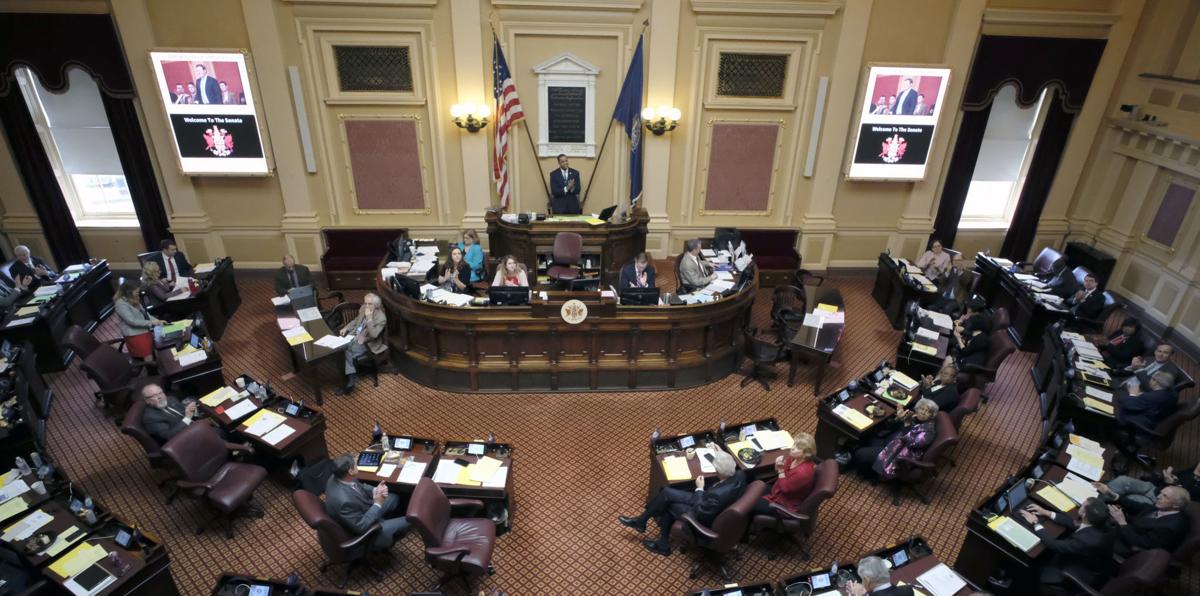 Several notable bills from Central Virginia legislators were killed before the General Assembly session passed the midway point this past week.
Firearm bills filed in response to the deadly Unite the Right rally in Charlottesville were again struck down early in the session.
For the second year, Del. David J. Toscano, D-Charlottesville, filed a bill to allow localities to prohibit firearms at permitted events. Directly inspired by what he saw on Aug. 12, 2017, Toscano said heavily armed protesters resembled military personnel and posed a threat to the community.
The violent rally ended with the death of Heather Heyer, who was murdered by James Alex Fields Jr. when he rammed his car into a crowd of counter-protesters, injuring dozens.
At a Jan. 17 meeting of the House of Delegates police and militia subcommittee, Toscano urged the five committee members to watch the PBS/"Frontline"/ProPublica joint-produced "Documenting Hate: Charlottesville" documentary to get a sense of the atmosphere on Aug. 12, 2017.
"It was a miracle that more people didn't die," he said.
Despite support from Attorney General Mark R. Herring and Del. Roslyn Tyler, D-Jarratt, HB 1956 was passed by indefinitely on a 4-1 party line vote. Among those who voted against reporting the bill was Del. Matt Fariss, R-Campbell, whose district includes Buckingham County, as well as parts of Albemarle and Nelson counties.
A similar bill, SB 1473, filed by Sen. R. Creigh Deeds, D-Bath, also was killed, which Deeds said he did not find surprising.
"We don't really have mature conversations about guns at the Capitol," he said. "It's a shame, but these bills tend to die on party lines."
The same subcommittee also voted not to report another bill from Toscano, HB 1957, that sought to require parents of a child designated as a "status offender" — a child charged with an offense that would not be a crime for an adult (typically truancy) — to secure any firearms located in the house to prevent the child's access to them.
Del. Sam Rasoul, D-Roanoke, included Albemarle County and the cities of Charlottesville and Roanoke in his bill seeking to expand the list of localities that prohibit carrying loaded shotguns and rifles in public places. The bill was killed in subcommittee.
Toscano's other major Aug. 12-related bill would have allowed localities to remove Confederate monuments. After a bill he introduced last year that would have allowed localities to remove any war monument died in committee, Toscano narrowed the language in this year's bill to specifically refer to Confederate monuments.
The bill died in subcommittee on Jan. 30.
Toscano said he finds the Republican resistance to the bill surprising as he believes the bill aligns with conservative values of localities having more power.
"There's a lot of discussion about giving localities more power and less centralized governance," he said. "But when the chance is given, Republicans rarely vote that way."
A bill filed by Del. Rob Bell, R-Albemarle, to allow Albemarle County and Charlottesville to move the locations of their general district courts advanced out of the House on a unanimous vote.
A bill filed by Bell to make it a felony when a drunk driver causes a wreck that results in bodily harm passed the House on Tuesday. HB 1941 was prompted by a wreck in Fluvanna County that seriously injured a young girl. Her parents, John and Amanda Petrylak, testified before a House Courts of Justice subcommittee about her near-fatal injuries and arduous recovery.
With SB 1770, Deeds hoped to change the way transportation funding is handled in Virginia by repealing the regional sales tax and gas tax enacted in 2013 to fund transportation initiatives in Hampton Roads and Northern Virginia and raising the statewide gas tax from 16 cents a gallon to 19 cents.
However, the bill died by a unanimous vote in the Senate Finance Committee on Jan. 31.
Prior to its committee hearing, Deeds said he expected the bill to fail but was frustrated by the current state of transportation, which he said has left some parts of the state to fend for themselves.
Few of the 15 bills filed by Del. R. Steven Landes, R-Weyers Cave, died and several have crossed over to the Senate.
On Feb. 5, HB 1615, which would change the date of primaries from the first Tuesday in June to the second Tuesday, was approved by the House. Landes said he filed the bill to improve school safety.
"The fewer outsiders coming into the schools, the less the schools have to worry about the potential danger they pose," Landes said in January.
Landes' bill to create an Interstate 81 improvement plan passed the House unanimously on Tuesday.
Landes' HB 1729, which passed in the House and now will be considered by the Senate, would require school counselors in public elementary and secondary schools to spend at least 80 percent of their time counseling students.
School counselors often are saddled with administrative work in addition to their counseling duties, Landes said.
"This will allow them to really help students in crisis or get them the help they need," he said.
With crossover day having passed, each body of the General Assembly now is only considering legislation that passed in the opposite chamber. All bills still languishing in committee are considered dead for this session.
Tyler Hammel is a reporter for The Daily Progress. Contact him at (434) 978-7268, thammel@dailyprogress.com or @TylerHammelVA on Twitter.