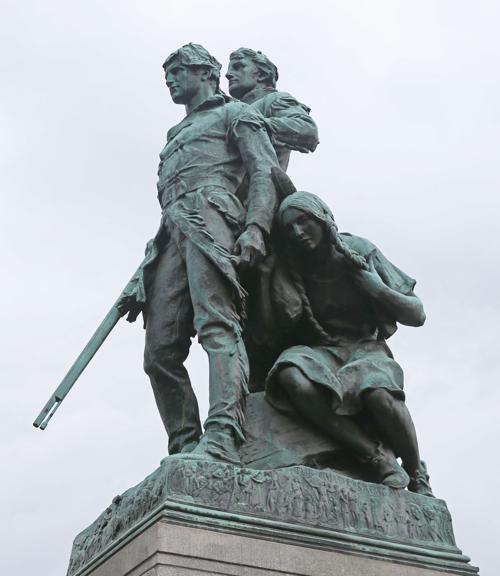 Charlottesville City Council will hold a work session next week to discuss the fate of the West Main Street statue commemorating the Lewis and Clark expedition.
The council approved payment for a descendant of Shoshone interpreter Sacagawea and three other Native Americans to attend the Nov. 15 work session during its meeting Monday.
The 1919 statue depicts explorers Meriwether Lewis, who was born in Albemarle County, and William Clark, accompanied by Sacagawea. Opponents of the statue cite its depiction of Sacagawea in a crouching, subordinate position, while others say she is tracking.
In June, the council decided to hold a work session rather than establish a committee to decide the statue's fate. Travel expenses were not to exceed a total of $75,000.
The city has covered lodging and travel. The descendant also will receive $1,000 and the other three attendees will receive $750 each for speaking at the work session.
Mayor Nikuyah Walker said the total expenses should be less than $10,000.
The council wants to receive input from Native Americans about their interpretation of the statue before deciding its fate.
The statue is in a complicated position because it is a central point of the West Main Streetscape project.
The estimated $31 million streetscape project will redesign West Main between Jefferson Park Avenue and Ridge-McIntire Road.
As part of the project, the statue would move about 20 feet southwest to an area that will be transformed into a pocket park. City staff estimated the shift would cost about $50,000, which is included in the total cost of the streetscape project.
The work session will be held from 9 a.m. to 2 p.m. at the Carver Recreation Center.
In other business, the council approved a resolution to dissolve the Planning and Coordination Council and redefine the regional group.
The PACC was established in 1986 to bring together officials from Charlottesville, Albemarle County and the University of Virginia. Its purpose was to avoid land-use decisions by one of the three government entities that would negatively impact the other two.
The new group, which would be called the Land Use and Environmental Planning Committee, would be redesigned and be led primarily by staff members who would report to the City Council and Board of Supervisors at a joint meeting twice a year.
The new group would include the directors of the city's Neighborhood Development Services and Public Works and Utilities departments; the directors of the county's Community Development and Facility and Environmental Services departments; and UVa's directors of facilities management operations and real estate and leasing services and UVa's architect.
Councilor Kathy Galvin voted against the resolution, saying it should have instead been discussed at a joint meeting with Albemarle's Board of Supervisors.
The Board of Supervisors is scheduled to vote on the resolution at its meeting Wednesday.
Get local news delivered to your inbox!
Subscribe to our Daily Headlines newsletter.