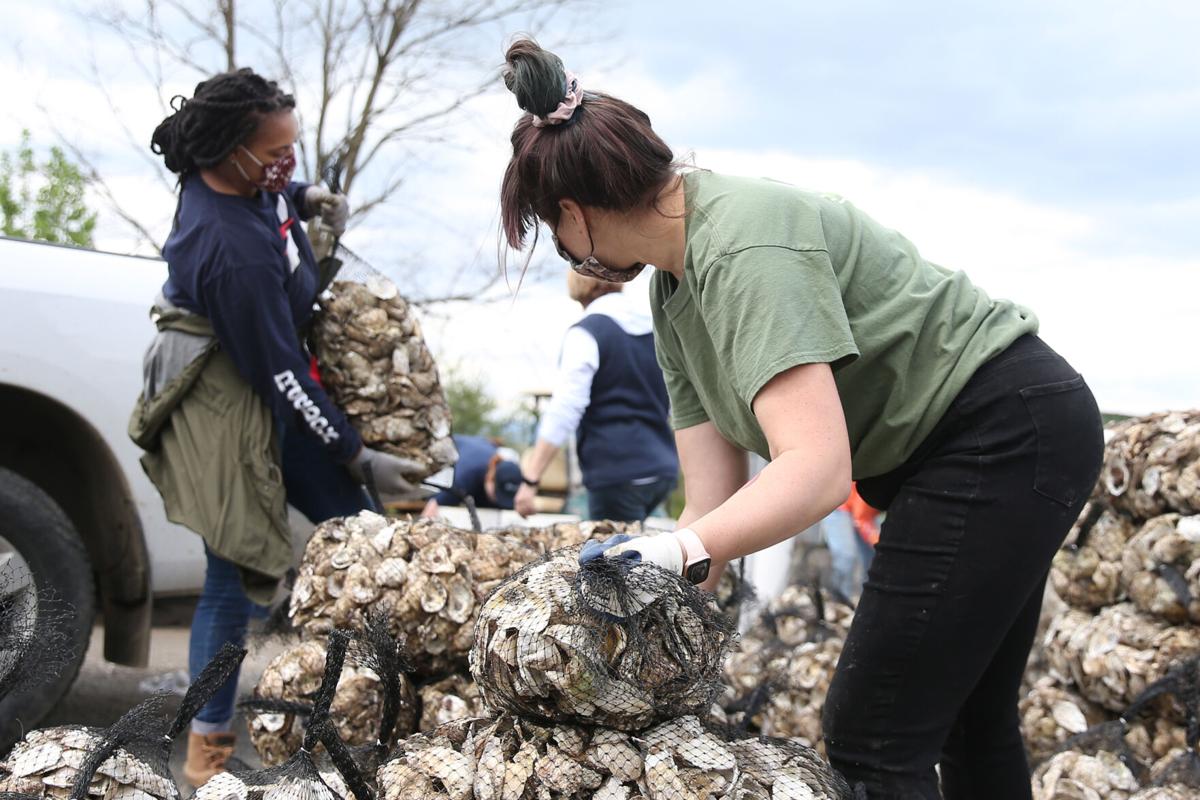 Plucked, shucked and chucked into a pile, oyster shells gathered from area restaurants were shoveled, bagged and shipped off to the Piankatank River on Thursday to provide oysters with shelter once again.
The shells have been sitting in a corner of the Ivy Materials Utilization Center for the better part of a year, baking in the sun. On Thursday afternoon, volunteers with the Rivanna Water & Sewer Authority and Rivanna Solid Waste Authority joined forces with the Virginia Oyster Shell Recycling Project to put the half shells in mesh and on pallets.
"We collected shells from some area restaurants and individuals and let them sit in the open to dry and let bits of oyster and cocktail sauce flake off," said Cindy Andrews, program coordinator for the shell recycling project. "We had a lot of restaurants participating, but the pandemic has been tough on the restaurants this past year. We still have enough, though."
The recycling program is managed by Virginia Commonwealth University's Rice Rivers Center. It collects shucked shells from Richmond, Williamsburg, Newport News, Hampton, Norfolk, Suffolk, Chesapeake, Portsmouth, Virginia Beach and the Northern Neck, as well as Charlottesville.
"A lot of what we do here at the center is designed to keep pollutants out of the Chesapeake Bay, and this is something we could do that will actually help the bay clean itself up," said Phil McKalips, director of solid waste for the RSWA, who helped with the gathering and bagging.
"Part of our mission is to be environmental stewards and this is a good way for us to engage the community by collecting the shells and doing something that will help the bay," said Andrea Bowles, water resources manager for the RWSA. "The oyster project is great because it fits both of our missions."
Each adult oyster filters about 50 gallons of sea water per day, according to the Chesapeake Bay Foundation. In their lifetime, a dozen oysters will filter the equivalent of an Olympic-size swimming pool.
Besides filtering water, the oysters create natural reefs that expand to provide habitat for blue crabs, striped bass and red drum fish and mitigate storm-induced shoreline erosion. As reefs decompose, they serve as an oceanic antacid to balance acidic waters.
Unfortunately, the wild Eastern Oyster, technically called Crassostrea virginica, has been hammered by water pollution, disease, habitat loss and overharvesting in the Chesapeake and its tributaries. Bay officials estimate the current population at only 2% of its peak number.
According to the bay foundation, an estimated 2,000 bushels of recycled oyster shells are placed each year in the bay and its rivers. Each recycled shell can become home to dozens of baby oysters.
For the recycling project, the collected shells will be placed in huge water tanks containing millions of microscopic oyster larvae, called spats. Spats are free-swimming animals for about two weeks before attaching to a solid surface as their final home.
Then spats and shells will be dumped into the Piankatank River, where the salt-water mollusks can propagate bivalves in the Chesapeake Bay. Spats-on-the-shell are also provided to oyster gardeners who plant them in rivers and the bay to grow and expand oyster reefs.
However, diners won't likely see the spats back on their plates.
In Virginia, farmed oysters are replacing wild oyster harvesting with nearly $20 million in sales each year. There are now eight distinct oyster regions in Virginia, each with a unique flavor.
"Most of the oysters that you get in a restaurant are farmed oysters, which is good for the environment," Andrews said. "There are some private oyster beds near Gwynn's Island and I'm sure some of these oysters' offspring will work their way to those."