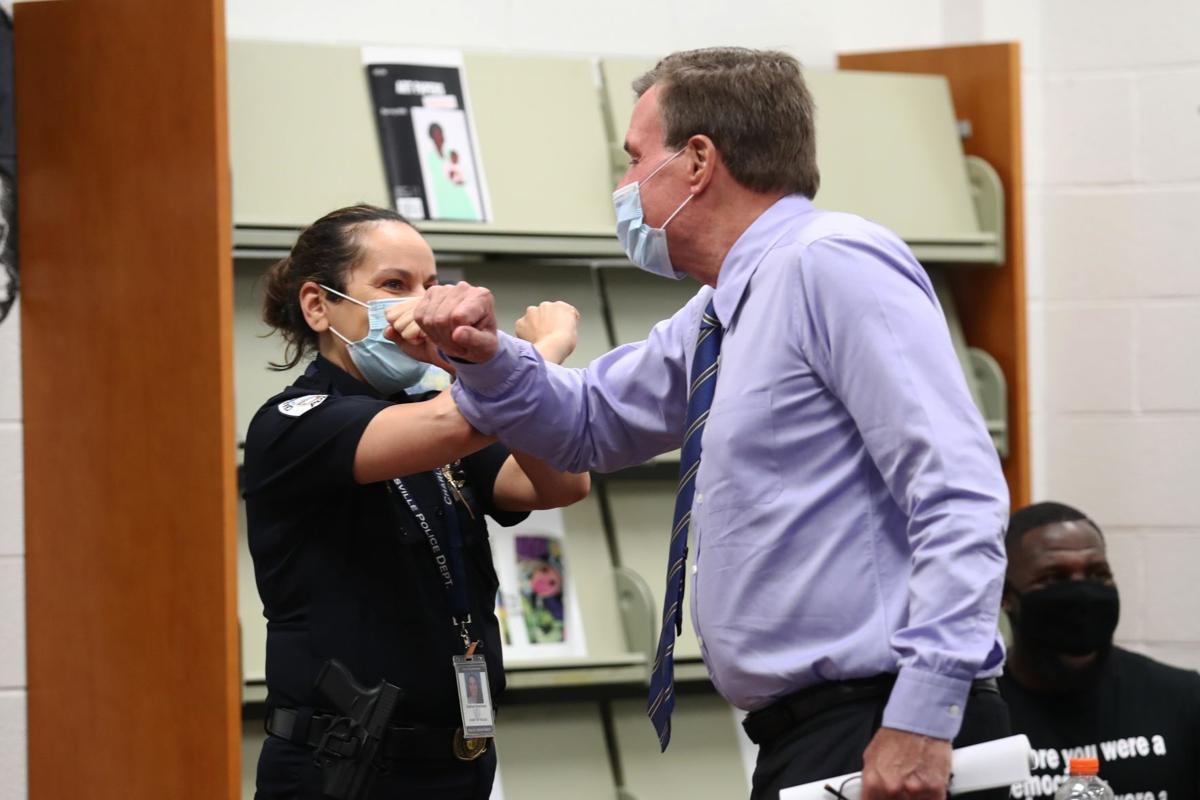 Racial and economic inequalities exacerbated by the COVID-19 pandemic and police brutality were the focal points of a candid conversation with Charlottesville community leaders and U.S. Sen. Mark R. Warner, D-Va., on Thursday.
Held at Piedmont Virginia Community College, the conversation was led by Warner and included Charlottesville Police Chief RaShall Brackney; former Charlottesville City Councilor Wes Bellamy; Albemarle-Charlottesville NAACP President Janette Boyd Martin; Frank Friedman, president of PVCC; and Ben Allen and Sherica Jones from the University of Virginia Equity Center.
Seated in PVCC's library, the group wasted little time talking about issues of racial equity in the Charlottesville area, which they all agreed had existed long before they were emphasized by the COVID-19 pandemic.
Warner began the conversation by highlighting a piece of legislation he is working on to provide economic opportunities for low-income communities and Black-owned small businesses. Though the legislation has not been introduced yet, Warner discussed particulars of the bill in a virtual meeting last month with representatives of the Piedmont Housing Alliance and other regional institutions.
Thursday's conversation also broached on inequalities in policing, something Warner said he hopes will be addressed by the George Floyd Justice in Policing Act of 2020, which was introduced in June.
According to Warner, the bill is the first comprehensive legislative approach to ending police brutality and changing the culture of law enforcement departments by holding police accountable in court for misconduct, increasing transparency through better data collection and improving police practices and training.
"I actually believe that there's nothing in this country that we can't still fix if we put our mind to it and, while not perfect, the Justice in Policing Act — which I was proud to join Corey Booker, Kamala Harris and others to co-sponsor — is a step in the right direction," Warner said. "I think banning chokeholds and no-knock warrants, or making sure that there's a law enforcement officer that has a history of bad behavior can't move from one department to another without some record following is long overdue."
Though she supports the Justice in Policing Act, Brackney said the issues of racial inequality in policing run deep through the criminal justice system and the culture of policing.
"White supremacy, nationally and within policing, is a pandemic; it is a virus and it is something that we cannot produce a vaccine for," she said. "It's something that none of us will be immune against, so no matter how quickly all the other vaccines come out, this pandemic will stay beyond the initial pandemic that we find ourselves in."
Politicians are complicit in this "policing pandemic," Brackney said, by outwardly calling for reform while making backdoor deals with policing agencies to ensure their votes.
"Until we can separate ourselves politically from the voting blocks, the power of the unions, contracts and the benevolence associations, we will never get the kind of policing reform that creates the culture of policing that really does result in a co-production of public safety," she said.
The conversation also touched on inequalities caused directly by the pandemic, such as access to testing for the coronavirus.
Even after being tested, Allen said low-income individuals, who locally are often Black or brown, have to make the decision to quarantine themselves and not make any money or pose a health risk to themselves and others by going back to their low-paying job.
With the help of other community members, the Equity Center has partnered with Cultivate to help address food access inequalities, Allen said. However, the inequalities and inequities run deep and solutions aren't easy, he said.
"Access to health care, lack of access to jobs and wages that are above a living wage — all these things are so exacerbated and it is stretching people to their wit's end," he said. "And that is why it's so important for the community and regional effort to try to address it."
As president of the Albemarle-Charlottesville NAACP, Martin said she often gets calls from Black residents facing all kinds of issues, most of which she is unable to assist directly with.
More recently, the biggest issue being brought to her is confusion about primary schooling and the perceived lack of planning. With all the confusion and frustration, Martin said she wished there was a national plan to help guide parents.
"There's no plan, it's almost like an experiment with the children, and I can't understand why you couldn't get a plan for them," she said.
Warner said he understood her frustration, but thought the plan should be guided by local leaders and health concerns, not by a national government mandate that held funding hostage if schools did not open, as has been suggested.
After nearly an hour and a half, the conversation drew to a close with promises to continue talking about issues of racial and economic inequity and to look for solutions together.
Get local news delivered to your inbox!
Subscribe to our Daily Headlines newsletter.