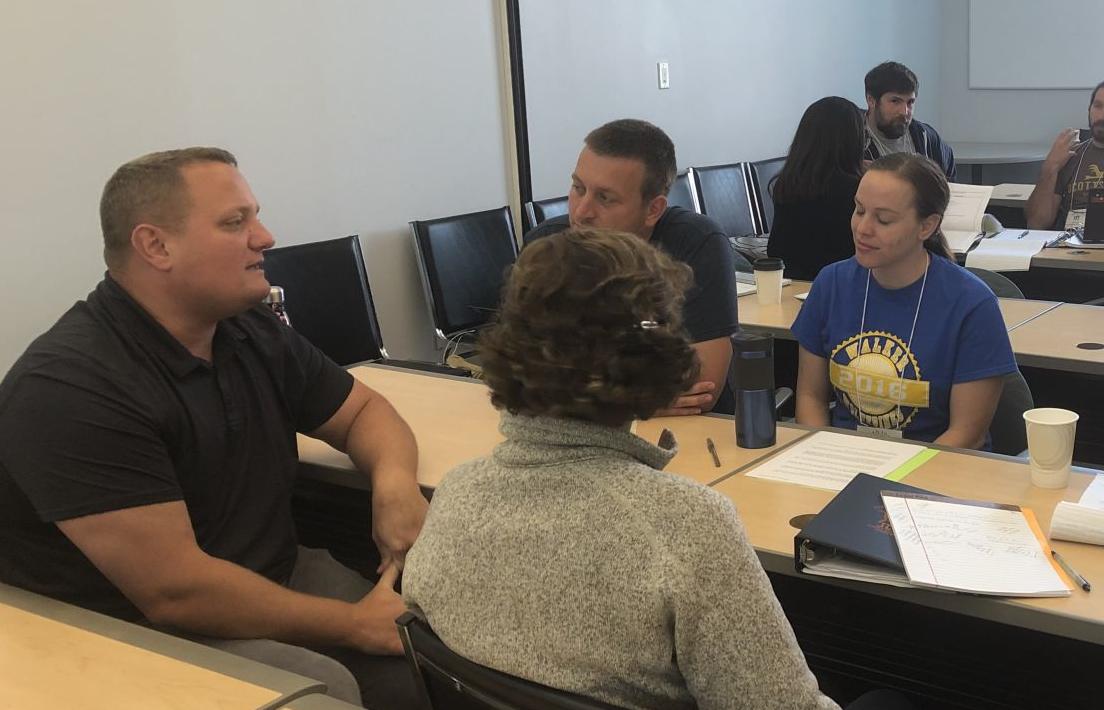 Some honors classes are going away at Buford Middle and Walker Upper Elementary next year as the city school division looks to expand unleveled courses, a model currently used at Charlottesville High School.
The staffs at Buford and Walker are spending this summer preparing for the new model. Students will still have the option to take honors courses, but they won't be separate classes. That option and the unleveled classes require teachers to adjust, or differentiate, their instruction.
Walker's principal, Adam Hastings, said that with differentiation, they start with gifted in mind and then help all students achieve at that level.
"That's where we start because we believe that all of our kids can meet that level of potential with differentiated supports," he said.
Differentiated supports can range from utilizing other teachers, such as reading specialists, to the resources provided to a student.
All classes at Walker will be unleveled; science and social studies courses will be at Buford.
"I think it's an attitude shift more than anything," said Michele Bambury, a science teacher at Buford, adding that the initiative wouldn't change her approach to teaching. "… We're figuring out where kids are at and trying to make them better."
Bambury was one of 30 Charlottesville teachers, instructional coaches and administrators who attended a conference at the University of Virginia last week to learn more about differentiation, which is the practice of tailoring instruction for individual students.
UVa professor Carol Tomlinson, an expert on the topic, led the five-day Summer Institute for Academic Diversity and spent each afternoon with the Charlottesville group. The division has partnered with Tomlinson to support the implementation of unleveled classes.
The goal is for activities, lessons and classes to be rigorous, Tomlinson told the teachers.
Her afternoon sessions focused on the nuts and bolts of how to do that. On Wednesday, she walked the teachers through a tool she developed, known as the Equalizer, to help teachers visualize the ways they can adjust lessons or instruction.
"Its goal is to equalize the opportunity that everyone is working at the appropriate challenge level," she said.
In addition to the institute, Tomlinson will work with teachers during professional development in August, the week before school starts, and observe classrooms in September and October, according to an implementation plan presented at a retreat meeting of the Charlottesville School Board on May 31.
At that meeting, Associate Superintendent Jim Henderson told board members that the focus for the coming school year would be on building capacity among teachers and supporting them.
Charlottesville High School started implementing unleveled classes in 2012 with its freshman English classes. The model since has expanded to other grades and courses.
Bambury said she attended the institute because of Tomlinson and that the breakout session for just Charlottesville teachers was helpful.
"We know our unique challenges and the community," she said.
Bambury said she likes the emphasis on aiming high.
"This is helping everybody get what they need," she said of unleveling. "I'm really excited. This is getting me jazzed."
The changes with differentiation, she said, shouldn't scare teachers or the community.
"Anything we enact through this unleveling is good practice," she said. "It's not like you are asking us to do something that's insane."
Last year at Walker, honors students were pulled out of the classroom for additional enrichment work, Hastings said. In a language arts class, students would spend half of the class time together and then half split up. Hastings said a positive of that system is that they were able to provide the honors instruction.
"The challenge is, just the human side of it, we're all sitting in a classroom together and the honors teacher comes down the hallway and says, 'you seven come with me and you 12 need to stay,'" he said. "That doesn't sit well with anybody. It doesn't sit well with 10-year-olds and it doesn't sit well with the rest of us."
Expanding unleveled courses ties in with the division's plans to overhaul gifted education. Starting this year, the division will no longer use the pull-out model for Quest, the gifted program, where students leave the classroom to work with a gifted specialist. Instead, the specialist will work with all students in a classroom on activities and lessons designed to challenge them.
Hastings said differentiation is needed at Walker.
"Look at our school performance data and you can see that we do a good job of serving some populations but not all populations," he said.
He said he expects differentiation to be used schoolwide by the end of upcoming school year.
"This is going to happen everywhere," he said. "This is going to happen in band, this is going to happen in literacy, this is going to happen in science. It doesn't matter where you are. It's not going to happen at lunch and recess. But otherwise, the expectation is that this is best practice."
Hastings said differentiation will allow Walker to be more efficient and effective.
"Where we are as a school and a division, it's clear in our data we are not performing at the level that we need," he said. "If we really want to make Charlottesville a better place and we believe the city schools are a big part of that pie, we have to try something better."
Get local news delivered to your inbox!
Subscribe to our Daily Headlines newsletter.