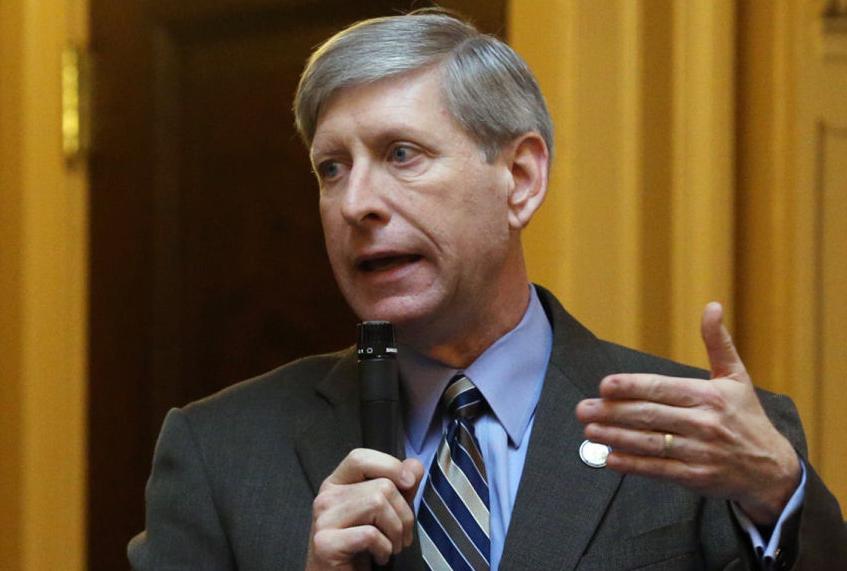 RICHMOND — A few generations and culture wars ago, provocateurs speaking out on college campuses were labeled "outside agitators." Now they might be called "invited guests."
A day after riots erupted at University of California, Berkeley, over a talk planned by an inflammatory Breitbart editor, a bill protecting free speech at public colleges quietly made it through Virginia's House of Delegates.
"It's just a restatement of the First Amendment," said Del. R. Steven Landes, R-Weyers Cave, who sponsored the legislation with 19 co-patrons.
"How can anybody be against free speech and promoting free speech?" he said. "Especially on campuses."
It's not that straightforward, say others who see the bill as unnecessary, if not problematic, and a reflection of a larger, polarizing debate over academic freedom.
Last week, the Foundation for Individual Rights in Education, or FIRE, released a survey of "bias response teams" nationally and on seven Virginia campuses that the group says encourage students to anonymously report on other students or faculty members if they perceive someone's speech to be biased.
"There's a moral panic in America that free speech is under assault at universities, but it's absolutely not true," said Siva Vaidhyanathan, professor of modern media studies at the University of Virginia.
Landes's legislation, now in a Senate committee, is a single sentence that belies the complexity around it.
The bill would prohibit public institutions of higher education from abridging the freedom of any individual — including enrolled students, faculty and other employees and "invited guests" — to speak on campus, except as otherwise permitted by the First Amendment.
He said he decided the legislation was necessary after finding inconsistencies in policies at Virginia schools.
But he also said schools should not rescind an invitation to a speaker with unpopular opinions because of protests. "That's not promoting free speech," he said.
Virginia Tech was caught in such a controversy last spring. Jason Riley, a columnist for the Wall Street Journal, said he had been "disinvited" from speaking because he is a black conservative, resulting in an apology and a new invitation from the university.
That followed a backlash over an appearance by Charles Murray, co-author of "The Bell Curve" whose writings on race and intelligence drew protests on campus.
The decision by Berkeley to cancel an appearance by Milo Yiannopoulos, the Breitbart editor known for his vile insults, drew a threat from President Donald Trump.
"If U.C. Berkeley does not allow free speech and practices violence on innocent people with a different point of view — NO FEDERAL FUNDS?" Trump tweeted.
Berkeley blamed the violence on "150 masked agitators" who infiltrated student protesters on the campus, which gave rise to the Free Speech Movement in the 1960s. The complaint then was that "outside agitators" were stoking unrest.
Yiannopoulos, whose racist tweets got him banned from Twitter, had been invited by the Berkeley College Republicans.
Landes said schools have the discretion to not invite a speaker who might incite violence.
"They need to do the legwork beforehand," he said.
The First Amendment allows for such exceptions, he said. "But free speech is free speech, and it's protected. Any viewpoint should be heard on campus."
Vaidhyanathan has a different perspective.
"Universities are not park benches or street corners," he said. "They are not places where anything goes."
Universities have long been committed to allowing "informed, respectful, dispassionate deliberation," he said.  But they are also workplaces with "thousands of employees who deserve to work in a respectful environment free from harassment."
He said he can see "absurd consequences" of the legislation — an invited guest, for example, politicking from a faculty office, something that's now prohibited.
"Universities have no obligation to sponsor crackpot expressions," he said. "We have no obligation to sponsor every poet who wants to issue a verbal haiku and no responsibility to sponsor every or any climate change denier."
Marcus Messner, social media professor at Virginia Commonwealth University, sees the legislation as overregulation.
What happened at Berkeley was an exception, he said.  The event was "canceled because of security, not because the administration didn't like the speaker."
Anyone who thinks First Amendment rights are being abridged, he said, should come to the Compass in front of VCU's library, where "we have a broad variety of free speech on campus every single day."
In this country there's not a European-style regulation of hate speech, he said. "In the U.S., that is a nonstarter discussion."
FIRE, however, said it found 232 Bias Response Teams nationally and called them "illiberal, and antithetical to a campus open to the free exchange of ideas."
VCU and UVa were among the universities criticized by FIRE, as were Virginia Tech, George Mason, Mary Washington, the University of Richmond and Longwood University, which was singled out for special scrutiny for including the threat of "education sanctions" in its policy.
"The FIRE report is extremely misleading," Longwood spokesman Matthew McWilliams said.
Longwood has a protocol to identify when bias might be a factor in behaviors such as harassment that may violate the law or conduct code, "but we do not under any circumstances punish students simply for their beliefs or opinions."
No bias issues have been reported, he said.
Charles Klink, VCU's vice provost for student affairs, said the response team was established in 2015 and has responded to about 10 cases. He declined to give details about the cases.
The team was created to respond "in a thoughtful and supportive manner to students impacted by bias-motivated behaviors that cause harm and constitute threat and harassment," he said by email.
But, he said, it also provides "a mechanism to assist students in understanding the distinction between protected speech and behavior that harms or speech that constitutes harassment or threat."