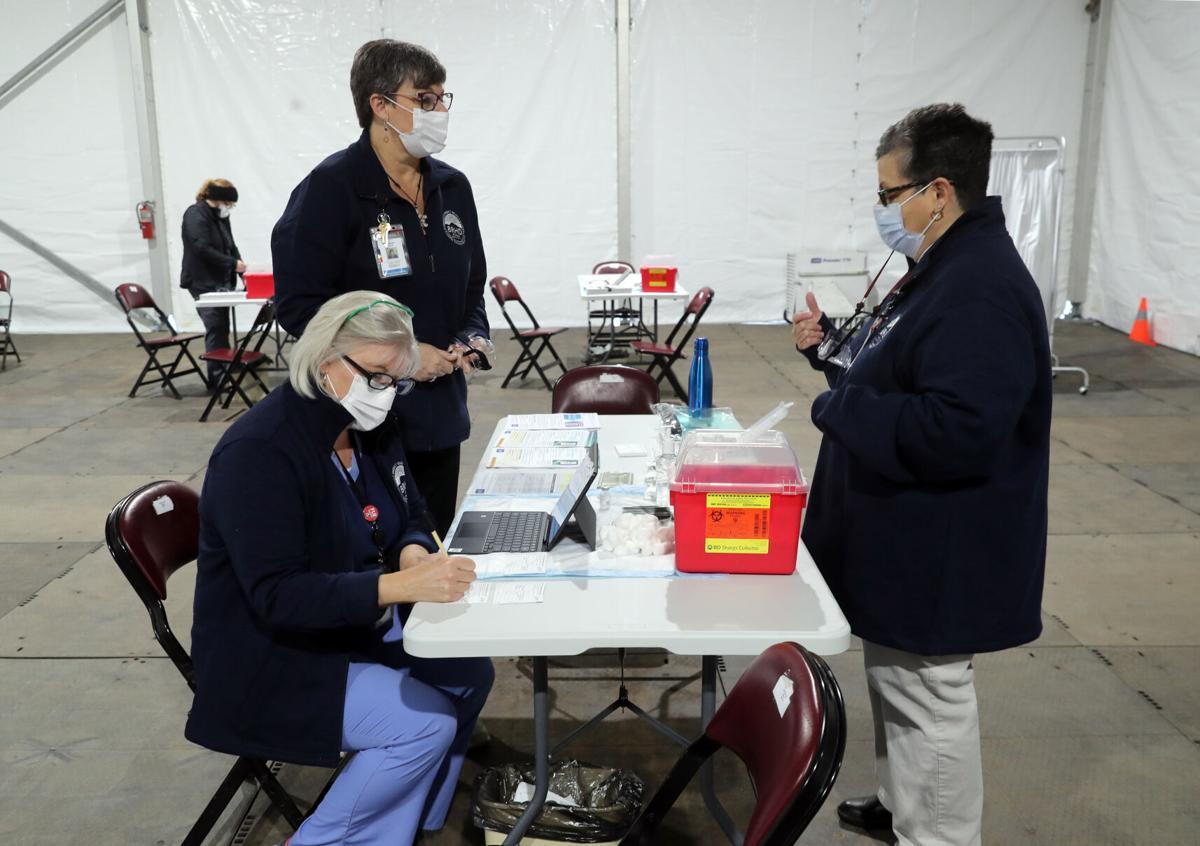 Difficult decisions are ahead for the Blue Ridge Health District as officials figure out how to fairly allocate a limited supply of the COVID-19 vaccine.
Starting next week, the health district will receive 2,950 doses weekly to administer the first shot of the vaccine, following a change in how the state doles out COVID-19 vaccines. Previously, allotments were based on requests from health districts; they are now based on population.
"So we have to sit down and think about what an equitable way to distribute it to all of our localities is and how we can meet all of the various conflicting priorities that we have been given," BRHD Director Denise Bonds told the Albemarle Board of Supervisors. "It will not be an easy task, and people will be unhappy. I am very, very sorry. I wish that I had infinite supplies of vaccine, so that everyone who wanted one could get one now."
Bonds said that figure will be the weekly allotment for the next four weeks but does not include the second doses people need to be considered fully vaccinated. The health district was notified about the new allocation Wednesday afternoon.
The health district includes Charlottesville and Albemarle, Fluvanna, Greene, Louisa and Nelson counties.
It was unclear Wednesday how the new allocation compares to previous weeks because the health district has not disclosed how many doses they have received from the state, at the request of the Virginia Department of Health.
"It has been a challenging roll-out and for that we apologize," Bonds said at Tuesday's Charlottesville City Council meeting.
Bonds said training people to become vaccinators limited their efforts at first, but that problem has been solved. Now, the primary issue is vaccine supply.
"The barrier moving forward is the lack of vaccines," she said.
Last week, vaccinators requested three times the number of doses it will actually have to distribute, according to the Roanoke Times. The state received about 110,000 doses a week and officials aren't expecting that number to increase soon.
Bonds said the health district received no additional vaccine doses this week but had enough to cover appointments.
Hospitals in Virginia have administered 48% of all doses in the state while local health departments make up about 13%. Bonds said that the health districts in the state have received about 15% of the state's vaccine doses.
"I think there's some misperceptions in the community that the health department is sitting on lots and lots of vaccines, and we just aren't," Bonds said.
Last week, 5,587 doses were administered. Since December, 14,677 people in the health district have received their first dose of either the Pfizer or Moderna vaccine, and 1,315 people have gotten both.
PHASE 1b
The health district moved to Phase 1b on Monday, after urging from Gov. Ralph Northam. Originally, district officials were expecting to move to Phase 1b by late winter. Included in that priority group are some essential workers, people 65 and older as well as those with underlying medical conditions are eligible to receive the vaccine. However, just because someone is eligible doesn't mean a dose of the vaccine is available.
The move to Phase 1b doesn't mean that everyone included in the first priority group, 1a, has received the vaccine. Bonds said the health district will continue to work with frontline healthcare workers to make sure they can get vaccinated. Sentara Martha Jefferson Hospital will be helping with that goal as well.
"It's challenging and we know it's very frustrating for some healthcare providers," Bonds said.
CVS and Walgreens are vaccinating residents and staff members at long-term care facilities, a process that's taking longer than initially thought.
"We don't think that all long-term care facilities will have their first visit, or even a complete immunization series, until March sometime," she said.
Currently, all vaccine appointments offered by the health district through February are full. Bonds said the number of appointments depend on the availability of vaccine doses.
"If you have appointments on the book and you have no vaccine, then you have to cancel and that's worse than having limited numbers," Bonds said. "I think people would be happier knowing that they have an appointment in March, than if they had an appointment on Feb. 12 and I cancel it. Then, they have to be pushed out till May. That would make people really unhappy, so we're trying to make sure the expectations match the delivery supply chain."
The 1b priority group originally included those 75 and older but Northam expanded that group at a press conference last Thursday.
That pilot program started this week but issues with the scheduling system created more confusion because the emails confirming appointments were blocked by spam filters. UVa resolved that issue Tuesday night.
"It was a little rocky on the notification," Bonds said. "... We just need everybody to have a little bit of patience. There are just going to be hiccups in the roll-out."
Goodman said earlier Wednesday that thousands of individuals have been able to schedule appointments since the issue was fixed.
'Really frustrating process'
During presentations to City Council and the Board of Supervisors, elected officials relayed concerns raised by their constituents, including the pace of vaccinations, availability of appointments and confusion about the online system.
The state's vaccine management system allows eligible individuals to make an appointment at vaccine clinics outside of the health district they work in. Thus, people have traveled to as far as Harrisonburg after making an appointment only to find out it was canceled.
"I understand this is a really frustrating process for the public and we're trying to get as much information on our website and as much clarity as we can," Bonds said. "I know people have tried to call the hotline and all they have gotten is a busy signal because they literally have received hundreds of calls over the last week."
That state is moving to a new vaccine management system that should help with that problem, Bonds said.
The district's COVID-19 hotline, which is also a resource for people to ask general questions and schedule testing appointments, has been overwhelmed recently and unable to handle the call volume, health district spokeswoman Kathryn Goodman said.
To help with that, the hotline staff was increased from four to 15 over the weekend, and they moved to a larger location. That hotline number is (434) 972-6261.
"We want to serve the community as best as possible, which means answering calls quickly, being able to answer their questions as quickly as possible, and making sure that we're connecting them to the right resources are providing the information they need," Goodman said.
Another point of confusion has been the online survey the district used to build a list of eligible people who were interested in getting a vaccine. Some people who have filled out the survey have not heard back from the health district or thought that survey was scheduling an appointment.
"The survey is the first step," Goodman said. "It is a way for us to capture information; it is not scheduling you for an appointment. … We will then follow-up when it's your turn to schedule an appointment, which may take a little while. It won't be immediate."
Goodman added that the health district is aware not everybody is comfortable using a computer or has access to the internet. Calling the hotline is an alternative to filling out the survey.
Overall, Bonds said it will take months to get enough people vaccinated in order to reach herd immunity.
"In the meantime, we need everybody to continue to use all of those great mitigation measures," she said.