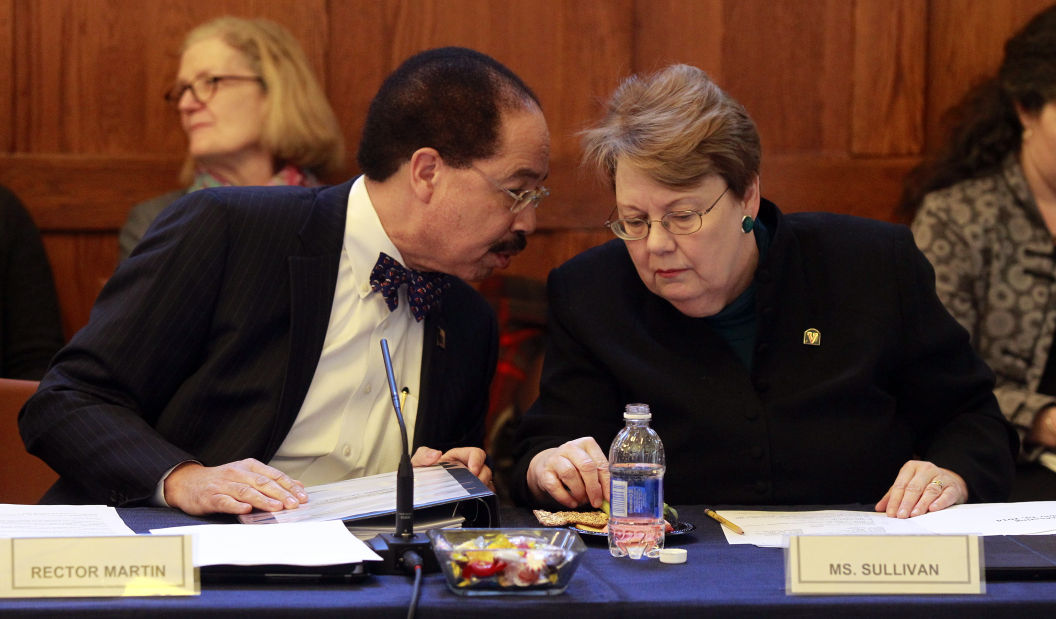 In a 44-minute recorded interview Oct. 2 with University of Virginia President Teresa A. Sullivan, the author of Rolling Stone's shattered UVa expose cited "gang rape" allegations but disclosed none of the details of the account that sparked a national uproar.
Asked by reporter Sabrina Rubin Erdely about "three separate allegations of gang rapes" at the Phi Kappa Psi fraternity, Sullivan replied that "we do have a fraternity under investigation and … we have spoken with a national chapter of that fraternity."
The Daily Progress on Friday obtained an audio recording of the interview along with more than 250 pages of emails. The material sheds further light on Rolling Stone's reporting, what university officials knew and when and their response as the story spread.
Several days after the Rolling Stone interview, Sullivan alluded to the upcoming story as well as sexual assault allegations in a meeting at the local Phi Kappa Psi house across Madison Bowl from her office, according to a source with close ties to the fraternity. An officer with the fraternity's housing corporation said he called Charlottesville police less than three weeks later, on Oct. 23, asking that they investigate.
Neither city police nor university officials would comment on that detail Friday.
On Nov. 19, 27 days after the call from the housing corporation and shortly after Rolling Stone published the story online, Sullivan contacted Charlottesville police Chief Timothy J. Longo asking for an investigation of the magazine account.
"The Rolling Stone article raises new and more specific allegations regarding this alleged assault that have not been shared with the University previously," Sullivan wrote in an email to Longo. "For this reason, we are asking that CPD open a criminal investigation …"
Police have declined to comment on the investigation.
The source tied to the fraternity has said that Associate Dean of Students Nicole Eramo advised Phi Psi of sexual assault allegations and the upcoming story in a Sept. 17 meeting. Those allegations entailed forced oral sex by multiple men, according to the source.
That differs from the discredited account in Rolling Stone, which described a woman named Jackie being thrown through a glass table and raped by seven men in an upstairs room at Phi Psi on Sept. 28, 2012. The magazine has said it discovered discrepancies in Jackie's account, and the fraternity has said it has records refuting key aspects of the story.
Jackie never filed a complaint with police, according to the Rolling Stone story.
During her phone interview with Sullivan, Erdely inquired about the mid-September contact with Phi Psi, but Sullivan said only that university officials had spoken with a national fraternity about their concerns. She did not identify the fraternity. Moments earlier, Sullivan said, "I can also tell you that as far as I know we don't have the names of any specific individuals."
Following the story's release, dozens of alumni and parents of prospective students fired off sharp emails to Dean of Students Allen Groves, whose office oversees Eramo's.
"As it stands, your institution is not getting a penny from me and I'll make sure no one I know attends," one email read.
University of Virginia Rector George Keith Martin on Friday expressed the "collective sorrow…
Although Groves cited problems with the story in emails to friends and colleagues, he offered to resign from Gov. Terry McAuliffe's Task Force on Combating Campus Sexual Violence.
"I fear that my involvement is about to become a distraction to the Task Force's critical work," Groves wrote Nov. 26 to Laura Fornash, a member of UVa's state governmental relations staff.
Fornash advised against a quick decision, instead saying she would have a conversation with McAuliffe's chief of staff, Paul Reagan.
"I have heard multiple people in the Administration recognize that UVA is ahead of many in Virginia on these issues," Fornash wrote. "Your current place on the taskforce is in recognition of this."
Groves also declined a planned appearance at the North-American Interfraternity Conference Academy in January, citing fallout from the story and an independent counsel's review of the school's sexual assault policies.
"I have decided that I must cancel all talks and appearances until the independent counsel announced yesterday completes his review of sexual misconduct at UVA," Groves told the organization Nov. 20. "I'm sure you understand."
Emails show Erdely made repeated attempts to land an interview with Eramo, an effort eventually scuttled by the university communications office.
Erdely first reached out to Eramo on Sept. 5 to arrange an interview for an "article about rape/rape culture on college campuses." Eramo chairs UVa's Sexual Misconduct Board and has defended the school's handling of sexual assault cases, which in 10 years has not resulted in an expulsion, although dozens have been expelled over honor code violations.
Initially, Eramo agreed to be interviewed.
"Thanks for your note," Eramo wrote Erdely on Sept. 6. "A few of my students mentioned this story to me so I'm really glad you reached out! My schedule isn't too bad on Thursday. Is there a time that would work for you?"
The exchange appeared to be Erdely's first written communication with top administrators charged with carrying out sexual assault policies. For several days, Eramo and Erdely corresponded about setting up a time to meet, copying members of the university's communications office.
But on Sept. 11, university spokesman McGregor McCance said Eramo was off-limits.
"I apologize for the change of direction particularly on the interview that had been planned for Nicole on Friday," McCance wrote, "but I hope that you will be interested in finding a good time to interview [President Sullivan] for this story."
McCance told Erdely that he encouraged Sullivan to make herself available for the story.
"We think the issue is important enough that the institutional voice ought to be from President Sullivan," he wrote.
Erdely responded 19 minutes later, "insist[ing] upon speaking to Nicole, who, as we discussed, is the primary authority on sexual assault at UVA."
"Nicole is indeed among the most knowledgeable of our policies and procedures here," McCance replied. "Unfortunately, she is not going to be available for an interview."
Three weeks later, Sullivan took Erdely's questions.
Erdely asked about an example used in her story in which a student identified as "Stacy" is assaulted and brings the case to the Sexual Misconduct Board. Two other women then came forward claiming the same man sexually assaulted them. He was found responsible and was suspended for a year. Erdely asked whether that was enough.
Citing student privacy laws, Sullivan declined to respond. She also would not detail the fraternity investigation cited after Erdely mentioned Phi Psi.
"It's under investigation. I don't know how else to spell that out for you, Sabrina," Sullivan responded when Erdely asked for more information.
Erdely did not press Sullivan further, nor did she appear to inquire in follow-up emails with the university: In exchanges with roughly a half-dozen officials between Sept. 5 and Nov. 12, neither Erdely nor the magazine's fact-checkers shared the graphic account that would be the centerpiece of the story.
"A couple last questions (and thanks again for all your help with this!!)," Rolling Stone Assistant Editor Elisabeth Garber-Paul wrote university spokesman Anthony be Bruyn on Nov. 12.
In a flurry of emails exchanged between the two, Garber-Paul asked de Bruyn to detail the university's handling of honor code violations and whether Eramo is a UVa alumnus. She verified that the school has had zero expulsions for sexual assault since 1998 and asked whether Eramo sits in on informal hearings of sexual assault cases.
Her final questions related to university policy:
"UVA has recently designated most authority figures at UVA as mandatory reporters of sexual assault, in order to make sure that allegations reach the necessary parties. Deans have been known to make emergency-room visits to victims of sexual assault [?]' That should be it, and thanks again!"
Questions about UVa's policies and procedures for managing sexual assault complaints also formed the bulk of Erdely's questions for Sullivan and de Bruyn and Associate Vice President for Student Affairs Susan Davis, who also took part in the Oct. 2 interview.
When Erdely inquired about specific numbers, Sullivan said she could not answer.
After Erdely hangs up, a woman's voice can be heard on the recording saying: "She was a rather unpleasant character."
Erdely has not responded to interview requests since the story crumbled.
Staff writer Dani Kass contributed to this report.
K. Burnell Evans is the Albemarle County reporter for The Daily Progress. Contact her at (434) 978-7261, kevans@dailyprogress.com or @KBurnellEvans on Twitter.
Be the first to know
Get local news delivered to your inbox!