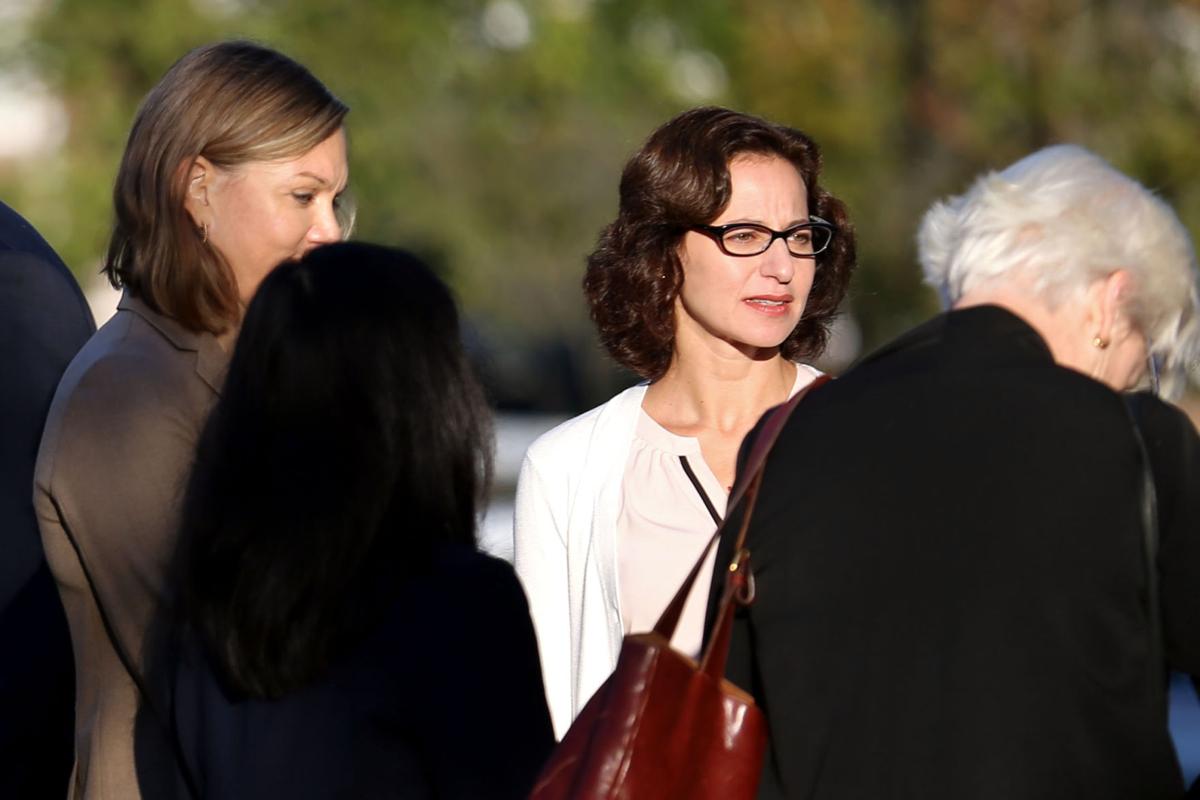 Sabrina Rubin Erdely vehemently defended some of her reporting choices — and fell on her sword for others — in more than eight hours of testimony with an attorney for Nicole Eramo, the University of Virginia administrator suing Erdely and Rolling Stone magazine for $7.5 million.
Among her most striking statements were her final words, in which she said unequivocally that Eramo was not damaged by her reporting in "A Rape on Campus" and that her portrayal was "fair and accurate" — as were many other aspects of the piece.
"I stand by everything I wrote … except for anything that came from Jackie," Erdely said.
Erdely penned the infamous November 2014 article that focused on what she presented as a climate of sexual assault at UVa through the lens of several student survivors, including "Jackie," a then-student who claimed she'd been gang raped at a fraternity house during her freshman year at UVa.
At the time of the article's publication, Eramo was the associate dean tasked with providing support for student survivors, mentoring Jackie and countless others. She now claims the article, retracted in April 2015 after a police investigation discredited Jackie's story, portrayed her as a callous and indifferent administrator who sought to suppress Jackie's claims and others like it.
Thursday was the fourth day of what's expected to be a 12-day trial, in which Eramo is hoping to show that Erdely and the magazine acted with actual malice when they published their factually inaccurate story. Rolling Stone has thus far admitted to big mistakes in their reporting, but are insistent that they never made intentionally defamatory statements about Eramo.
Erdely began her testimony on Wednesday, the same day that Eramo completed her own testimony, but on Thursday morning, Eramo's attorney Libby Locke dug into the most glaring of Erdely's reporting mistakes. She pointed out that Jackie had claimed to have contracted syphilis from her gang rape, but that Erdely never collected any medical records to support this claim.
When Erdely first found out about Jackie's purported syphilis, she asked to see those records. Jackie responded that her mother had the records, but that she had not yet told her mother of having contracted the disease. When asked further, Jackie changed her story, saying that she did have the records with her, and that she would scan and send them Erdely's way. Erdely still never received them.
Erdely said that instead of insisting, she chose to remove the syphilis detail from her final story, roughly two weeks before publication. She defended the move by saying the records wouldn't necessarily be "corroborative" of Jackie's assault story.
Later on Thursday morning, Erdely responded to questions about the three friends Jackie said came to her aid on the night she was allegedly assaulted. An infamous quote from the piece, said to have come from Jackie's friend "Cindy," inquired as to why Jackie didn't "just have fun with" her assault, being perpetrated by "a bunch of hot fraternity guys."
According to Erdely's own notes, Jackie had attributed that quote to a friend of a friend at a party, but later changed her story. This time, she attributed it to one of the oft-referenced "three friends" who had been with her on the night of the assault.
Under questioning, Erdely said, "I contributed [the inconsistency] to my own confusion."
In her notes, Erdely had the real name of the friend purported to have said the quote, but never attempted to contact that friend. Erdely explained that she hadn't meant to overlook the name, but simply forgot it was in her notes — she writes quickly and sometimes thoughtlessly while taking notes, she said, and sometimes forgot what information she actually had.
"It's embarrassing to say," Erdely said. "This is not an excuse, it's an explanation."
Erdely said she failed to contact either of the other "three friends" at the behest of Jackie, especially Ryan Duffin, whom Jackie said had "declined on the strongest possible terms." Erdely didn't press, she said, out of respect for Jackie's wishes.
"If I work around Jackie, I'm going to drive her from the process," Erdely said in an email to her editor, a statement that Erdely authenticated Thursday.
Erdely further defended her actions in other aspects, including the use of pseudonyms for people she hadn't contacted — "We thought we were protecting their identities," she said. She clarified certain statements in her notes that she alleges were mischaracterized by Locke in questioning.
Locke went on to ask about why Erdely was so intent on including Jackie's story in the article, and points to notes and emails from Erdely that appear to indicate she was pressuring Jackie's involvement despite Jackie's known mental instability.
Erdely attempted to reframe those statements, and when asked whether it was a mistake to have used Jackie despite her state, Erdely tearfully responded, "It was a mistake to rely on someone who was intent to deceive me."
When the trial picked up in the afternoon, there was much back and forth between Erdely and Locke over their interpretations of Erdely's words in her notes, emails and recorded interviews. Erdely would defend many of her statements, often attempting to contextualize them to her thought process at the time.
Speaking to questions that specifically pertained to Eramo, Erdely acknowledged the amount of support and love expressed for Eramo by the students she counseled, but noted that there was an "oxymoronic" dichotomy between students' love for Eramo and the amount of actual reporting of their sexual assaults.
In the final minutes of the questioning, Erdely fiercely asserted that the article was effectively retracted on Dec. 5, 2014, when an editor's note was appended to the top of the article, stating that Jackie's story was not factual and that the magazine was sorry for any damage done to anyone affected by the story.
Locke countered that the appendage was only labeled an "Editor's Note," and that an official retraction came in April 2015, following a scathing review from the Columbia Journalism School of Erdely's reporting process and the magazine's actions. She added that the note did not once apologize to Eramo directly, only indirectly as a member of UVa's administration.
While Erdely expressed that Eramo was included in that apology, Locke pointed out that Eramo was referenced by name in the article more than 30 times, and was even the focal point of the article's accompanying photo illustration.
Locke then asked if Erdely believed Eramo to have been "damaged" by the article's publication. Erdely repeatedly deflected the question, never saying that Eramo had been "damaged." She did state that she was "sure [Eramo's] feelings were hurt," and that she should not have had to endure the hate mail and death threats lobbed at her in the article's wake.
When pressed to give a definitive answer, Erdely replied, "I don't believe so," noting that Eramo had not lost her job, as feared, and had actually been given a pay raise since. This prompted Locke to ask whether Erdely thought her portrayal of Eramo had been "fair and accurate," to which she assented.
"I stand by everything I wrote … except for anything that came from Jackie," Erdely said.
The magazine then began its own questioning of Erdely, which is expected to continue Friday morning in Charlottesville's federal court.