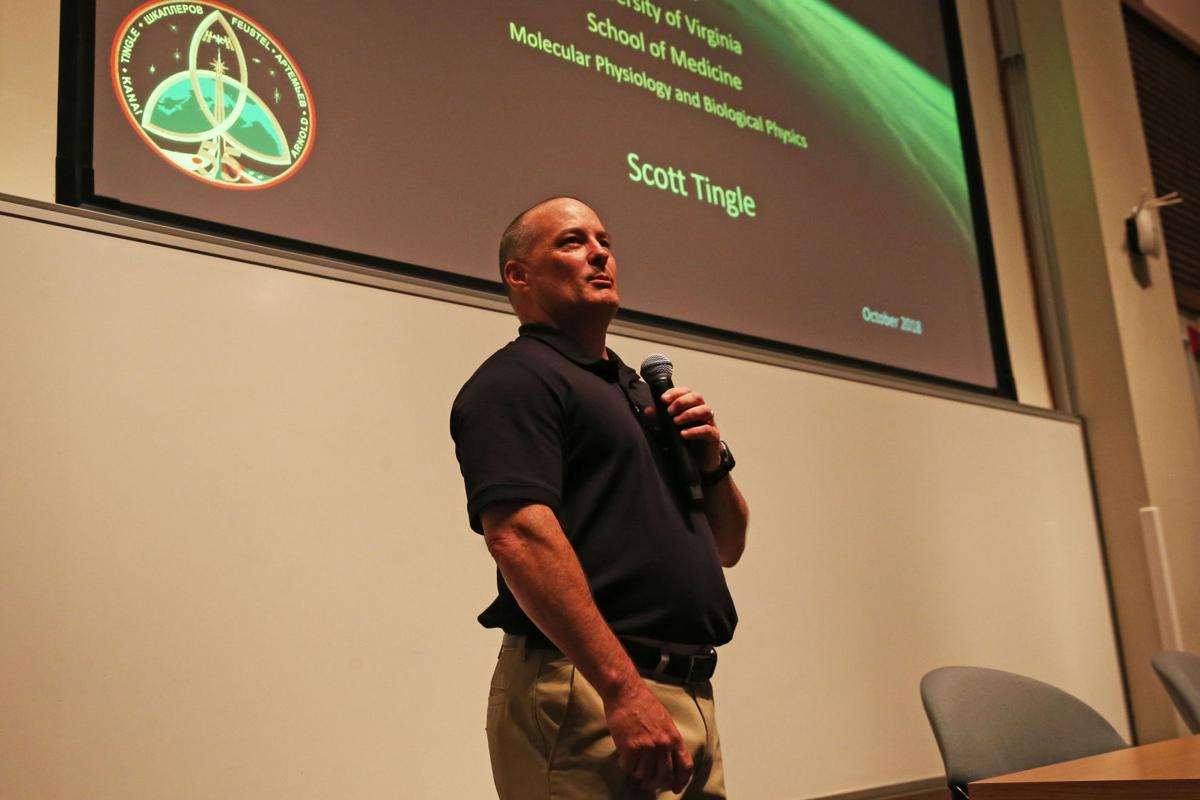 Space is cool. Most of the people in Capt. Scott Tingle's lecture at the University of Virginia on Monday already knew that, but Tingle tried to help medical students appreciate that research in space was more accessible and more needed than ever before.
Tingle, a former Navy test pilot who spent six months in space in 2017 and 2018, served as flight engineer on the International Space Station, conducting experiments and overseeing operations. Tingle was invited to the class by Lukas Tamm, a professor of molecular physiology in the School of Medicine and a former classmate of Tingle's in UVa's Darden School of Business Executive Program. Tingle spoke about the physical and mental toll space takes and the potential expansion of research and experts in the field.
"We know how to fly in space and we know how to recover from space better than ever," he said. "And the amount of research we're getting from live animal research is incredible."
Tingle said he had wanted to be an astronaut since he was 3, and had chosen his career and schooling with the intent to apply for the space program. On the fifth attempt, he was selected as an astronaut in 2009.
"But on December 17, 2017, when the boosters lit, that's when I knew I was actually going to space."
Tingle, Russian cosmonaut Anton Shkaplerov and Japanese astronaut Norishige Kanai had to cram hours of scientific tests into days of spacecraft maintenance, physical training and educational events. All in all, hundreds of experiments were conducted, including materials testing, capillary flow experiments, combustion research, a study of the effect of microgravity on the bone marrow and research into plant growth in space.
Tingle described the team's metabolic tracking experiment, which involved moving a test tube of bioluminescent cells into a test tube of media, shaking them, and analyzing the bioluminesce as it activated. It's easier to look at how the fluids interact and combine in low gravity. Other research into polymers and bacterial infections has looked at how systems behave differently in microgravity, leading to breakthrough new treatments back on Earth.
Tingle was himself an experiment as NASA continues to track how space wears on human bodies. A former fighter pilot, he wasn't bothered by fluid flowing into his head and disrupting his inner ear. He also didn't mind how low gravity strengthened his spine and eased pressure on his back.
"When I got up there, my back had never felt better," he laughed. "But, there are other considerations — the optic nerve of your eye swells and can impact vision, and it doesn't get better when you come back."
Tingle said researchers were getting closer to isolating the cause of the swelling, and thought it could be improved by nutrition.
"You've talked about some of the medical considerations; I was wondering if you could talk about the psychological considerations of space, as well?" a student in the lecture hall asked.
"That's a tough question because we have a wide variety of backgrounds," Tingle said. "Some of us were used to extreme environments; for me, it was all normal."
All in all, he said, his goal as he reintegrates into regular life on Earth is to inspire others to "get a good education, find a job you like and follow your heart."
While NASA is pushing money toward science, technology, engineering and math programs, Tingle also said the commercialization of space flight and the interest in sending a long-term mission to Mars will require researchers and astronauts who are well-rounded.
 "The space program of the future will take all disciplines. We'll need humanities, arts, music too. Realistically, just set the goal and go for it."