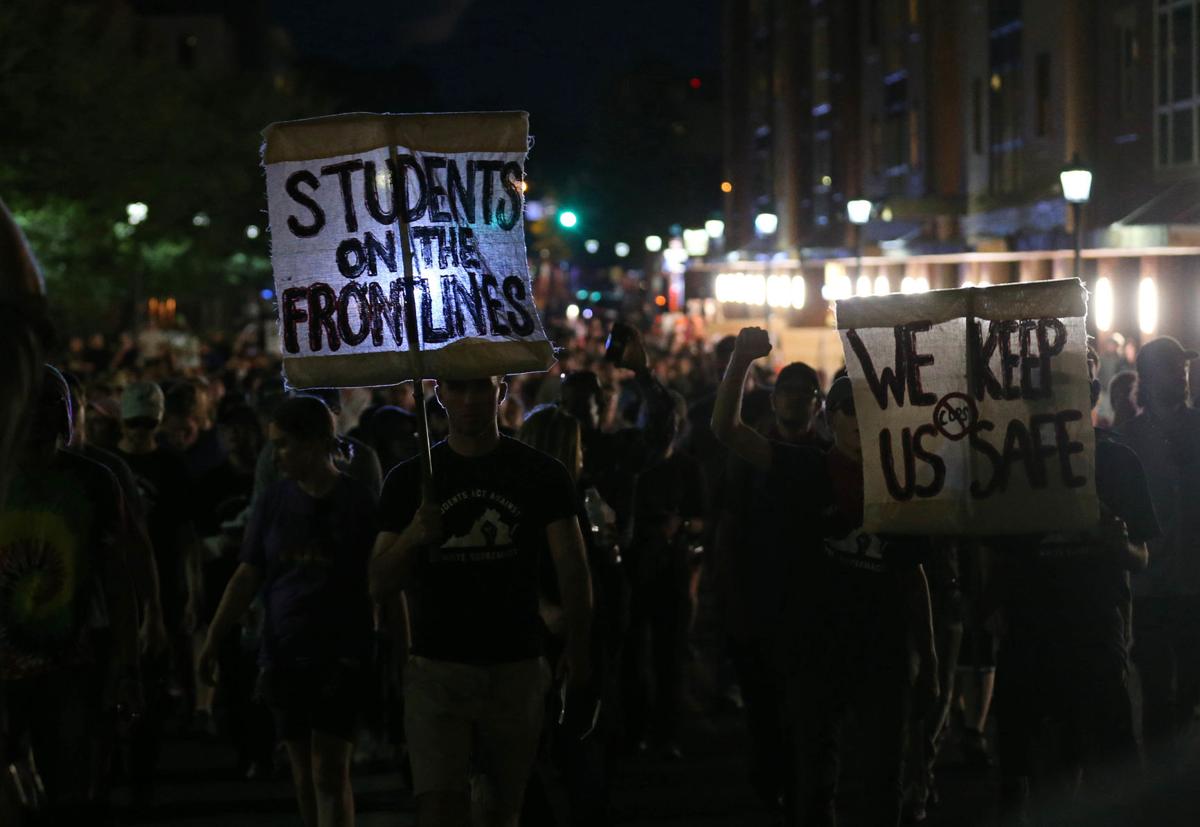 A planned student protest at the University of Virginia quickly turned into a rolling rally that traversed the Grounds, part of Charlottesville and wound up at Market Street Park with minor skirmishes between marchers and police along the way.
About 125 protesters made it past security perimeters placed downtown and marched toward the statue of Confederate Gen. Robert E. Lee around 9 p.m. before dispersing.
The demonstration originally was planned as a student rally to take back the Grounds and commemorate students who protected a statue of Thomas Jefferson during last year's Aug. 11 torch-lit march by Nazis and white supremacist.
Group members said they weren't informed of the changes and hadn't asked for the extra measures. Students bearing a white sheet painted with the words "last year they came in torches, this year they came with badges" moved the protest away from its planned location at the North Plaza of the Rotunda.
About 400 people in a quickly growing crowd moved first to the grass triangle area northeast of the Rotunda, across from the Corner.
"We are students and community activists who have kept our community safe," a student said from the steps of Brooks Hall. "We are the ones who do not tolerate fascism in whatever form it appears."
Another student demanded that the university pay remaining medical bills and issue no-trespass orders to all white supremacists involved in last year's torch march.
On Aug. 11, 2017, two dozen protesters began hearing rumors of a white supremacist march on UVa Grounds and decided to form a counter-protest. After the marchers, many carrying tiki torches, walked down the Lawn and found the counter-protesters at the statue of Thomas Jefferson, the scene quickly escalated into a brawl, with torches thrown and pepper spray employed.
The UVa Health System applied $20,340 from the Charlottesville Patient Support Fund evenly to patients' bills in October. In November, UVa said $24,557 in Medical Center funds also was used toward patients' care that was not covered by insurance. Some victims also have received payouts of varying amounts from the National Compassion Fund.
On Saturday, as students spoke, police in riot gear began forming up in the Rotunda area. The crowd moved toward the officers, chanting, "why are you in riot gear? We don't see no riot here!"
Protesters moved close to police, but a line of people with linked arms, including local clergy members, formed a wall that maintained a short barrier.
"UVa students came here to peacefully protest on their own property," said Jay Scott, a UVa employee who said he showed up to support students. "Who are y'all protecting?"
Wes Bellamy, a Charlottesville city councilor, arrived and asked officers to deescalate, before heading to see the movie "BlacKkKlansman." The officers set down their riot shields, to claps and cheers.
"I don't agree with riot gear," Bellamy said. "But one thing I've learned this week is that safety is what the officers and the government want."
Protesters turned from the police presence and marched down Rugby Road to Lambeth Field, where some state police personnel were housed for the weekend. All the while a helicopter whirred ahead.
"No Nazis, no KKK, no fascist USA," proclaimed a student protester with a microphone. "I believe that we will win!"
The tensions resulted in one ambulance being turned away from the Lambeth housing area during an emergency call, according to emergency personnel.
The UVa Medical Center declared an emergency and temporarily closed Lee Street. Visitors were required to enter through metal detectors.
As the Lambeth area began emptying around 8 p.m., a second protest quickly formed and a group of about 125 people marched from Lambeth Field to Preston Avenue, down 10th Street to West Main Street and then back to downtown.
As they marched, protesters chanted about tearing down statues, white supremacy, and racism in government and law enforcement.
Police blocked off several roads in the area to let the protesters march. So many officers had been pulled from downtown during the Rotunda protest that the heavy police staffing seen during the day was not in place when protesters made it to downtown.
Marchers and police briefly clashed, pushing and shoving as the marchers made it to Water Street and onto the Downtown Mall after 9 p.m.
Around 9:30, protest leaders appeared to hold a quick discussion near Market Street Park before shouting to the crowd "back tomorrow morning!" and breaking up.
After the crowd dispersed from downtown, many marchers walked back up West Main Street to where the march started and where many had parked their vehicles.