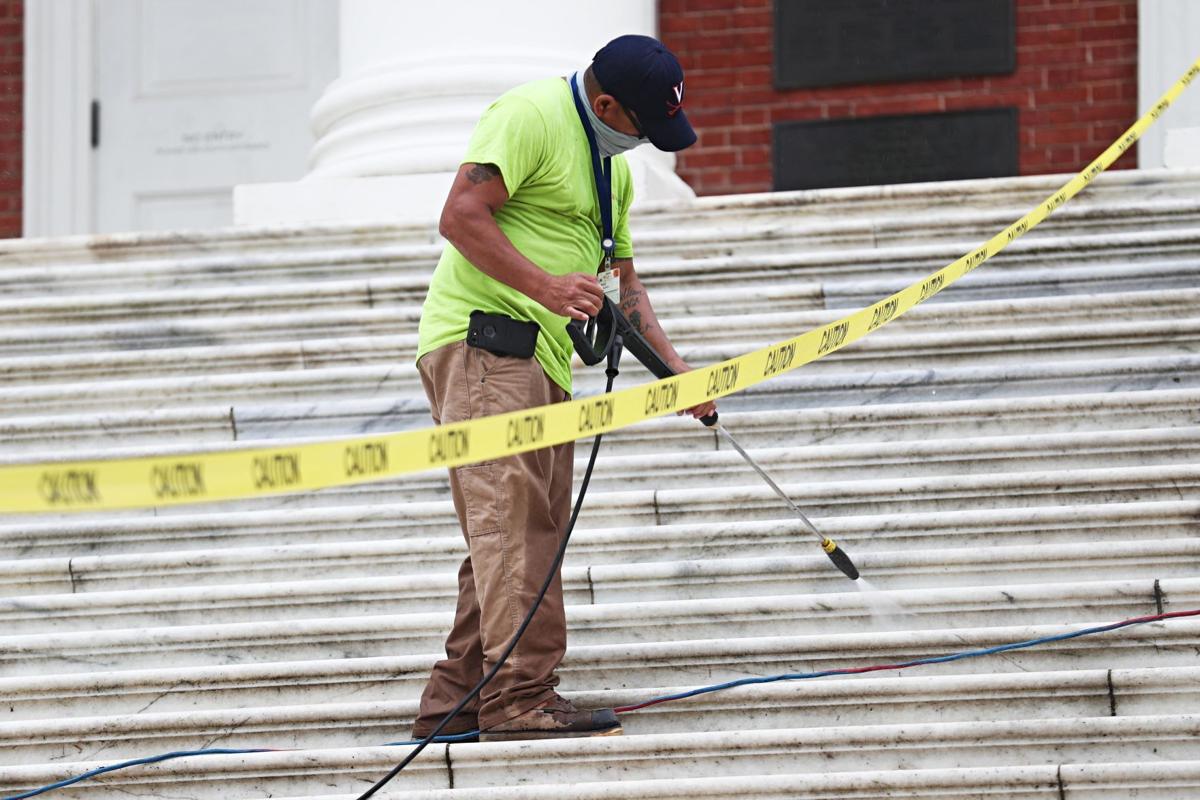 The University of Virginia is paying $177,533 to the Thomas Jefferson Health District to support seven new staff members who will be responsible for investigating all UVa-affiliated positive cases of COVID-19.
The health district announced Thursday the details of a memorandum of understanding between UVa and the Virginia Department of Health that outlines the funding, guidelines for data sharing and how university staff will assist with the contact tracing process, among other provisions, according to a news release.
TJHD spokeswoman Kathryn Goodman said the MOU, which was signed Aug. 24 and is effective through Dec. 31, solidifies a partnership with VDH, TJHD and UVa and comes as students officially returned to Grounds last week.
"We would handle UVa cases anyways, as we manage all COVID cases in the community, but this allows for TJHD to hire additional staff to help specifically with UVa investigations/contact tracing," she said.
The team of case investigators and contact tracers supported by UVa funding will help manage positive cases related to UVa and its close contacts. The investigators who work directly with someone who tests positive will have information about quarantine and isolation resources at UVa and provide those recommendations about what a person should do.
Goodman said the staff members have been hired and are currently in training. In the meantime, other health district staff members are handling the UVa-affiliated cases. The team will prioritize UVa cases but could handle others if the workload permits. TJHD has ramped up its contact tracing staff in recent months, standing at about 50 people now.
On Thursday, UVa reported an additional 52 cases among students and that 15% of the on-Grounds quarantine housing was occupied while 1% of isolation rooms are in use. The university has about 1,500 beds for quarantine and isolation, which are available to students who live on Grounds. Those who do not live in university housing are encouraged to isolate or quarantine in their residences, return home or get a hotel room, according to university documents.
Thursday's case increase was the largest since the university started its COVID-19 tracker Aug. 26. However, a spokesman said in a statement that a test processing machine was temporarily offline, which created a backlog of tests.
"That issue has been resolved, as today's numbers reflect — the large number of cases include a number who were tested earlier in the week and do not represent a sudden spike over the last 24 hours," UVa spokesman Wes Hester said in a statement. "As our testing capacity expands, we expect to see an uptick in cases on Grounds and to adapt our response plan in order to limit the spread of the virus and keep our community healthy and safe."
UVa has reported 430 cases overall, with 382 of those being students. An expanded COVID-19 tracker will be launched Friday.
Thursday's case numbers do not include the results from the mass testing of students at the Balz-Dobie residence hall. The university announced Wednesday that it had identified five positive cases through wastewater and individual testing programs and would test all of dorm's 188 residents later that evening.
The agreement also outlines how the health district and the university will securely share data about positive COVID test results. The health district will only share case information with the university if the individual consents, but the case numbers that the district reports do include those affiliated with UVa.
Cases are assigned to the locality in which a person lives. For example, those at UVa who live in the dorms will be assigned to Albemarle County. Many in the community have been wondering about students who give an address outside the district or the state.
In the release, the health district said those cases will be transferred to the district and eventually added to the data portal.
"The dates in which UVa reports cases and when TJHD reports cases will not align perfectly and may have a few days difference due to when tracking cases and tests are conducted," officials said in the release.
Goodman said the health district has seen an increase in cases among students, but so far, the spread of the virus is between students, not between students and the broader community.
On Thursday, the health district reported 84 new cases, bringing the total to 3,027. The seven-day average of new cases based on the date of onset, a metric unveiled Monday, continues to decline, though, and stood at 15.43.
The percent of positive cases, another closely watched metric, is at 4.8% after declining all month.
The agreement covers UVa faculty, staff and students. Those at UVa's College at Wise and faculty and staff in the Health System are not included. Nor are students in the medical and nursing schools who are exposed at work. Exposure for the latter two groups would be managed by the Health System's infection prevention and control office.
For case investigations, UVa commits to providing TJHD with points of contact in the Office of the Dean of Students to field questions about contact tracing, such as class rosters, employee lists or other information to speed up the process, according to the MOU. Those resources are available from 8 a.m. to 5 p.m. seven days a week.
Per the MOU, TJHD agrees to contact UVa community members within 24 hours of positive diagnosis and tracing contacts within 48 hours for at least 90% of the time, which is the standard that the health district uses for contacting all community members.
The MOU promotes collaboration with UVa and TJHD in creating handbooks, recommendations and guidelines for processes and protocols on isolation and quarantine, assessment, and the evaluation of COVID prevalence within the university community, including a weekly meeting to review the case numbers, according to the release.
For general questions about COVID-19, community members can call the TJHD COVID-19 Hotline at (434) 972-6261.
Get local news delivered to your inbox!
Subscribe to our Daily Headlines newsletter.