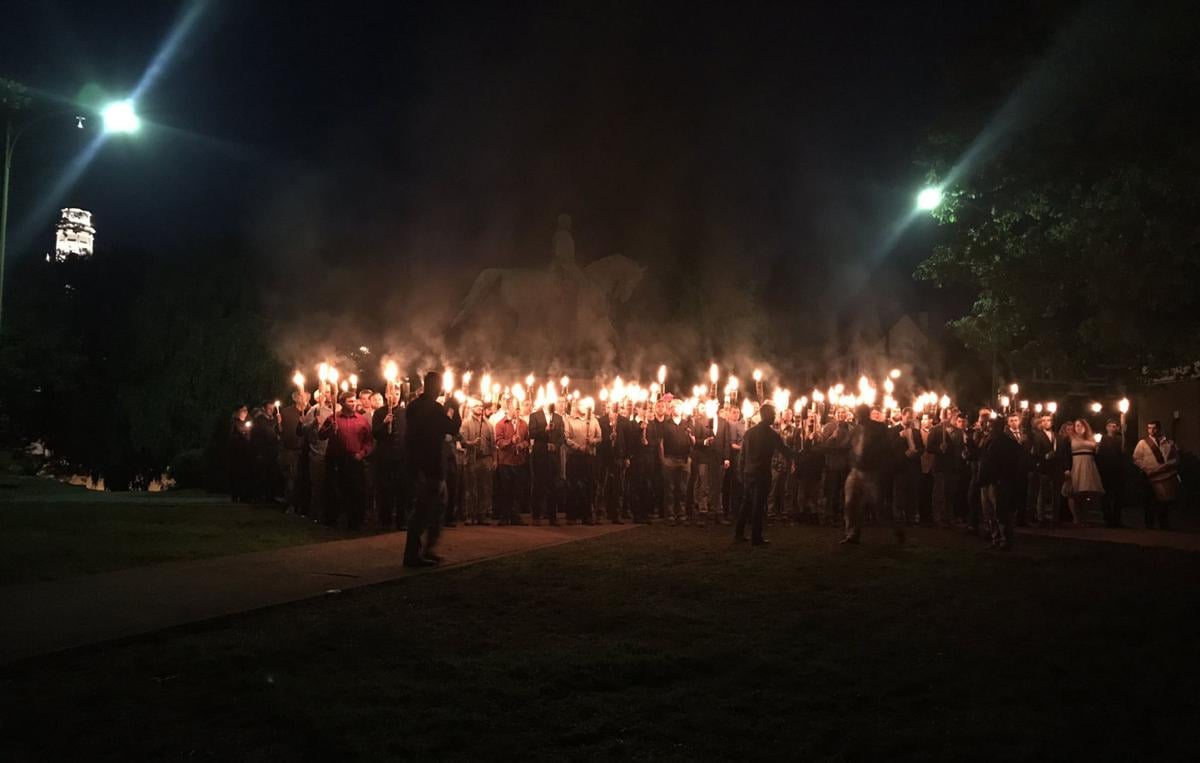 Carrying torches and standing like a stone wall in front of the statue of Confederate Gen. Robert E. Lee in a Charlottesville park, a group of white nationalists on May 13 made their displeasure known about the city's decision to remove the statue there.
Demonstrators chanted "blood and soil," which can be traced back to an ideology that ties race to the physical territory of a nation, according to Waitman Wade Beorn, a history lecturer at the University of Virginia.
"The concept is that the land on which a people lived is not just a resource; it's tied directly to the blood — and by blood, they mean race," Beorn said. "It's all racial pseudoscience."
During World War II, the Nazis in Germany believed Aryan people were connected in a spiritual or mythical way to the soil of Germany. Anyone who was not Aryan and living in Germany made the nation "less pure," which gave rise to the concentration camps where millions of Jews, Romani and people of other "undesired" races were murdered.
The idea of "blut und boden" — or "blood and soil" — gave the Nazis an excuse to get rid of anyone they considered inferior.
"In this way, they justified 'cleansing' their own soil — Germany — of its enemies," Beorn said.
Led by Richard Spencer, a UVa graduate and a white nationalist, the group on that Saturday night first led a demonstration in the afternoon at Jackson Park.
"What brings us together is that we are white, we are a people, we will not be replaced!" shouted Spencer, according to video from NBC 29.
At Lee Park that night, the group began chanting "blood and soil," "Russia is our friend" and "you will not replace us." At both demonstrations, the group was heard voicing concerns about the disappearance of white heritage.
Beorn, who said he took a class with Spencer at the University of North Carolina-Chapel Hill in the mid-2000s, said Spencer often argued with their professor, Christopher Browning, a pre-eminent Holocaust scholar. These days, Beorn said, Spencer denies that the "blood and soil" chant derives from Nazi ideology.
"But a lot of his ideology is right out of the Nazi playbook," Beorn said.
By using the phrase, Spencer and his followers see the South as the soil of the white race, Beorn said. By using language to suggest that white people need to "take back" their monuments and symbols of history, Beorn said Spencer is masking the elements of his true ideology.
"You have a torch-lit mass rally, and people saying 'blood and soil' in relation to a Confederate monument — I think the connections there are pretty clear," he said. "I look at this and actually see some similarities between the Nazis and the 'alt-right' movement."
Spencer is a prominent figure in the so-called "alt-right" ideology, which is an offshoot of conservatism that combines racism, white nationalism and populism.
Beorn also serves as a consultant to the United States Holocaust Memorial Museum, but said his views do not necessarily reflect those of the museum. He also has written several books about the Holocaust and genocide.
Spencer could not be reached for comment.