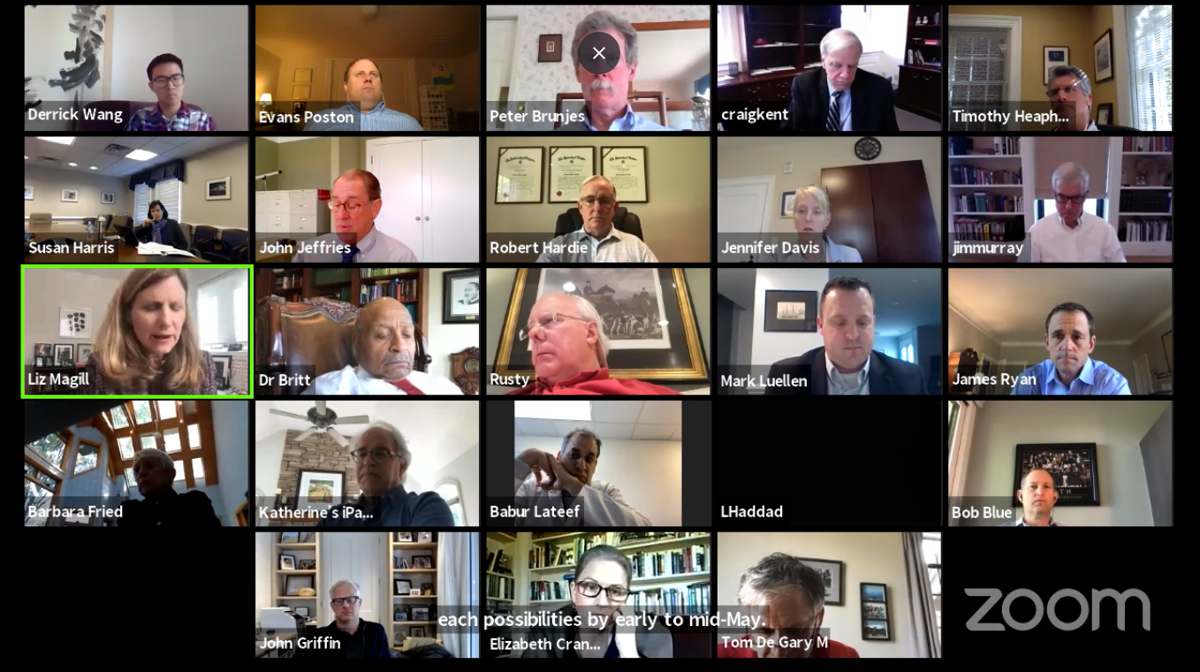 The University of Virginia Medical Center is treating 24 COVID-19 patients, and the anticipated surge of cases has yet to materialize, said Dr. Craig Kent, the university's executive vice president for health affairs, on Monday during a Board of Visitors meeting.
If the area sees a spike in the number of patients, Kent said the medical center has the ideal environment to care for them after opening its new tower this month. The 84 beds in use are in negative pressure rooms. Additionally, the tower allows staff to isolate COVID-19 patients in one part of the hospital.
"I think we can reassure our patients in the community that come for non-COVID care that our patients with COVID are housed in one part of our hospital and that the rest of the hospital is without COVID patients," he said. "I think that reassurance is going to be quite comfortable."
"First and foremost, this is an existential crisis and higher ed may never be the same," said Jim Murray, the board's rector.
Since the board's last meeting, UVa President Jim Ryan announced a hiring freeze, pay cuts for executives and a pause in capital projects to mitigate the financial impact of the pandemic.
"We have been working hard to implement all of those," Ryan said, adding that staff members are thinking about creative ways to increase efficiency and reduce costs. "That effort on the academic side is going well. More needs to be done in the health system that you'll hear about later."
Gov. Ralph Northam banned all elective surgeries until at least May 1, and state officials are evaluating how to safely ease restrictions on non-essential medical procedures and the availability of personal protective equipment. UVa board members and medical center officials have been in talks with the state on those plans.
"This is the conversation we're having with our state is that we have 300 open beds and about 2,000 people whose surgeries are delayed," Kent said. "We would love to be able to take care of some of those people and we're very different in Charlottesville than is the case in Northern Virginia, and we do think that some flexibility about different geographies having the ability to care for their patients differently is something that should be considered."
UVa officials are continuing to plan for what classes will look like in the upcoming fall semester with a focus on three options — beginning the fall semester on time and on Grounds, starting later or holding classes online.
"We'll obviously be holding classes but the question is how many students will be on Grounds and what does that look like," Provost Liz Magill said.
The Fall 2020 committee is planning to bring the pros and cons of each scenario to senior leadership by early to mid-May, Magill said.
"All of us want students to be on Grounds in the fall, but we also recognize that we can't pretend away the virus, and we have to figure out if we can do this in a safe way," Ryan said. "Some of this is not entirely within our control. Some of this will depend on our ability to increase our capacity to both test and trace, which we are working on right now. But it remains, as has been the case with everything with this virus, a highly fluid situation."
Concerned about COVID-19?
Sign up now to get the most recent coronavirus headlines and other important local and national news sent to your email inbox daily.